List
Eight Underrated Arizona Fall League Prospects
Some under the radar names to look out for in the Arizona Fall League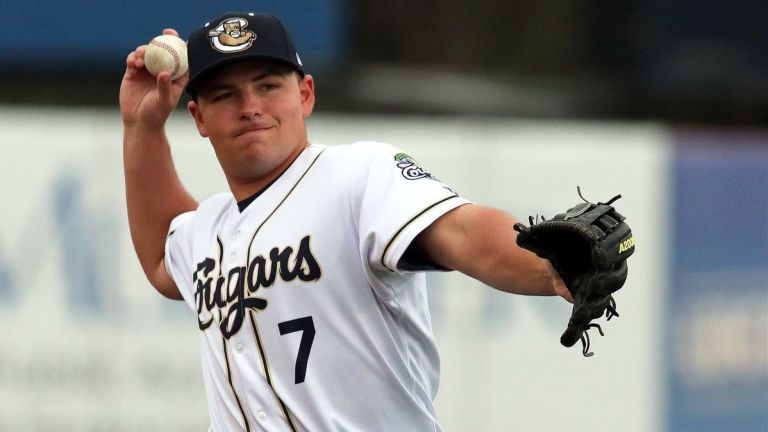 Since its inception in 1992, the Arizona Fall League has hosted baseball's next superstars every October and November as top prospects head west at the end of the Minor League season, looking to show off their skills against the very best. From a front office standpoint, each team sends about ten players, hoping the players' performance will allow them to figure out some complex decisions.
Should a player be added to the 40-man roster? Should we trade this player in an offseason blockbuster? In addition to player development and determining a player's involvement in the organization moving forward, the most important task for teams is to scout players from other teams. Front offices are always looking to make acquisitions through trades, the Rule-5 Draft, or Minor League free agency, and the AFL provides the perfect opportunity. Here are eight AFL players who could be quick risers in their organization or could be on the move.
Honorable Mentions:
All stats are from 2021.
RHP Cole Henry – Nationals – (Surprise): 10 GS, 47 IP, 2.30 ERA, 0.85 WHIP
INF Leo Jimenez – Blue Jays – (Mesa): 59 G, 181 AB, .320/.523/.392
Juan Yepez – INF/OF – Cardinals (Glendale)
Yepez was signed by the Atlanta Braves for $1 million out of Venezuela before being traded to the Cardinals for Matt Adams in 2017. After some consistency issues early in his career, Yepez has done nothing but hit since the start of the 2019 season. The 23-year-old was a tremendous threat at the plate this season, slashing .286/.383/.586 with 27 homers in 434 plate appearances.
His advanced metrics are just as impressive, possessing a 154 wRC+ and .413 wOBA through 92 games with Triple-A Memphis. Yepez's performance earned him a spot on the NL Wild Card Game roster, failing to see action in the Cardinals 3-1 loss. The only question is where Yepez will play, as he saw action at four different positions in 2021. While the bat will most likely carry him throughout his career, the Cardinals may have struck gold with the 23-year-old sensation.
Slade Cecconi – RHP – Diamondbacks (Salt River)
After a dominant college career at the University of Miami, the Diamondbacks selected Cecconi with the 33rd overall pick in 2020. The central Florida native has all of the tools to be a dominant big league starter, showcasing a four pitch mix including a fastball, curveball, slider, and change-up.
While his curveball and change-up are still developing, the fastball/slider combination produces swings-and-misses often. After garnering rave reviews at Arizona's alternate site in 2020, Cecconi was assigned to High-A for 2021. In 12 starts, the 6-foot-4 right-hander produced a 4.12 ERA, along with a 4.22 FIP and 1.24 WHIP. Additionally, he struck out 25.4 percent of batters, while only walking 8.1 percent. The Arizona Fall League will provide Cecconi the opportunity to get some more innings under his belt against elite competition.
Joe Gray Jr. – OF – Brewers (Salt River)
If you're looking for an example of someone who utilized the cancelled 2020 season to their advantage, Joe Gray Jr. is it. The 21-year-old outfielder has a unique set of tools, possessing plus speed, a strong arm, and power potential. After being selected in the second round of the 2018 draft, Gray struggled mightily, slashing .182/347/.325 in 98 plate appearances.
2019 wasn't much different, with a similar slash of .164/.279/.300 in 31 games. The Mississippi native was assigned to Low-A to start 2021 and did not disappoint. Through 231 plate appearances, Gray produced a wRC+ of 169 and a wOBA of .453. This earned Gray a promotion to High-A, where his past struggles crept up again, dropping his walk rate by almost six percent. As is the case for many other prospects, the Arizona Fall League gives Gray the opportunity to get more at-bats and find his stride at the plate.
R.J. Dabovich – RHP – Giants (Scottsdale)
Out of all of the names on the list, Dabovich is definitely the most intriguing. The 6-foot-3 right hander was drafted in the 18th round by the Royals out of junior college in 2018, but elected to forego the minor leagues and transfered to Arizona State. After only appearing in 25 games for the Sun Devils, the Giants drafted Dabovich in the fourth round of the 2020 draft.
The Colorado native projects as a middle reliever, with a lethal fastball/curveball mix coming from a true over-the-top arm slot. He was able to reach Double-A in 2021 after producing a 1.42 ERA, 3.03 FIP, and 60.9 K% in High-A. After his promotion, the 22-year-old impressed, striking out 42% and walking only 8.6% in 19.2 innings. With a fastball that can reach 98 and a curveball that tunnels well, Dabovich could be in the big leagues sooner rather than later.
Eguy Rosario – INF -Padres (Peoria)
Eguy Rosario is the perfect example of a team trying to figure out what they have. Since being signed out of the Dominican Republic in 2016, Rosario has had a steady rise through the Padres organization. After being invited to the instructional league in 2020, "Eggy" went to Venezuela to play winter ball, where he hit .327/.393/.429. Regarded as a smart hitter and agile defender, Rosario projects are a super-utility type of player, with more upside if his bat continues to produce.
2021 was a productive season for the 5-9 infielder, spending the entire season at Double-A San Antonio. In 114 games, Rosario slashed .281/.360/.455 with 12 homers and a 118 wRC+. The Padres have a tough decision ahead of them, as Rosario is Rule-5 eligible, and has an opportunity to be drafted if not added to the 40-man roster.
Landon Knack – RHP – Dodgers (Glendale)
The Los Angeles Dodgers have worked tirelessly for years trying to build a good farm system while sustaining a competitive big league team. They have had success through the draft and international signing, ranking them ninth Baseball America's Organizational Talent Rankings. Landon Knack is a perfect example. Knack was drafted 60th overall in 2020 after two years at Walters State Community College and another two at Eastern Tennessee State.
The Tennessee native has legit front-line starter potential, despite going to a small, lesser-know baseball school. Knack showcases a four pitch mix, including a fastball, slider, 12-6 curveball, and a change-up that has plus potential. His fastball can reach the mid-90s, while the slider is his best secondary pitch. Being 24-years-old may enable Knack to be in the big leagues sooner, and possibly start the season at Triple-A.
Buddy Kennedy – INF – Diamondbacks (Salt River)
As the Diamondbacks move into a full rebuild, players like Buddy Kennedy will be vital for their future success and depth. Kennedy was drafted in the fifth round by the Diamondbacks in 2017, coming out of the same high school as superstar Mike Trout. Since his professional debut, the 6-1 infielder has been a pleasant surprise for the D-Backs, including a 143 wRC+ in 66 games at Double-A this season.
Kennedy split time between Single-A and Double-A in 2021, leading to the possibility of a Triple-A start in 2022. On top of slashing .290/.384/.523 in 406 plate appearances, the Millville native played all over the infield. Kennedy is Rule-5 eligible this December, so the Diamondbacks will need to make a decision on his future rather soon.
Abner Uribe – RHP – Brewers (Salt River)
Uribe signed out of the Dominican Republic for $85k in 2018, and has looked like a steal to this point. While there are still things to work out when it comes to strike throwing and a consistent delivery, Uribe has the stuff of a backend reliever. When he signed, the 6-2 reliever sat in the lower 90s, but has had a steady increase since 2018, reaching 101 at the alternate site last summer.
Uribe struck out 34.7% of batters faced in 2021, but countered with a 16.7% walk rate. Before this year, he was only able to throw 28.1 innings in two seasons. The AFL will give Uribe the opportunity to get some more innings under his belt, and calm down the control issues. The righty flamethrower isn't Rule-5 eligible until next winter, so the Brewers have some time before a decision had to be made on his future.