Analysis
Jose Altuve Can't Be Stopped
Despite two IL stints, Jose Altuve looks as powerful as ever in his age-33 season, as he strives to lead the Astros to another AL West title.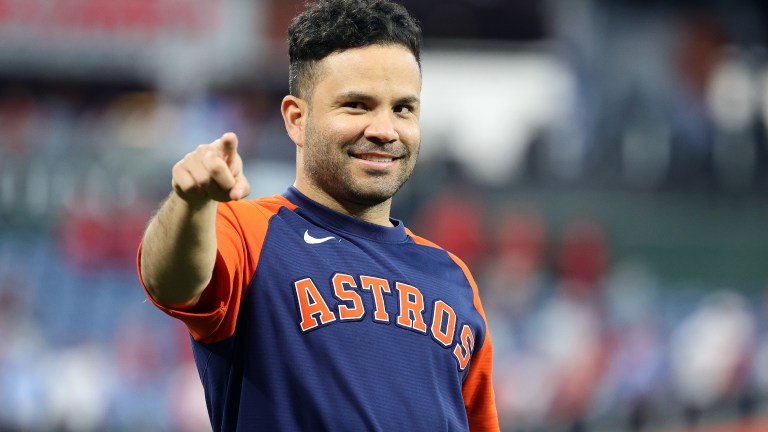 In 2020, Jose Altuve hit .219/.286/.344 over 48 games, good for a .629 OPS and 74 wRC+.
A 60-game season is a tiny sample size, and 2020 was a strange and difficult year for everyone. MLB players were no exception. Still, asking baseball fans not to overreact is like asking water not to be wet.
Thus, as Altuve stumbled his way through the season, it was hard not to wonder if the star second baseman was on the decline. He had just turned 30, and his numbers were down across the board. By OPS, it was the worst stretch of his career since 2013, well before he had established himself as a superstar.
In hindsight, of course, it was foolish for anyone to worry. Altuve quickly put the 2020 campaign in the rearview mirror, making the All-Star team and earning MVP votes in each of the next two seasons. He was back to being one of the best players in baseball.
By FanGraphs WAR, he ranks third among AL position players since 2021, trailing only Aaron Judge and José Ramírez. On a per-game basis, only Judge and Mike Trout have been better.
Suffice it to say, Altuve isn't on the decline. He never was. Not even close.
When Altuve broke his thumb in the World Baseball Classic this past March, we should have known not to get overly concerned. Would he make a timely return? Of course he would. Would he have trouble re-adjusting to big league pitching? No way. Would the injury sap his power? Yeah, right.
Hand injuries are bad news for hitters, especially power hitters. And once a player reaches his mid-thirties, any and all injuries are cause for alarm. However, Altuve hasn't missed a beat.
Due to his broken thumb, and later a mild oblique strain, he has been limited to 72 games in 2023. Nevertheless, on a per-game basis, he might be enjoying the best performance of his career.
His .948 OPS is the highest it's been since his 2017 MVP season. His 161 wRC+ is even better than it was in 2017; only his 164 wRC+ from last season was higher. The only season in which he hit for more power was 2019. His walk rate is a career-best.
In just 327 plate appearances, Altuve has amassed 3.9 fWAR. On a per-game or per-PA basis, he's never been better. Considering just how great he's been for so many years, that's absolutely remarkable.
He already ranks second among AL second basemen in fWAR and first in Offensive Runs Above Average, per FanGraphs. If he could have played enough games to qualify, he might have challenged for the Silver Slugger; as it stands, he's likely to fall about ten games short of the 100-game minimum.
Altuve has been especially dominant since the trade deadline, powering the Astros into first place in the AL West. He hasn't had a bad 30-game stretch all year long, but his 30-game rolling numbers since August 1 are jaw-dropping. See where the blue line shoots up? That's the deadline.
Since August 1, Altuve ranks second in the AL in fWAR and sixth in OPS. No other AL player has scored more than 30 runs; Altuve has crossed the plate 36 times. Funnily enough, the Astros have outscored the Mariners by exactly 36 runs in that same period.
Altuve has been Houston's best player (and honorary captain) throughout the greatest stretch in franchise history. He's had plenty of help from plenty of stars, but even on a team with Yordan Alvarez, Alex Bregman, and Kyle Tucker, he isn't ready to give up the mantle.
He isn't ready to give up the AL West, either. The Astros have won the division in six of the last seven years, only briefly ceding their throne during the infamous pandemic season.
Throughout the first half of 2023, it looked like the Astros might finally lose their title, with no "shortened-season" excuses to soften the blow.
Yet just as we shouldn't have questioned Altuve, perhaps we shouldn't have doubted the Astros. They sit 2.5 games up with only 18 left to play. Per FanGraphs, Baseball Reference, and Baseball Prospectus, their odds of winning the division are over 80%.
The Mariners and Rangers still have time to pull ahead, but the Astros won't make it easy. They're one of the toughest teams in the league, and they won't go down without a fight – at least not if Jose Altuve has anything to say about it.
Stats and standings updated as of Monday, September 11.