Analysis
Sorting Out the Reds Infield With Elly De La Cruz Coming Soon
The Cincinnati Reds could soon call up the top prospect in baseball, Elly De La Cruz, and when they do, they will have a very crowded infield.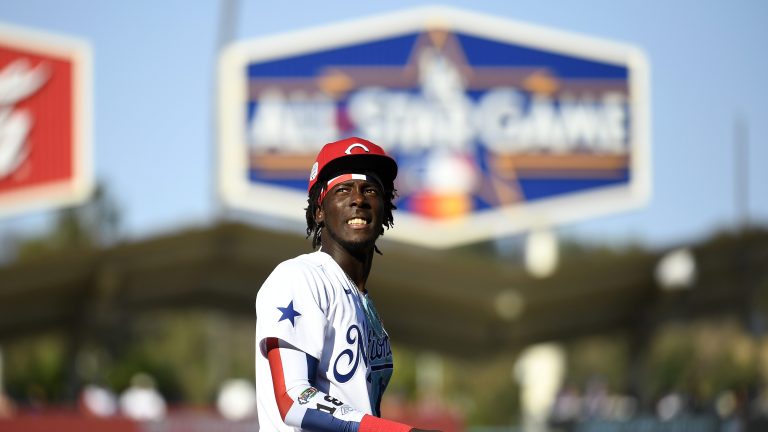 The Cincinnati Reds have a great problem on their hands. For the first time in awhile, they have too many valuable options in the infield. Former Rookie of the Year Jonathan India is surrounded by rookies, Nick Senzel, and prospects on the verge of debuting. These aren't just any old prospects. We are talking about the No. 1 overall prospect Elly De La Cruz and slugger Christian Encarnacion-Strand.
With so many options, how exactly will the Reds get everyone at-bats?
Before we dive in, lets get the options on the table. With Elly De La Cruz and Christian Encarnacion-Strand likely joining the Reds soon, Manager David Bell will need to get creative in order to find at-bats to go around.
| | | | |
| --- | --- | --- | --- |
| | Slash | HR | wRC+ |
| Jonathan India (2B) | .290/.376/.440 | 5 | 118 |
| Spencer Steer (1B/3B) | .284/.352/.485 | 7 | 120 |
| Matt McLain (SS/2B) | .380/.456/.600 | 2 | 181 |
| Nick Senzel (3B/2B/OF) | .264/.337/.396 | 4 | 95 |
| Jose Barrero (SS/OF) | .222/.298/.316 | 1 | 63 |
| Christian Encarnacion-Strand (3B/1B) *minors | .346/.384/.721 | 13 | 166 |
| Elly Del La Cruz (SS/3B) *minors | .304/.395/.644 | 10 | 152 |
| Kevin Newman (3B/2B/SS) | .278/.339/.374 | 2 | 90 |
| Joey Votto (1B) – Injured | Has not played | – | – |
Now, let's begin with the easiest move. The Reds should send down Jose Barrero.
The former top 100 prospect has continued to struggle in parts of four seasons with the Reds. His ability to play center helps, but calling up up your top prospects signals things are changing. With that change, there's less room, and time, to allow players to figure it out.
First Base
After starting the season as the primary third baseman, rookie Spencer Steer has taken over at first, at least for the time being. His defense at third was a work in progress, and he looks a bit more comfortable at first. While I still think he could move around in the future, I think Steer will continue to see the most time at first, with the occasional start at third.
Once Encarnacion-Strand joins the team, he immediately becomes the back-up to Steer. I know others think he is a better defender than I do, but it's more about the bat that leads me to believe he'll see more time at DH. I truly think his bat is special and having him DH would allow him to focus on one thing and one thing only: hitting the baseball.
Depth Chart: Steer, Encarnacion-Strand, Votto*
Second Base
With the potential logjam now, and especially into the future, many have suggested moving India to the outfield. That could be a future solution, but I do not see David Bell moving India to left in the middle of the season. His defense at second is shaky, but moving one of your best players to a position he has not played at the professional level, mid-season, just is not something that typically happens. I might not agree with it, but predictively, India is the primary second baseman with days at DH sprinkled in.
Behind India will be some combination of McLain, Newman, and Senzel. If the Reds move Elly to short on occasion, McLain could fill second nicely. But I see McLain staying at short making Newman the bench option at second.
Depth Chart: India, Newman, McLain (starting SS), Senzel
Shortstop
Let's give some praise to Matt McLain. Through his first 12 games he's slashed .380/.456/.600 and brought a level of hustle that is contagious to this lineup. He's looked like a veteran, and fielded his position well. Maybe he factors into second base more in the future, but McLain has given zero reason to be moved off short to start his career.
Top prospect Elly De La Cruz will without a doubt log innings at short. But more on him later. Kevin Newman once again fills a depth role.
Depth Chart: McLain, De La Cruz (starting 3B), Newman
Third Base
Now it's time to talk about Elly De La Cruz. His combination of power and speed is truly rare. He has the ability to become one of the best players in the game and Reds fans will likely see him debut very soon. Once called up, De La Cruz could take over the everyday role at third. He's played third plenty throughout his minor league career and would instantly improve the offensive output the Reds currently have at the position.
I see a similar path that Gunnar Henderson has taken. Play third, back up short, and still be the potential long-term option at short. Getting all of these bats in the lineup will require some movement, and instead of moving India to Left, where he's never played, I think moving Elly to third would be more natural.
Behind Elly, Nick Senzel would be a natural fit. If Elly is in at short some days, especially against lefties, Senzel can fit in at third, if he's not in the outfield.
Honestly, although he's looked good at third, I can see Senzel playing more outfield once again and maybe even being a platoon with lefty Jake Fraley. If that is the case, Encarnacion-Strand or Steer can fill third, and Newman once again, is still there.
Depth Chart: Elly De La Cruz, Nick Senzel, Steer/Encarnacion-Strand/Newman
If this is actually how it plays out, you would have:
1B – Steer
2B – India
SS – McLain
3B – De La Cruz
DH- Encarnacion-Strand
Barrero demoted, Senzel to utility/more outfield, Newman to a full time bench role.
Talk about an exciting, young infield. Each position is filled with a plus bat with room for growth.
The Joey Votto Elephant in the Room
Filling in the infield and DH spot was relatively easily, but the next question is where does Joey Votto fit? The former MVP, six-time All-Star, and Gold Glove winner has been the face of the franchise for the better part of a decade. He's a future Reds and National Baseball Hall of Famer. A statue will go up outside of Great American Ballpark. But I do not think he is handed an everyday role in 2023.
The 39-year-old first baseman has missed the entire season due to injury. A short rehab assignment was shut down after the injury was obviously causing him to struggle at the plate. Without a set in stone time table to return, I simply could not rely on him being back, and healthy, for this exercise.
Once he is activated, he'll get at bats. But with the team building towards the future, I just cannot find a spot for him to play more than here and there. I hope he gets his moment in front of the Cincinnati crowd one more time before the page is turned.