Analysis
2022 Free Agent Profile: Zack Greinke
Zack Greinke may not be the front-line starter he once was, but the 38-year-old free agent can still provide great value to teams next year.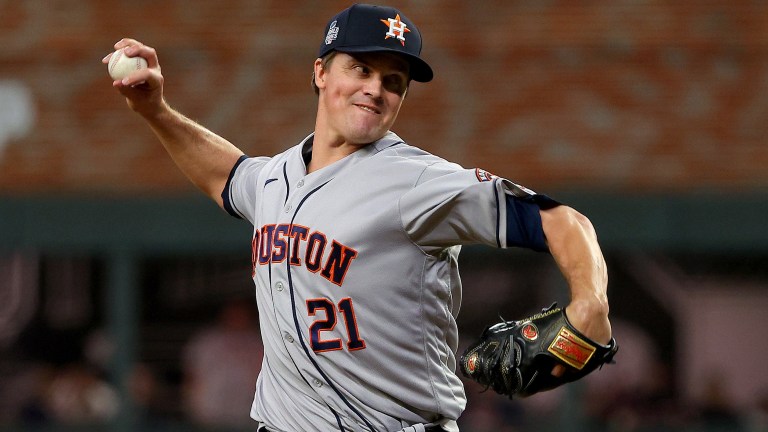 Position: SP
Throws/Bats: R/R
Age: October 21, 1983 (38 years old)
2021 Stats: 30 G, 171 IP, 4.16 ERA, 120 K, 4.71 FIP, 4.39 xERA, 17.2% K, 5.2% BB, 1.3 fWAR
There are few active pitchers in Major League Baseball more accomplished than Zack Greinke, as the 38-year-old starting pitcher has authored a Hall of Fame career.
Greinke is a six-time All-Star, who has won six Gold Gloves, two Silver Sluggers, two ERA titles and the 2009 AL Cy Young. While he hasn't won the award again, he has remained one of the most consistent and durable starting pitchers in the game.
Now after finishing up his six-year, $206.5 million contract that he signed back in 2016 with the Arizona Diamondbacks, Greinke is once again a free agent. This past season showed a real decline for Greinke when it came to his ability to strike batters out, yet he still showed an ability to be a quality starting pitcher.
Despite his age and subsequent decline, Greinke is one of the most cerebral pitchers this sport has ever seen, making him one of the best value propositions left for contending teams in free agency this offseason.
Path to Free Agency
Zack Greinke's career has been a fascinating one to follow, as he is one of the most eccentric athletes in the game. Early on his career, Greinke had to step away from baseball due to his battles with depression and anxiety, which led to his struggles on the mound in 2005 (5.80 ERA) and kept him off the field almost entirely in 2006.
In 2007, Greinke was able to return to the Royals as a relief pitcher, before establishing himself as one of the best young starters in baseball the following year, posting a 3.47 ERA across 30 starts in 2008.
At 25 years old, Greinke won his first ERA title in 2009, pitching to a sparkling 2.16 ERA with 242 strikeouts in 229 1/3 innings pitched en route to winning the AL Cy Young. After a regression in 2010, where he pitched to a 4.17 ERA, Greinke asked for a trade heading into the 2011 campaign, his last before becoming a free agent for the first time.
The Royals agreed to trade their ace, sending him to the Milwaukee Brewers for a package that included two key pieces of their 2015 World Series winning team, Lorenzo Cain and Alcides Escobar. Greinke posted a strong season in 2011, splitting the year with the Brewers and the Los Angeles Angels.
Once he was a free agent, Greinke signed a then-record breaking six-year, $147 million contract with the Los Angles Dodgers, which was the largest ever for a right-hander pitcher at the time.
Greinke only ended up spending three seasons with the Dodgers, as he exercised an opt-out in his contract following the 2015 season. Still, those three years were arguably the best stretch in his MLB career, as he formed one of the most dominant one-two punches we have ever seen with Clayton Kershaw.
Greinke's best year with Dodgers came in 2015, when he won his second ERA title, leading the league with a ridiculous 1.66 ERA across 222 2/3 innings pitched. The right-hander finished second in the NL Cy Young voting to Jake Arrieta, and would later opt-out of his contract to hit free agency after his career-year.
The Arizona Diamondbacks ended up signing Greinke to a six-year, $206.5 million contract to poach an ace from their division rival. The then-32-year-old was supposed to be the piece that turned the D-Backs around, but his first year was a disaster compared to his performance in previous seasons.
Greinke pitched to a 4.37 ERA and was limited to a just 158 2/3 innings pitched due to suffering an oblique strain during the season. From 2008 through 2021, this marked the only season where Greinke did not make at least 28 starts.
In 2017, Greinke was able to re-discover his ace stuff, pitching to 3.20 ERA, while making the fourth All-Star appearance of his career. Across his final 88 starts with the Diamondbacks, Greinke pitched to a 3.12 ERA. After making his third-consecutive All-Star appearance with Arizona, Greinke was traded to the Houston Astros at the 2019 deadline.
Greinke has spent the last three seasons with the Houston Astros, pitching in two World Series for the team. Across three World Series starts, Greinke allowed just three earned runs over 15 innings pitched.
While the 2021 campaign marked a decline for Zack Greinke, that does not mean he can't still be an effective starting pitcher moving forward. He might profile more as a back-end guy now, but there are few starters left on the market that are more attractive than Greinke.
Assessing Greinke's Free Agent Value
In 2021, Zack Greinke pitched to a 4.16 ERA, with just 120 strikeouts in 171 innings pitched. His 6.3 K/9 was the lowest mark of his career since before he established himself with Royals following his mental health issues earlier in his career.
When it comes to the expected metrics, Greinke ranked in 38th percentile or lower in xwOBA, xERA, xBA, xSLG. His K% placed him in just the 11th percentile and his whiff percentage against was in the 18th percentile.
For the first time in his career, Greinke did not have a single pitch with a PutAway% over 20%. His fastball was his best strikeout pitch with a PutAway% of 19.8, but that same pitch was getting hit hard early in counts. Overall the whiff% on his fastball was 11.9, the worst mark of his career outside of 2016, when he posted a 4.37 ERA for the Diamondbacks.
So with all of that said, where does Greinke bring value as a free agent?
Well despite some of the struggles he had, Greinke still found a way to be an effective starting pitcher for the Houston Astros in 2021. He has more limitations now with his diminished stuff, but still has the guile to pitch himself out of bad situations, as his Left on Base Percentage of 75% was still very strong.
If teams are looking for a back-end starter, all they are hoping to find is a pitcher that can eat some innings and keep their team in the game more often than not. Greinke showed the ability to do that in 2021, as he allowed one run or less in 10 of his 29 starts.
Even further, Greinke gave up three runs or less in 20 of his 29 starts, showcasing that ability to keep his team in the game. Fifty-two percent of his starts were quality starts last season, which ranked 30th in baseball among starters who took the ball at least 20 times.
When it comes to durability, no pitcher outside of Max Scherzer has had a better run of success than Greinke over the past 15 years. Since 2008, Greinke has eclipsed 200 innings in nine of the last 13 seasons (excluding the shortened 2020 campaign).
Last year, Greinke pitched at least six innings in 16 of his 29 starts and went at least four innings in every start but one. With 171 innings pitched, Greinke averaged 5.8 innings per start, which was 21st in MLB.
Greinke still excelled in his walk rate, ranking in the 92nd percentile, while also ranking favorable in Barrel% (68th percentile), average exit velocity (60th percentile), hard hit% (74th percentile) and chase rate (58th percentile).
Despite the diminished stuff, he puts himself in good situations with his command of the strike zone and still knows how to initiate enough weak contact to get outs.
Looking at the price range that other veteran starting pitchers have fallen in this offseason, it is pretty easy to gauge Greinke's market.
| | | |
| --- | --- | --- |
| 2022 Free Agent Starter | Contract | Team |
| Alex Cobb, 34 years old | Two-year, $20 million ($10M AAV) | San Francisco Giants |
| James Paxton, 33 years old | One-year, $10 million | Boston Red Sox |
| Andrew Heaney, 30 years old | One-year, $8.5 million | Los Angeles Dodgers |
| Corey Kluber, 35 years old | One-year, $8 million | Tampa Bay Rays |
Based on the salaries that these comparable starters earned in free agency, there is a pretty good chance Greinke's next contract is a one-year deal falling anywhere between $8 to $10 million.
Five Potential Landing Spots For Zack Greinke
When making this free agent decision, Zack Greinke does not have to focus as much on the financial implications as he did when he signed his last two free agent contracts. Greinke has already amassed over $250 million in career earnings, with $62.5 million in deferred money still left to push that number over $300 million.
With that deferred money, Greinke does not even have to throw another pitch and he will still be making $12.5 million annually for the next five years. If there was ever a time to chase rings, this would be it for Greinke.
When Zack Greinke was on the trade block back in 2018, the Athletic's Zach Buchanan reported that the following teams were on his no-trade list: Baltimore Orioles, Boston Red Sox, Cincinnati Reds, Colorado Rockies, Detroit Tigers, Los Angeles Angels, Los Angeles Dodgers, Minnesota Twins, New York Yankees, Oakland Athletics, Philadelphia Phillies, San Diego Padres, San Francisco Giants, St. Louis Cardinals and Toronto Blue Jays.
Now this does not mean that Greinke would not sign with any of these teams, since that no-trade list was formed during his last foray into free agency back in 2016. Still, it is a good starting point in trying to find a landing spot for Greinke.
5. Tampa Bay Rays
Back in November, Bob Nightengale reported that Greinke would like to pitch again in 2022, but wanted to return to the National League. Now it is unclear if the implementation of the universal DH would change that or not for Greinke, but few organizations make more sense for him to be a part of then the Tampa Bay Rays.
An Orlando native, Greinke could spend his season in Florida, a few hours from home. Greinke has long spoken about his appreciation for analytics, making the Rays the perfect landing spot for the 38-year-old. Tampa is also one of the best teams in the AL, so the potential to win a World Series is there.
Tampa has a lot of high-upside arms in their rotation such as Shane McClanahan, Drew Rasmussen, Luis Patiño and top prospect Shane Baz. They also added Corey Kluber this offseason, giving them another starter with plenty of upside. Where Greinke fits on this team is giving them another veteran presence alongside Kluber, but one who brings durability to the table as well.
4. Los Angeles Dodgers
Zack Greinke once shared a spot atop the Dodgers rotation with Clayton Kershaw, but could he now replace him?
Kershaw is a free agent this offseason as well, and we still do not know if he will be back with the Dodgers or not. There has been some rumblings that Kershaw could look to return home to Texas and sign with Rangers as the final piece to their free agent haul that already includes Corey Seager, Marcus Semien and starting pitcher Jon Gray.
The future Hall of Famer could be the ace of the Rangers rotation, getting the chance to play close to home for an up-and-coming team. Kershaw dealt with more injury issues in 2021, as an elbow injury limited him to 22 starts and 121 2/3 innings pitched. If Kershaw does sign elsewhere, Greinke would make sense as a stop-gap that could provide depth to the Dodgers rotation.
Walker Buehler and Julio Urias are expected to lead the Dodgers rotation next year, as they are two of the best young starting pitchers in MLB today. There is still the Trevor Bauer elephant in the room for the Dodgers, but regardless of his status, Los Angeles could reunite with Greinke and give the veteran a chance to return to the place where he enjoyed his best years to compete for a World Series.
The Dodgers were on Greinke's no-trade list back in 2016, but so was every team in NL West. This could have simply been based on the fact that the Diamondbacks weren't going to trade him within the division, so we can't rule out the chance that Greinke would return to the NL West if it was for the right team.
3. St. Louis Cardinals
Another team that was on his no-trade list, which is the only thing keeping them from being our top landing spot for Zack Greinke.
As a contact pitcher, there is no better team for Greinke to pitch in front of than the Cardinals. Last year, we all laughed when St. Louis traded for J.A. Happ and Jon Lester at the deadline, but it was the Cardinals that had the last laugh.
Down the stretch, the Cardinals won 17 games in a row, as their exceptional defense saved countless runs for their pitching staff of veterans. Greinke is a far better pitcher than Lester and Happ, so imagine what he could do pitching for the Cardinals over a full season?
St. Louis already added Steven Matz this offseason and are hoping for strong returns from starters like Miles Mikolas and Dakota Hudson. Still, Greinke would provide an answer to some of their question marks, giving the Cardinals another starter alongside Adam Wainwright who they can count on to take the ball every fifth day.
2. New York Mets
The top two teams left share a few things in common. They are both in National League East, returning Greinke to the senior circuit like he desires, and they were not on his no-trade list back in 2016.
We will start with the New York Mets, who have a clear need for another starting pitcher at the back-end of their rotation. Jacob deGrom and Max Scherzer give the Mets ridiculous upside atop their rotation, but they still come with some question marks. Namely the health of deGrom.
DeGrom was limited to just 15 starts in 2021, as injury kept him off the mound for the entirety of the second half, ending what was otherwise a remarkable season. Scherzer has been remarkably durable throughout his career, but he is 37 years old.
Behind their two aces, the Mets have Carlos Carrasco, who is coming off an injury-plagued season himself and Taijuan Walker, who had a terrible second half (7.13 ERA) after being named an All-Star. If the season were to start tomorrow, David Peterson and Tylor Megill would be competing for the final spot in the Mets rotation, but both young starters are unproven at this point.
Signing Greinke would provide the Mets with a durable back-end starter that would really help them get through the grind of the regular season. For Greinke, the Mets would give him a chance to play for a team that is clearly trying to win it all next year.
1. Atlanta Braves
If there is one landing spot that checks all the boxes for Zack Greinke, it's the Atlanta Braves.
Obviously they are a contending team, as they are the reigning World Series champs, but they also belong to the National League and are not in the biggest of markets, so Greinke wouldn't have to deal with some of the pressure that might exist with pitching in New York. Atlanta is also geographically closer to Orlando than any team other than the Rays or the Miami Marlins.
The Braves rotation is led by 27-year-old Max Fried, with other talented young starting pitchers like Ian Anderson, Huascar Ynoa, Mike Soroka and Tucker Davidson set to make starts next year. The Braves do have a veteran presence in their rotation already with Charlie Morton, but they could always use another, especially with some of the injury concerns that exist.
If you could look into a crystal ball and know that Soroka, Ynoa and Davidson are going to be healthy and effective in 2022, there would be no reason to sign Greinke. Because that uncertainty exists, the Braves would be wise to sign another veteran to help them get through the upcoming season.