Analysis
Who Should Win the National League Silver Slugger Awards?
With two weeks left to play, which hitters are in line to win each Silver Slugger award in the National League this season?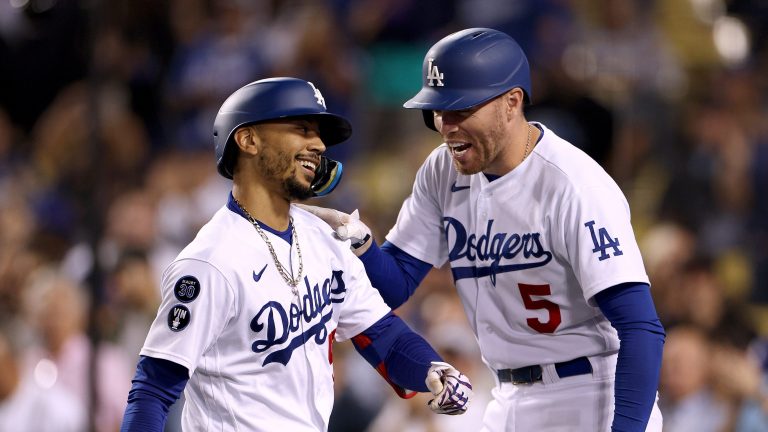 The 2023 MLB season is winding down, which means it's time to begin speculating about awards and the players who have distinguished themselves on the field.
Today's topic? The probable National League Silver Slugger Awards. In some cases, the winners seem fairly straightforward; in others, it could go either way.
And with that, here's the forecast.
Catcher: Sean Murphy (ATL)
If you look at the leaderboards on Fangraphs right now, there are plenty of candidates that jump out to win the Silver Slugger among NL backstops. William Contreras leads all qualified catchers in fWAR at 4.7 and batting average at .283. His older brother Willson leads all catchers with his 128 wRC+.
Zoom out a bit though and you will see who the true winner of the Silver Slugger should be, a catcher who does not have enough at-bats to qualify for a batting title, but has certainly done enough to take home some hardware.
Sean Murphy has played in just 102 games this year, compared to each Contreras brother who has played in over 120. This is because Murphy has one of the better backups in baseball with Travis d'Arnaud, so the Braves have been cautious not to overwork their primary backstop.
Still, among catchers with a minimum of 100 plate appearances Murphy leads the NL by a wide margin in wRC+ at 135 and OPS at .865. His 20 home runs trail only Mets rookie Francisco Alvarez for the league-lead among catchers.
First Base: Freddie Freeman (LAD) or Matt Olson (ATL)
These are two players with amazing but very different seasons.
Freeman has the highest wRC+ of all first basemen with 166, but Olson is close behind (161). Consider, then, xwOBA: Freeman's is .411 while Olson's is .396.
Although Freeman has hit 26 home runs, Olson is at an eye-popping 51 with a .614 SLG. (Freeman's SLG is .576.) He also set the Atlanta Braves franchise record for home runs hit in a season.
Consider, though, that while Olson has hit significantly more home runs, Freeman has more hits overall, 194 and 154, respectively.
Plus, Freeman has more than twice as many doubles (55) as Olson does (26). (Interesting side note: Freeman now holds the records for doubles hit by a Dodger in a single season.)
This one's close. Olson's .996 OPS is better than Freeman at .984 and he also has the edge in runs batted in with 129 compared to Freeman at 93. Olson might have the edge in the Silver Slugger, yet Freeman might finish ahead of him in the MVP race with his 7.2 fWAR leading all NL first baseman.
Second Base: Luis Arraez (MIA)
At one point earlier this year, Luis Arraez was vying to become the first hitter since Ted Williams to bat over .400. Now hitting over .400 is a near-impossible task, so Arraez has fallen off significantly in that regard, but he is still in line to win the NL batting title.
Arraez is hitting .353, pacing the league by over 15 points. His 199 hits trail only Ronal Acuna Jr. and his strikeout rate of 5.6% is by far the best in all baseball.
For a team that is suddenly in the thick of the NL playoff race, Arraez has been a huge contributor for the Marlins. With runners in scoring position, Arraez has hit .442 with a 182 wRC+.
Third Base: Austin Riley (ATL) or Max Muncy (LAD)
File this one under "Too close to call."
Riley has a 124 wRC+ and has hit 35 home runs; by contrast, Muncy has a 121 wRC+, an xwOBA of .374, and 35 home runs.
When considering hits, Riley has 159 to Muncy's 89, which is a substantial difference. He also has ten more doubles (26) than Muncy does.
In addition, Riley has the highest SLG (.505) of qualified third basemen though Muncy is not far behind (.492).
There's a slight advantage to Austin Riley here, but this one could go either way.
Shortstop: Francisco Lindor (NYM) or Trea Turner (PHI)
In terms of the shortstop, Lindor is a slight favorite over Trea Turner, last year's Silver Slugger winner, but this race, too, is close.
Lindor has a wRC+ of 118 with 26 home runs. Add to that a SLG of .457, plus 33 doubles and two triples.
Now a few months ago, this would not have even been a conversation. But Trea Turners has completely turned his season around and is now right there with Lindor.
By comparison, Turner has earned a wRC+ of 111 with 26 home runs. Granted, he's been swinging a hot bat as of late, but Turner's SLG is .470. He has 163 hits with 32 doubles and five triples.
This one has become a tossup.
Left Field: Juan Soto (SDP) or Corbin Carroll (ARI)
Major League Baseball doesn't classify outfield Silver Sluggers by position anymore, but the conversation is more interesting if we make that distinction. When we look at left field, there are two hitters that really stand out.
It's an interesting matchup between one of baseball's most consistent hitters and a rookie who's made waves all season.
For Soto, 2023 has been another stellar season. He has a 150 wRC+ and has hit 32 home runs. He also has a .505 SLG and a .399 xwOBA. Throw in 140 hits, and of that are 28 doubles and a triple.
As for Carroll, his .501 SLG is nothing short of impressive. Additionally, he's earned a 130 wRC+ and a .343 xwOBA while hitting 24 home runs and 146 hits, including 26 doubles and a staggering nine triples. He has also swiped 47 bases.
This would be Soto's fourth Silver Slugger, but Carroll is right there with him.
Center Field: Cody Bellinger (CHC)
Who doesn't love a comeback story? In 2023, Cody Bellinger's revival as a Cub is one of the best.
He's hit 25 home runs and earned a 136 wRC+. Add to that a .534 SLG and 142 hits with 25 of them being doubles.
Bellinger's last three years with the Dodgers were grim, but he's bounced back from being non-tendered to becoming one of the best hitters in MLB again.
RF: Ronald Acuña Jr (ATL)
Where even to begin? Acuña Jr is having a season for the record books.
His wRC+? 169. Home runs? 37. SLG? .586. xwOBA? A league-leading .464.
Add to that 201 hits (32 doubles and three triples), and you've probably got the National League Most Valuable Player. Surely a Silver Slugger is in his future as well.
DH: Bryce Harper (PHI) or Marcel Ozuna (ATL)
After Harper's remarkable recovery from Tommy John surgery, he picked up where he left off in 2022, hitting 17 home runs for a wRC+ of 137 and an xwOBA of .387.
Don't overlook Marcel Ozuna, however, who's outhit Harper in terms of home runs with 34. Meanwhile, he has a 130 wRC+ and an xwOBA of .389.
The two are roughly equivalent in terms of hits (123 for Harper, 128 for Ozuna) and doubles (27 for Harper, 23 for Ozuna). But Ozuna is the clear leader in terms of SLG with .531 to Harper's .480.
This is another one that could go either way.
Utility: Mookie Betts (LAD)
In this case, Betts is the clear front runner, and last year's outfield Silver Slugger winner looks to repeat, albeit while playing a different position. Or in this case, many different positions.
Betts could win as an outfielder, where he has played most of his games, but has also registered over 50 starts at second base, and even 12 at shortstop. It really just depends on where they want to categorize Betts, but he's taking home a Silver Slugger, if not even more hardware this winter.
He has a 171 wRC+, and he's earned an xwOBA of .423. Add to that 39 home runs, 167 hits (only Luis Arraez has more among second basemen), 37 doubles, and 103 RBIs and the case is clear.
Given that Betts is a contender for National League Most Valuable Player, it makes sense that he would be the choice for this award as well.
For now, all we can do is speculate on who will win the Silver Slugger Awards, but we'll know the winners come November.