Analysis
Who Should Win the American League Silver Slugger Awards?
With two weeks left to play, which hitters are in line to win each Silver Slugger award in the American League this season?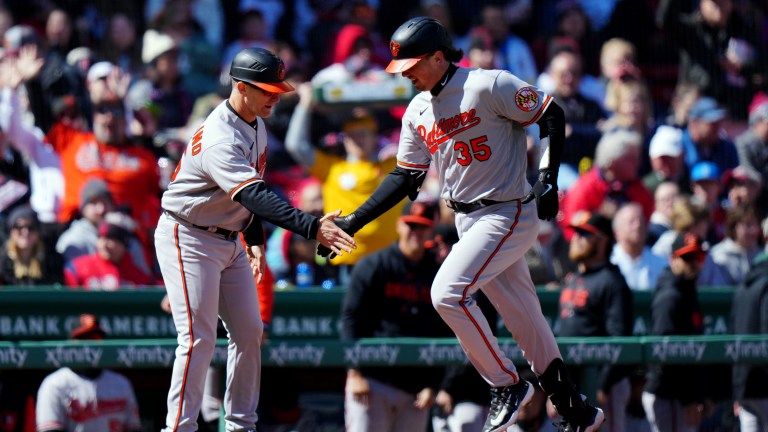 The regular season is slowly but surely coming to a close as we begin to look toward the playoffs as well as award season. With another excellent season winding down, it's time to dive into the most impressive players at the plate around the league.
Fellow writer Renee Dechert detailed the National League Silver Slugger candidates earlier this week and now it's time to look at the American League.
With the American League featuring seven legitimate contenders right now, it's not easy to pick the best hitter at each position with numerous top-end performers.
For a few positions, I've chosen to highlight two players who have equally strong cases for the award. Plenty of players have put together strong seasons, but there are definitely a few teams that will dominate these awards when they're announced in the coming months.
Catcher: Adley Rutschman (BAL)
The biggest name at the position takes the first award, but it's closer than many may think. Rutschman has been one of the key pieces of the loaded Orioles lineup that has led them to being the top-seeded team in the American League for most of the season.
He's got strong competition from Jonah Heim, who could have won the award through the first half of the year, and Cal Raleigh, who is the most prolific power hitter at the position. However, Adley is the best catcher in the American League and still edges them out offensively.
Rutschman has a 120 wRC+ as opposed to Raleigh's 115 and Heim's 104 while playing more games than both of them at the position. Furthermore, when looking at traditional statistics, Rutschman's .270 average and .366 on-base percentage lead all AL catchers with at least 100 games played this season. While Raleigh leads that group of catchers with 28 home runs and a .464 slugging percentage, those are the only areas he outperforms Rutschman.
This race is closer than it could have been this year given the astronomical expectations for Rutschman, but it's still his award to lose. This could be the first of many throughout the career of Adley as he trends towards being one of the best catchers in the league for a long time.
First Base: Yandy Díaz (TBR)
This one may seem close at first thought, but it might be one of the clearest winners in the league. Yandy Díaz has taken a huge next step forward in his progression as a player and has been the clear-cut best first baseman in the American League. His 155 wRC+ is over 20 points higher than the next first baseman as is his .398 OBP.
With the Rays steamrolling their competition to start the season, Díaz was a key part of the lineup. Since then, he has emerged as the true leader of the Tampa offense. Despite subpar defensive metrics at first base, Díaz has a 3.9 fWAR while the second-best player at the position, Nathaniel Lowe, has just a 2.7 mark.
Josh Naylor is another name worth mentioning with a 132 wRC+ and impressive marks across the board especially his 91 RBI, which have kept Cleveland afloat offensively. However, Díaz is the clear winner of this award with .319/.398/.503 slash line and 20 home runs, while leading one of the league's best offenses.
Second Base: Marcus Semien (TEX) or Jose Altuve (HOU)
This is a complicated one because it ultimately depends on whether you value dependability or peak performance more. Jose Altuve, when on the field, has been a better hitter than Marcus Semien but he's only suited up in just over half the Astros games. Especially given the success of the Rangers and his continual stability, it seems that the award is Semien's to lose.
Altuve's per-game numbers across the board lead the position by far with his 160 wRC+ and .939 OPS being some of the best of his career actually. However, in terms of counting stats Semien's 89 RBI and 112 runs scored lead the position by far. He hasn't been the best on a per-game basis but he's been one of the rocks of the Rangers' lineup through the entire season.
While Semien's defense plays a factor, he has a 5.5 WAR this season as opposed to Altuve's 3.9. The decision on this award will depend purely on whether the voters value Altuve's elite performance over Semien's consistent production. I'm siding with Semien on this simply because he's played nearly double the games, but I could see a world where Altuve gets the hardware.
Third Base: Rafael Devers (BOS) or Isaac Paredes (TBR)
This position was easily the most difficult for me to work through as there are at least five candidates that could realistically take this award. I could see any of Rafael Devers, Isaac Paredes, Alex Bregman, Gunnar Henderson, or Jose Ramirez taking the award this season. Ramirez has dominated the award in the past six years, with Devers and Bregman also taking home one award each. Ramirez has been worse than his past seasons, while some of these others have put together career-best seasons.
Paredes leads the positional group with a 136 wRC+, while Devers leads with 33 home runs, 98 RBI, and .876 OPS. Paredes is in the midst of a breakout season where he has reached career-best marks across the board, while Devers has actually been better in the past but has still been excellent for much of this season. The wOBA of each third baseman is nearly identical but the expected numbers indicate that Paredes has been much more lucky.
The numbers across the board are very similar but probably favor Devers slightly. However, Paredes being one of the key pieces of the likely 100-win Rays team could be a factor as well. This race truly could go a number of ways and might be decided based on the last 10 games of the season, but as of now, I think Devers has the best statistical case for the award. If you think any of Paredes, Henderson, Ramirez, or Bregman should win it though, that's completely understandable.
Shortstop: Corey Seager (TEX)
This is not close and there really isn't even a need to further explain, but I'll do so briefly. Corey Seager could possibly be the MVP this season if Shohei Ohtani wasn't superhuman and if Seager played in more games. The only thing that could possibly prevent Seager from winning the award is that he'll finish the season with around 120 games played due to an injury earlier in the season. But he has been so good that it shouldn't even matter.
Seager currently has the second-best wRC+ in the American League at 178, just a notch behind Shohei Ohtani's 179. He also has the second-best OPS behind Ohtani with an insane 1.050 OPS as of September 18th. Seager has been one of the best hitters in baseball, regardless of position, and easily the best shortstop in all of baseball.
While young superstars like Bobby Witt Jr. and Gunnar Henderson have been excellent and Bo Bichette continues to be great every season, the closest shortstop to Seager has just a 130 wRC+ compared to Seager's 178. No other shortstop in the American League has a slugging percentage of even .500 while Seager has a .651 SLG on the year. In just 106 games, he's the only AL shortstop with 30+ home runs. He's the best shortstop in baseball and will win this award with ease.
Outfield: Kyle Tucker (HOU), Julio Rodriguez (SEA), Luis Robert Jr. (CWS) or Yordan Alvarez (HOU)
The first two outfield spots were more obvious to me than I initially anticipated. Kyle Tucker remains one of the most underrated hitters in baseball and has been the consistent star in a Houston lineup that has dealt with numerous injuries to their other big hitters. Meanwhile, Julio Rodriguez has been one of the best hitters in baseball during the second half of the season, leading the Mariners back into a playoff race after a sluggish start to the year.
Tucker has already played in 145 games to this point and leads outfielders who have been healthy all year with a 137 wRC+ to go along with his .873 OPS and 27 home runs.
Rodriguez has raised his OPS all the way to .842 to go along with 30 home runs and 36 stolen bases after being around a league-average hitter earlier this season. His season progression should further aid his case given the disappointing start to the year.
Another position with stars that dealt with injury as Yordan Alvarez and Aaron Judge would easily be in the top three of this position in healthy seasons. However, Alvarez is just above 100 games played and Judge has still yet to cross that threshold.
The two superstars lead the position in wRC+ and other primary statistics. But they just don't have quite the amount of games played in my eyes to justify the award over someone like Robert Jr. who is in the middle of a breakthrough year with 140 games played already.
With 36 home runs, Robert leads all AL outfielders and his slugging percentage is only below Alvarez and Judge. He hasn't been at the level of the two, but Robert's ability to showcase his ability in a fully healthy season could earn him his first Silver Slugger. Voters may end up siding with Alvarez and his 174 wRC+ but his time missed may still cost him.
Designated Hitter: Shohei Ohtani
This is not complicated whatsoever. The AL MVP will obviously be the Silver Slugger as Shohei Ohtani leads the league in OPS, wRC+, home runs, and yes, he's a pitcher too.
Ohtani is the best player in baseball and will be the Silver Slugger at designated hitter. The bigger focus on Ohtani will be the most anticipated free agency in a very long day.
Utility: Luis Rengifo (LAA)
The American League doesn't feature as many true utility players as the National League, but this guy has played all over with consistent production. Rengifo's .783 OPS with 16 home runs made him one of the best players on the Angels this season while playing all over the field. The magnificence of Shohei Ohtani has been the main positive with the Angels, but Rengifo has put together a great season as a utility player.
There were slim options at this spot, but Rengifo was second on the Angels among players healthy the majority of the season which earns him the nod at this spot.