Analysis
Who Has Been Better in 2023: Matt Olson or Freddie Freeman?
Freddie Freeman and Matt Olson have each had historically great seasons, but which of the two have been the best first baseman in baseball?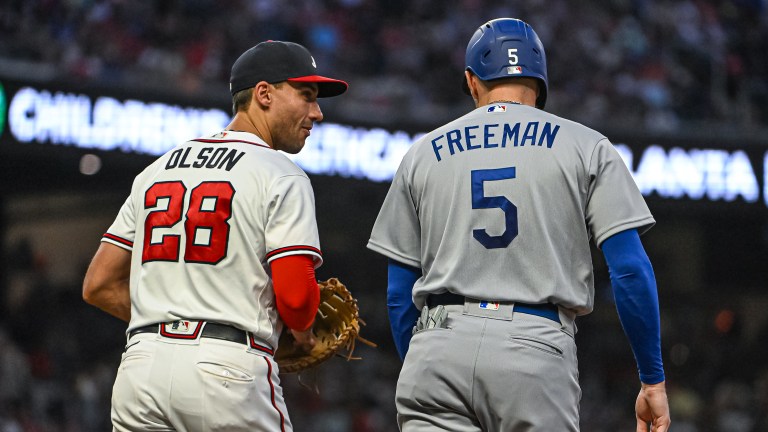 When Freddie Freeman opted not to re-sign with the Braves in the offseason prior to the 2022 season and signed with the Dodgers, the Braves went and traded for Matt Olson from the Athletics.
Not a terrible plan B.
But since then, the play of the two superstar first basemen has been inevitably linked.
In 2023, the two have enjoyed incredible, MVP-caliber seasons. Notably, Olson set a Braves single-season record with his 53 home runs (which lead baseball), and Freeman set a Dodgers single-season record with his 56 doubles (which also lead baseball).
Olson versus Freeman is an enjoyable conversation without their almost necessary comparisons, but because of the way they are linked, it adds that much more fuel to the fire.
Past the franchise single-season records that the two now own, there is much more to unpack about their seasons.
Now that Ronald Acuña Jr. has somewhat pulled away from Mookie Betts for National League MVP, there is a new most difficult question in Major League Baseball to answer:
Who has been better in 2023: Matt Olson or Freddie Freeman?
Matt Olson
6.2 WAR, .279/.386/.609, 121 R, 63 HR, 132 RBI, 1 SB, .994 OPS, 160 wRC+
In 2023, Olson has been an integral part of an unstoppable Braves offense that has scored 890 runs in 153 games — the best in the sport.
In his age 29 season, Olson has not missed a game and, for his part, has set career highs in hits, runs, home runs, runs batted in, walks, batting average and on base percentage. He has also had his best season in slugging, OPS and OPS+ since his rookie year in 2017.
Sure, he is surrounded by Acuña, Ozzie Albies and Austin Riley in the lineup, so he is certainly protected, but his gaudy offensive numbers can't be attributed to lineup protection alone.
When Olson gets his pitch, he is doing massive damage and just crushing the baseball.
A 55.8 HardHit% tells you everything you need to know about how hard he is really hitting the ball, but with an average exit velocity of 94.1, maxEV of 118.6 and Barrel% of 16.5, he is leaving little to chance when he puts the ball in play.
Defense is difficult to quantify for a first baseman, but Olson has been solid this season with 6 DRS, -4 OAA and -0.1 dWAR.
Speed may not be part of his game like it has been for Freeman this season, but you don't need to steal bases when you hit the ball over the fence as frequently as Olson does.
Freddie Freeman
7.2 WAR, .333/.410/.564, 125 R, 26 HR, 94 RBI, 21 SB, .974 OPS, 162 wRC+
Freeman has been just as important a cog in baseball's second best offense — 858 runs in 152 games — as any player on the team, Betts included.
At 34 years old, this may just be the best version of Freeman that baseball has seen, which is saying something considering he is a seven-time All-Star and 2020's National League MVP.
Freeman has missed just one game this season (a day game after a night game in which the Dodgers clinched the NL West) and has career highs in hits, runs, doubles, stolen bases, on base percentage and OPS+.
Freeman, too, gets protection in his team's lineup — he is sandwiched in a lineup that features Betts, Will Smith, Max Muncy and J.D. Martinez. Just like Olson, however, protection alone can't be what his numbers are attributed to.
As previously mentioned, 2023's version may be the best version of Freeman so far, and much of that has to do with how well-rounded his game has gotten.
The fact that Freeman is hitting .333 with more than 25 home runs, has a shot to record 100 RBI, paces baseball in doubles at 56 (and counting), has managed a career-high in steals with 21 while playing solid defense at first base — 2 OAA and — is kind of mind boggling when you put it all together.
Prestige-wise, he is just the 11th first baseman in MLB history to record 20 home runs and 20 stolen bases in a season.
What Freeman has done for a Dodger team that has been desperate need for consistency throughout the season, can't be overstated.
Not many players in the league are hitting the ball harder than Olson this season, but Freeman has been no slouch — 42.9 HardHit%, average exit velocity of 90.1, a maxEV of 110.6 and Barrel% of 10.8.
True, Freeman does not have the eye-popping power numbers that Olson has, but he may have put together the most complete season in 2023 from a player not named Ronald Acuña Jr.
In a world where Acuña and Betts weren't playing baseball in 2023, either Olson or Freeman have done enough to win National League MVP themselves.
But trying to decide who has been better in 2023 comes down to how a person likes their first baseman — flashy offensive numbers, or more of the all-around type. It's realistically like splitting as thin a hair as can be found.
Ultimately when we look at the stat that best measures who is better, wins above replacement, it is Freeman who is edging out his own replacement in that department for the MLB-lead among first basemen this season. In fact, he has still been a full win better than Olson.
While Olson has been great this season, there is no way we can say he has knocked Freeman off of being the best first baseman in baseball. Prior to the the season, we ranked both Olson and Freeman in the top five of our top 10 first baseman list.
Olson has certainly leap-frogged a couple of names on that list heading into next year, but Freeman isn't ceding his mantle atop it any time soon.