Analysis
Dodgers Sign Freddie Freeman to Six-Year, $162 Million Deal
Freddie Freeman's free agency has once again showed us that business always comes first in Major League Baseball.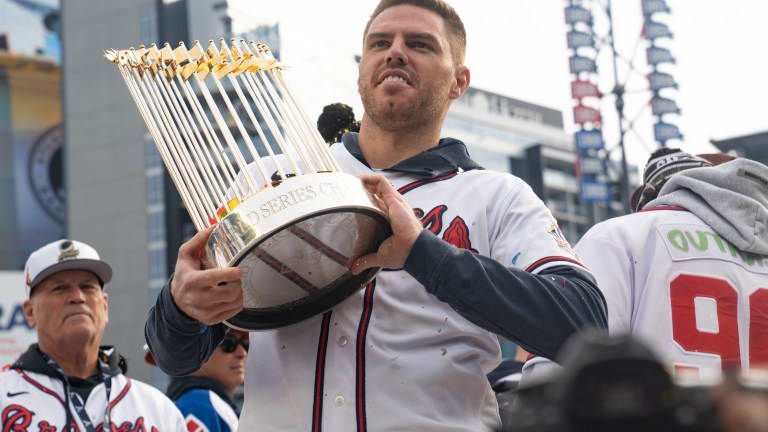 If there is one thing we have learned this offseason, it's that Major League Baseball is a business and sometimes that business can be very cruel.
Whether it's negotiating a new Collective Bargaining Agreement, or looking for your next deal in free agency, the business behind the game can often lead to some harsh realities. For Freddie Freeman that reality is that he is no longer going to be an Atlanta Brave.
We all know that Freeman is going to go down as an all-time great Brave. They can retire his No. 5 upon his return to Truist Park, when they hand him his first World Series ring.
Freeman will still of course be met with a rousing applause by 41,000 Braves fans, as they will likely even applaud him if he gets a base hit in his first at-bat against them. But after Freeman drinks in their applause and salutes the crowd, he has to stand next Matt Olson on first base.
Olson is the new prodigal son for the Braves. Hometown Georgia kid that grew up a Braves fan gets minted with an eight-year, $168 million contract. What a story.
The 27-year-old is basically sitting in the exact same position Freeman was in eight years ago, when he signed his own eight-year contract extension with the Braves. Freeman's deal was for $135 million, but you can just chalk that up to inflation.
We all know that if the money was the same everywhere, Freeman would have chosen to return to the Atlanta Braves to defend their World Series title. Considering the career that Freeman has had, he deserves every penny of his new six-year, $162 million contract with the Los Angeles Dodgers and he was right to get it elsewhere since the Braves weren't willing to meet his reasonable demands.
At the same time, Alex Anthonpolus is running a business with the Braves. And he made the absolute right decision for the future of his business. Thanks to Steve Cohen's luxury tax threshold creating payroll, the Mets are going to be competitive in the NL East for the foreseeable future.
Still, Atlanta doesn't take a backseat to anyone in the NL East. They have won the division 16 times in the 27 years since they moved over from the NL West in 1994. The Braves can't outspend the Mets, they have to outsmart the Mets. And the move they pulled off at first base was genius.
Removing the sentimentality, Olson is objectively a better bet to be productive over the next six years than Freddie Freeman. Based on Fangraphs Wins Above Replacement, Olson was the better player last season, posting a 5.0 fWAR compared to Freeman at 4.5. Olson hit more home runs and nearly had 30 more RBIs, as he brings a bit more pop to the lineup than Freeman.
Over the next six years, Freeman will enter his mid-to-late 30's, while Olson is at his athletic peak. While Freeman is a great defensive first baseman, some would say that Olson is the top defensive player at the position. At the end of the day, Olson is more valuable to the Braves on a eight-year deal than Freeman would have been on a six-year deal, with Olson costing over $5 million less per season.
Braves fans should be absolutely thrilled with the prospect of watching Olson at first for the better part of the next decade, but that does not make it any less gut-wrenching for Freeman.
Nobody is wrong in this situation. The Braves have made the right decision for their franchise. Freeman made the right decision for himself and his family. The fans are right to be excited to see Olson come aboard, while also being sad to see Freeman become a Dodger.
Anyone who watched the Braves last season witnessed a fairytale World Series run that was about as unexpected as we could have imagined. Once the games stop though, reality begins to creep in. Freeman was supposed to be a forever Brave. Unfortunately the business side always comes first before emotion.
Anthopoulos can talk about how much Freeman means to the Braves all he wants, but as the figures of these negotiations come to light, it is hard to avoid the reality that Atlanta was awfully cheap in negotiating the contract for one of their franchise icons.
What it really came down to is the fact that the Braves did not want to give Freeman a sixth year. If the Braves offer was in fact a five-year, $140 million deal, that comes out to $28 million per season, over a million dollars more than he is receiving with the Dodgers. That one year and extra $22 million ends up making the difference between retaining a Hall of Fame player for his entire career.
Loyalty does not exists when millions of dollars are at stake.
After getting spurned by the Braves, Freeman was left on the open market where his list of suitors quickly began to pile up. Ultimately he decided to give the Dodgers the hometown discount he would've given the Braves, signing for less money than he could've received elsewhere to return to where he grew up in California.
Freeman will now get to enjoy playing on a super team for the remainder of his prime, where he will be contention to win it all every season. Meanwhile the Braves are likely to meet Freeman's Dodgers in the playoffs during that span, with Olson being a big part of this budding rivalry.