Analysis
Atlanta Braves Trade for All-Star First Baseman Matt Olson
It appears that Freddie Freeman's days in Atlanta are over, as the Braves just traded a haul of prospects for his replacement.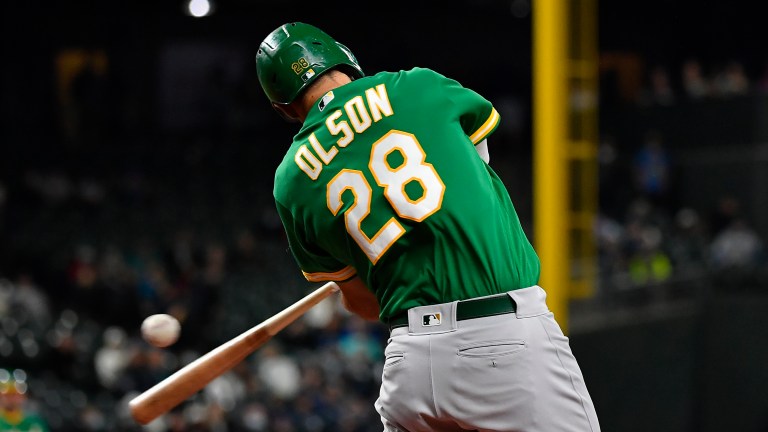 If the Atlanta Braves and Freddie Freeman were playing a game of chicken when negotiating his new contract than that game has come to an abrupt end. The Braves have pivoted before Freeman's decision has been announced, trading a package of four prospects to acquire Oakland A's slugger Matt Olson.
Olson has flown under the radar a bit out in Oakland, but that does not change the fact that he is one of the best first basemen in baseball. The soon-to-be 28-year-old has two Gold Gloves on his resume and made his first All-Star appearance last season.
In 2021, Olson hit .271/.371/.540, with 39 home runs, 111 RBI and a 146 wRC+. Olson burst onto the scene back in 2017, blasting 24 home runs in just 59 games played as a rookie. He went on to finish fourth in the Rookie of the Year voting and ended the season with a 164 wRC+.
Since 2017, no first baseman has hit more home runs than the 142 that Olson hit for the A's. Still, Freddie Freeman was been worth six more wins than Olson during that span.
Considering how good Freeman has been, it is hard to call this a clear upgrade for the Braves, but it is an incredible fallback option that allows them to defend their title in 2022 without breaking the bank long-term. According to Spotrac, Olson is projected to make $12 million this season and will be under team-control for his final year of arbitration in 2023.
Atlanta will eventually have another tough decision to make at first base when they have to pay Olson, but for now they have delayed that for a few years and have gotten five years younger at the position.
Olson is probably an upgrade defensively over Freeman and packs more power in his bat. He is not going to hit for the same average as Freddie, but this is about as close as it gets when it comes to replacing a player that talented. It will be very interesting to hear Freeman's side of things whenever he makes his free agent decision.
While Olson is great, we of course have to discuss the haul of prospects it took to land him. Christian Pache is the headliner, as he has been regarded as the Braves top prospect.
The 23-year-old is special defensively, capable winning many Gold Gloves out in center field. The bat is still a massive question mark though, as he has only hit .119/.157/.209, in his limited MLB action (72 PA) and did not even have the best season in Triple-A last year either.
Still, if Pache can even be a replacement-level offensive player, his glove will carry him to being a well-above average starter for the A's.
Along with Pache, the Athletics acquired catcher Shea Langeliers, who many consider to be the Braves No. 2 prospect. Langeliers hit .258/.338/.499, with 22 home runs and 52 RBIs in 370 plate appearances at Double-A last season. The 24-year-old earned promotion to Triple-A, where he played just five games at the end of the season.
Finally, Oakland receives a pair of pitching prospects in the deal with right-handed starters Ryan Cusick and Joey Estes. The Braves drafted Cusick in the first round of the 2021 MLB Draft out of Wake Forest last year. Estes was drafted out of high school in 16th round back in 2019, but had a very strong season last year pitching to a 2.91 ERA across 20 starts in Low-A.
The Athletics did a really good job adding a huge prospect return for a player in Olson who was likely out of the door in two years. Between this trade and dealing Chris Bassitt to the Mets, Oakland is well on their way to a success rebuild.
Meanwhile the Braves are moving on from the guy who has carried this franchise for the last decade. Whatever Freeman's contract demands were, Atlanta just made the decision that it was better to part with four highly-regarded prospects than to meet his asking price.