Analysis
While Adames Has Gone Cold, Yelich Is Heating Up
Willy Adames has struggled offensively to open the season, while Christian Yelich is finally hitting his stride at the plate.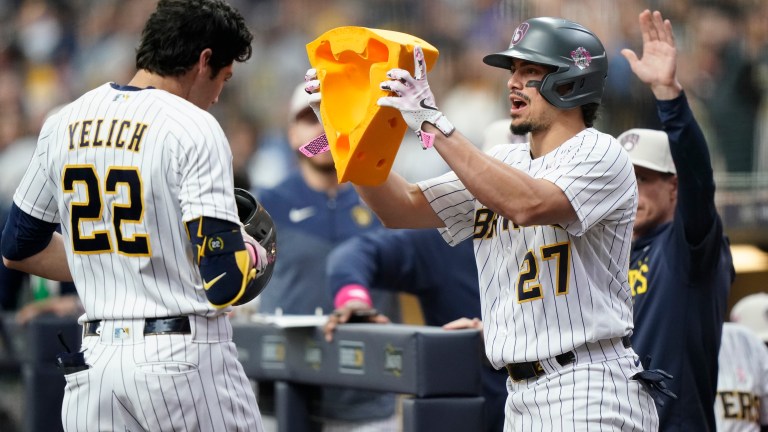 We are seven weeks into the 2023 MLB season, and the Milwaukee Brewers currently lead the NL Central division with a record of 24-19. They burst out of the gate, winning five of their first six series of the season, receiving production from veterans and newcomers all throughout their lineup. However, while they still hold a one-game lead in the division, the club has been on a slight skid these past few weeks.
They've now lost six of their last eight series, and Milwaukee's offensive production has hit the brakes in the month of May. The Brewers are in the bottom five in baseball with a wRC+ of 88 this month, and they have some key contributors slumping at the plate. While they have some bright spots in the lineup, including their former MVP hitting his stride offensively, they've struggled to get production out of one of their most electric bats in Willy Adames.
Willy Adames
Overall, Willy Adames hasn't gotten off to the start many were hoping for. After a solid month of April at the plate, Adames' production has sharply declined with the turn of the calendar month.
Adames' Strikeout Concerns at Root of May Struggles
Thus far in 2023, Willy Adames is slashing .210/.306/.376 and has a wRC+ of 87 in 185 plate appearances. However, his overall numbers are being pulled down by his lackluster performance at the plate in May.
Through 64 plate appearances this month, Adames is hitting just .158 with an OPS of .503. While he does have two homers and nine RBIs in the month, he has been struggling to put the bat on the ball, which has been a trend with Adames through his first six seasons in the big leagues. There is no denying that he brings substantial power to the shortstop position, but his bat-to-ball numbers continue to present an issue this season.
Adames leads the Brewers in strikeouts with 47, yielding a 25.4% strikeout rate in 2023. While that is surprisingly the lowest strikeout rate of his young career (and a slight improvement over his 2022 number), it's an area Adames must continue to improve.
Relatedly, his whiff rate and chase rate have both increased from last season. His whiff rate of 30.2% sits in the 22nd percentile, and his chase rate of 30.1% is a career-high. This has been an issue that has plagued his approach throughout his Brewers' tenure, and thus far in 2023, it hasn't seemed to get any better.
With that being said, Adames has still found a way to produce at the plate, and he has been very efficient at drawing free passes this season. He leads the Brewers in walks with 22 while posting a career-high walk rate of 11.9%. Additionally, he leads the team in RBIs with 24 and has seven home runs through his first 42 games. As previously mentioned, Adames brings an electric power bat at the top of Milwaukee's lineup, and he recently surpassed 100 career big league home runs, an exciting milestone for the 27-year-old shortstop.
Willy Adames is at the heart of the Brewers' locker room chemistry, has become a fan-favorite in Milwaukee, and displays elite potential at the shortstop position. However, addressing his strikeout concerns will be essential for Adames to develop into a consistent hitter.
Adames' Struggles Against Lefties
The second area where Adames could develop is his efficiency versus left-handed pitching. Through his first six seasons, Willy Adames has a history of reverse splits at the plate. Meaning, as a right-handed hitter, he has better production versus right-handed pitching compared to left-handed pitching. This trend has continued this season:
| | | | | | |
| --- | --- | --- | --- | --- | --- |
| Split | BA | OBP | SLG | wOBA | wRC+ |
| Versus Lefties | .156 | .309 | .244 | .268 | 64 |
| Versus Righties | .232 | .305 | .429 | .316 | 97 |
Stats courtesy of Baseball Savant and FanGraphs
While Adames has historically been more susceptible to left-handed pitching, he is still greatly underperforming relative to his career averages. It's an area he will need to improve upon, especially considering Milwaukee's struggles versus lefties as a team.
Milwaukee ranks 29th in team wOBA and dead-last in team OPS versus lefties in 2023. The Brewers also have a wRC+ of 77 versus left-handed pitchers this season, which is the third worst in all of baseball. This was an area the Brewers struggled with last season, and it appears the struggles are bleeding over into 2023.
While Adames has remained one of Milwaukee's best run producers in the lineup, it's been a disappointing start to the season for the power-hitting shortstop. It has been a brutal May for Willy Adames, but the same cannot be said for his teammate Christian Yelich, who is seemingly hitting his stride as we cross the halfway point of the month.
Christian Yelich
Milwaukee's fanbase has been yearning for the return of MVP Yelich for the past couple of seasons now. While Christian Yelich has been serviceable at the plate since his tear in 2018-'19, his production has left much to be desired amongst not only Brewers fans but all fans of the sport. Despite his quality of contact numbers remaining fairly encouraging over the past couple of seasons, Yelich's power numbers have dropped off a cliff since 2019.
Yelich has failed to surpass 14 home runs in a single season since launching 44 homers back in 2019. However, while it is still a step back from his 2019 power output, he already has seven home runs in his first 40 games of 2023. Yelich might not be all the way back to his MVP form, but he may have tapped back into his power stroke to a small degree this season.
Yelich's quality of contact continues to impress in 2023. He has an outstanding hard-hit rate of 58.2%, which is in the top three percent in all of baseball. Relatedly, his average exit velocity sits at 92.9 miles per hour, which is also in the top ten percent of MLB. However, generating strong contact has not been Yelich's shortcoming in recent years. Instead, Yelich's greatest struggle has been his concerningly-high groundball rate.
Yelich has failed to consistently elevate the baseball since his 2020 season. In each of the last two seasons, his average launch angle has taken a dive and he has been amongst the league leaders in groundball rate.
However, while not entirely shaking the stigma this season, Yelich is making improvements when it comes to driving the ball in the air. His groundball rate is still well above league average, but his average launch angle sits at 5.6 degrees, up 2 degrees from last season. While it might seem like a minuscule increase, it's his highest average launch angle since 2020 and is a significant step in the right direction.
Consequentially, he is posting a barrel rate of 9.1%, which is his highest barrel rate since 2020. There is intrigue here when analyzing Yelich's performance at the plate, yet his overall numbers on the year are not awe-inspiring. He is slashing .258/.341/.424 for a wRC+ of 110, but he has really stepped up his game in the month of May.
Yelich's Impressive May
This month, Christian Yelich is hitting .333 to go along with an OPS of 1.000 and a wRC+ of 168 in 53 plate appearances. He has been a bright spot for a Brewers lineup that has had a rather lackluster May. Just over halfway through the month, Yelich already has 12 RBIs to go along with four home runs.
He came to life over the weekend with a two-homer outing against the Royals, which was his first multi-home run performance since August of 2021. He then followed it up the next day with a leadoff bomb on Mother's Day. This is the most confident version of Christian Yelich Brewers fans have seen all season, and this could be the spark he needed to go on an offensive tear.
It's good for the game of baseball to see Christian Yelich producing at the plate. But it's also important to look at if these hot spells are sustainable. I dug into Yelich's performance versus varying types of pitches to get a handle on if Yelich's success could continue throughout the season.
Yelich Excelling Versus Fastballs, Struggling Versus Breaking Pitches
A main driver of Yelich's success at the plate has been the damage he has done against fastballs this season. Alternatively, Yelich has struggled mightily with breaking pitches thus far in 2023.
| | | | | | | |
| --- | --- | --- | --- | --- | --- | --- |
| Pitch Type | BA | xBA | SLG | xSLG | WOBA | xwOBA |
| Versus Fastballs | .321 | .357 | .617 | .674 | .439 | .474 |
| Versus Breaking | .073 | .180 | .073 | .291 | .122 | .247 |
Stats courtesy of Baseball Savant
There is a stark difference in performance versus the two types of pitches for Christian Yelich. He hasn't excelled at hitting breaking pitches in recent years, and still, his production versus breaking balls has taken a substantial downturn in 2023. He has struck out 20 times while generating just three hits off of breaking pitches. Yelich's performance against these types of pitches has been concerning, and it's an area he is going to need to improve upon to maintain season-long success.
On the other hand, Yelich has destroyed fastballs this season. Yelich has seven home runs on the year, and all have come off of the fastball. While it's inevitably a smaller sample size, this is the most efficient Yelich has performed against the fastball since his 2019 season. Yelich was elite at crushing fastballs in his 2018-'19 tear, so his turning back the clock in this fashion has to be intriguing for Brewers fans. If Yelich can maintain this level of success against fastballs, it elevates the threat he presents at the plate and raises his ceiling as a hitter.
Unfortunately for the Brewers, Yelich aggravated his back swiping a few bags on a broken play versus the Royals. While it was a pivotal play and a thrilling moment of the ballgame, it ultimately led to him missing the final two games of Milwaukee's battle with St. Louis. It's unclear if he will miss extended time, although the Brewers will hope he can return after the team's rest day on Thursday.
Milwaukee is heading into a stretch of some important series versus high-quality opponents, including Tampa Bay, Houston, and Toronto. Willy Adames will look to bounce back to the level of play fans know he is capable of, and Christian Yelich will look to continue his hot streak as Milwaukee looks to get their offense back on track.