Analysis
Milwaukee Brewers off to Hot Start Thanks to Youth Movement
The Milwaukee Brewers are off to a hot start offensively in 2023. Who are some of the unfamiliar faces leading the charge on their early offensive success?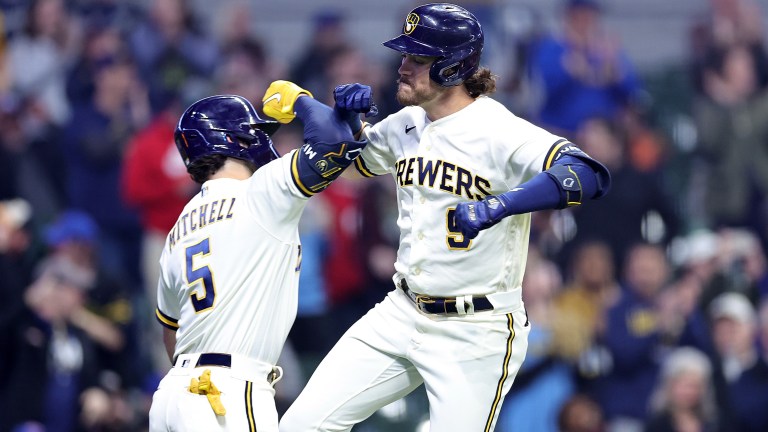 The Milwaukee Brewers' offense is firing on all cylinders to start the 2023 MLB season. The offense has found its footing after getting shutout on Opening Day against the Chicago Cubs. They have scored 35 runs in their last four games as they completed the sweep of the Mets in their home opener series.
One week into the season, Milwaukee's 38 RBIs are the second-most in the MLB. They're also in the top-five in the league in OPS (.828), wOBA (.362), and wRC+ (125). Granted, it is early. But it's encouraging for Brewers fans to see the offense bounce back from a brutal day at the plate on Opening Day.
The last time the Brewers scored seven or more runs in four consecutive games was July of 2021. Last season, Milwaukee only put up seven or more runs three times in the month of April.
In 2023, they've already done it four times just six days into the month.
It's a small sample size just one week into the 2023 season, but there is a general excitement around this ball club.
It's not only important to look at how a team is scoring runs, but who is contributing to those runs. It's not the familiar names who are driving this scoring frenzy. This offensive outburst is being driven by the new faces at the bottom of the order.
The Freshmen: Brice Turang, Joey Wiemer, and Garrett Mitchell
We'll start by looking at The Freshmen, a term coined by the organization for a docuseries regarding Milwaukee's top prospects. As a group, the three have gone a combined 17-for-53 (.321 Avg.) for five home runs and 13 RBI. They're shining on the big stage as they have been some of the most productive hitters in Milwaukee's lineup.
While I expected Milwaukee's prospects to contribute, I didn't anticipate it happening so quickly.
Brice Turang – Second Baseman
Brice Turang might be off to the hottest start of the bunch. Through 19 plate appearances this season, he is slashing .313/.421/.563 with five RBIs and two extra-base hits.
Turang has demonstrated an impressive eye early in the season. He has a solid chase rate of 15.2% and he has already accumulated more walks (3) than strikeouts (2). It's always encouraging to see a disciplined approach in young players just days after their MLB debut.
Turang has also shown off his elite speed in his first five MLB games. He has two infield singles, one being his first MLB hit, and has swiped two bags as well. His speed is noticeable both on the basepath and in the field, and he has already made a large impact on the game with his legs.
Turang quickly racked up the achievements recording his first MLB hit, RBI, and stolen base. But the real shining moment for Turang occurred in the Brewers' home opener on April 3rd. With his parents in attendance, Turang cranked a grand slam in the bottom of the fifth inning, which was also the first home run of his career.
It was an electric moment on a day where the offense was already firing on all cylinders. Having a moment like this in front of a sellout crowd in the home opener is surly a way to boost a player's confidence early in his Major League career. Just five games into the season, Turang is putting himself in early consideration for NL Rookie of the Year.
Joey Wiemer – Outfielder
Joey Wiemer is an electric athlete. His unorthodox technique and unique personality have already made him a fan favorite. Through his first 19 plate appearances, Wiemer has slashed .353/.421/.588. The first pitch he saw at the Major League level was ripped into right field for his first career MLB double. The rookie hit the ground running in 2023.
The most noteworthy element of Wiemer's game thus far has been his approach at the plate. This was the big question mark with Wiemer as a prospect. How would his chase rates, strikeout rates, and walk rates translate to the Big Leagues?
Six games into this 2023 season, Wiemer has eased some of those concerns. Wiemer has looked confident and disciplined at the plate. He has a whiff rate under 22%, drew two walks, and has only struck out three times in his first 19 plate appearances.
It is clearly too early to dismiss the concerns with his approach entirely. However, Wiemer demonstrating his ability to put the bat on the ball this early in the season is an encouraging sign for the Brewers. And it appears he might have finally tapped into his power to go along with the approach.
In Wednesday's matinee with the Mets, Wiemer notched his first big league RBI with a three-run blast in the second inning.
There is no denying Wiemer has the power. Monitoring his bat-to-ball numbers will be a point of interest all season long.
It would be remiss of me to not mention his athleticism that he displays defensively as well. His combination of speed and arm strength is going to be a very valuable asset for this Brewers defense. Already making his first diving grab of his MLB career, Wiemer also displayed his impeccable arm strength in right field.
He has the ability to make a difficult play appear effortless. There's no surprise he draws comparison to Hunter Renfroe with his throwing arm in the outfield.
Garrett Mitchell – Outfielder
The influx of speed that 'The Freshmen' bring to this Brewers lineup is significant. It doesn't end with Turang and Wiemer either. Not to sound like a broken record, but Garrett Mitchell demonstrates elite speed. Racking up the most plate appearances thus far of the Brewers prospects (22 PA), Mitchell is slashing .300/.364/.850 to go along with four extra-base hits and five RBIs.
However, it isn't his speed that has made a name for himself in 2023. To the surprise of many, the power numbers have been the main highlight for Mitchell.
There were concerns about Mitchell's lack of power as a prospect. His low fly ball rates drew concern, and his shallow home run totals in the minor leagues yielded doubt on how high his ceiling could be. So, Mitchell finding his power stroke is especially noteworthy and impactful for the player he could be.
Not only has he already recorded his first triple of the season, but he played a huge role in Milwaukee's offensive explosion in Tuesdays game versus the New York Mets.
There were a flurry of home runs against Scherzer and company. Mitchell was the book end of a back-to-back-to-back home run party in the sixth inning. He followed it up in his next at-bat going back-to-back once again with Brian Anderson for his first multi home run game of his career.
The fun didn't stop there for Garrett Mitchell. A day later, he entered the game as a pinch hitter in the sixth inning and continued to perform when the team needed him most. In what was a back-and-forth affair for the entirety of the game, Mitchell continued his hot streak from the night before in the bottom of the ninth inning with a walk-off home run.
If Mitchell can drive the ball in the air and work the power stroke into his game, he becomes an entirely different ball player. He has started 2023 off by hitting three home runs, and his power numbers will be something to monitor all season long.
Offseason Additions
It isn't just the prospects who are contributing for the Brewers. They are also getting significant contributions from the experienced veterans acquired in the offseason.
Brain Anderson – Third Baseman/Outfielder
It didn't take long for Brain Anderson to make a significant impact on his new team. Anderson opened the season as the Milwaukee's starting right fielder. However, Luis Urias suffered a hamstring injury on Opening Day that will leave him on the shelf for about two months. This opened the door for Anderson to slide into the team's third base position, and he has thrived in that role.
Anderson has a whopping 1.621 OPS on the season slashing .500/.565/.1.056. He has three home runs on the year to go along with a league-leading 10 RBIs in 23 plate appearances. He's settling in comfortably in his new home at American Family Field.
On Monday, Anderson hit the Brewers' first home run of the season. But his production didn't stop there. He then followed it up with a two-home run outing the next day, driving in six total runs in the game.
He has already solidified himself as being a very important piece of the puzzle for the 2023 Milwaukee Brewers. Anderson is someone who has battled injuries throughout his young career. However, he appears to be healthy to start this 2023 season and is making a case to be the permanent third baseman even when Urias returns from injury.
Jesse Winker – Outfielder/Designated Hitter
Jesse Winker has been a nice surprise for the Brewers to open the season. He is slashing .333/.409/.444, with seven RBIs and two extra-base hits. A popular bounce back candidate, he has come in clutch when the Brewers have needed him.
Winker has demonstrated excellent situational hitting thus far. While he hasn't made an impact on the game with home runs and barreled hits, the timely base knocks have been a noticeable boost for Milwaukee's offense.
Winker continues to demonstrate his great discipline and approach at the plate. Finding a way to get on base and work pitchers deep into counts, he has produced even without tapping into his power. So where could he look to improve this season?
Being a left-handed hitter, Winker has historically been a liability against left-handed pitching. In his career, he is a .205 hitter with an OPS of .655 against lefties. Because of that, he finds himself in a platoon role at the designated hitter position to start the year.
However, despite his splits, Winker got the start Wednesday against LHP David Peterson. In turn, he delivered a key double early in the second inning sparking Milwaukee's four-run showing in the inning. If he is able to find success against left-handed pitching, an area Milwaukee greatly struggled with in 2022, Winker could find himself in an everyday role on this team in 2023.
So, is this offensive production sustainable?
The Brewers struggled with offensive consistency in 2022. The Brewers only scored seven or more runs in three consecutive games once last season.
They have already accomplished that just one week into the 2023 season.
So, should Brewers fans expect this level of offensive production and consistency throughout the year, or will there be some degree of regression for the offense?
I believe we will see regression, but in both directions. Milwaukee's bottom of the order has been on fire through their first six games. Conversely, the top of the order hasn't been as hot.
| | | | | | |
| --- | --- | --- | --- | --- | --- |
| Spot in Batting Order | Strikeout Rate | Walk Rate | Avg | OBP | SLG |
| Batters 1 – 2 | 27.3% | 20% | .209 | .364 | .302 |
| Batters 3 – 6 | 26.9% | 8.7% | .269 | .327 | .462 |
| Batters 7 – 9 | 15.1% | 13.7% | .349 | .438 | .556 |
The top two hitters in the Brewers' batting order combine for a subpar .666 OPS through six games. While they have been walking at a 20% rate, which is quite impressive, they've been striking out at the highest clip.
The bottom of the order has limited the strikeouts, got on base efficiently, and racked up extra-base hits. It's unlikely the bottom three hitters maintain a .349 average for the remainder of the season. However, it's just as unlikely for the top of the Brewers batting order to hit just .209 in 2023.
Additionally, it's only a matter of time before the power hitters in the lineup find their groove. Willy Adames, William Contreras, Rowdy Tellez, and Christian Yelich combine for only one home run on the season through six games.
The way this lineup is constructed, it doesn't appear they will be reliant on the same handful of players to drive their offensive production day-in and day-out. This would be a huge adjustment from last season if they can distribute run production throughout the lineup. It would take pressure off of the top of the order and put more pressure on the opposing pitchers.
While I expect the rookies to cool off, I expect the veterans to see a bump in production moving forward. This is about as exciting of a start Milwaukee could have asked for offensively. It will be interesting to monitor as the season progresses.
I think Milwaukee did a great job at building a lineup comprised of speed, power, and contact ability. As a team, they have demonstrated a nice approach at the plate. They've worked pitchers deep into counts, generated good contact, and received production from nearly everybody in the lineup. If they can maintain that same approach all season long, they could be in store for a more successful season at the plate than was anticipated.