Podcast
The Baseball 100: Ranking The Greatest Players of All-Time
A conversation with New York Times Best-Selling Author Joe Posnanski on the top 100 players in the history of baseball.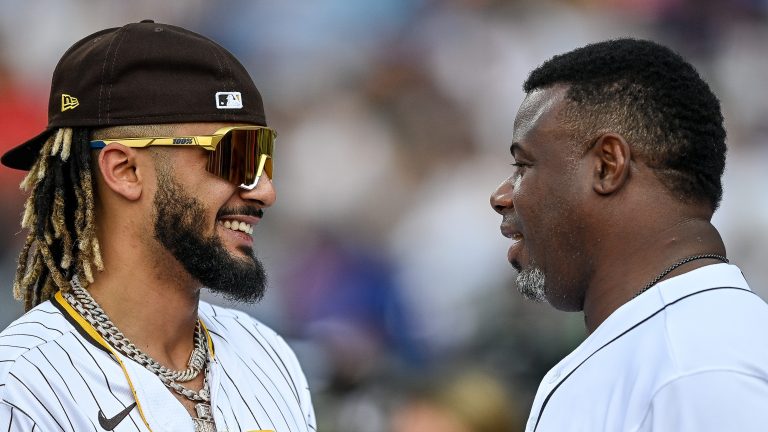 Is it possible to properly rank the top 100 greatest players in the history of baseball?
If you ask six-time New York Time Best-Selling author Joe Posnanski, there is no way to make everyone happy when setting out to construct a list as subjective as the top 100 greatest players in baseball history.
"This was really important to me when I realized this. Before I ever even started the writing, I knew whatever list I would come up with, people would hate it". – Joe Posnanski
That's the problem with ranking the Top 100 players in baseball history. No list is ever perfect.
Why is this player #79? He should be #54!
The semantics of a list like this produces some of the best conversations and arguments that baseball fans adore, and that's precisely what the great Joe Posnanski created.
Posnanski is a journalist who has spent his career covering the game of baseball. He has written for the Athletic, Sports Illustrated, NBC Sports, and the Kansas City Star. He's a two-time Emmy award winner, a five-time national sportswriter of the year, and the author of the Baseball 100.
Baseball 100 ranks the top 100 players in history and was deemed an "instant sports classic" by the New York Times.
Posnanski just recently sat down with us on The Just Baseball Show to discuss his book and how he narrowed down a list of 100 players that stand out above the rest as the greatest players of all-time.
There is no more classic debate than the ranking of the top 100 players in history. I won't spoil the specific ranking system – I highly advise checking out the book.
What is essential is that even though Joe collaborated with Tom Tango, the inventor of Wins Above Replacement or "WAR" for short, this list is art, not a science.
How can we compare Babe Ruth to Mike Trout?
It is always tricky to compare players from different eras, especially when we vastly different information to judge said players on. Trout came up in the age of analytics, where we have a set value for everything he does on the field whether that be playing centerfield, running the bases, or hitting home runs.
To judge a player like Ruth, we have to go back and rely on the people who were lucky enough to watch his brilliance up close. Still, how much value can you place in anecdotes on players we never got the chance to watch firsthand?
"A tremendous amount, especially as a storyteller. That's where the heart of it is. It's about what they did, about what people said about them."
Current baseball fans get their information from ESPN, MLB Network, or Just Baseball's Tik Tok, but back in the early parts of the 19th and 20th centuries, newspapers were the way fans consumed baseball information. At that time, stories were printed about the amazing feats of players we never saw.
How do you compare the legendary Negro League shortstop Pop Lloyd to Derek Jeter?
At least with Babe Ruth, we have some film, and major newspapers were covering his every move. Pop Lloyd played even before the Negro Leagues started, and we have no actual film on him taking a groundball or hitting a home run.
What we do have are the stories. Stories written in print about Honus Wagner being compared to Lloyd and calling it an honor. Babe Ruth called Lloyd the greatest player anywhere.
"Newspapers were amazing things in those days. Back in the early 20th century, there were four to five newspapers in the town, so we have all kinds of different anecdotes and stories… speaking with [Negro League] legends like Buck O'Neil, you can tell their story in the best way possible."
Starting at No. 100, Ichiro Suzuki checks in. Ichiro had one of the most extraordinary baseball lives of all-time, but his MLB statistics don't stack up against many others considered for this list.
"Ichiro is one of my favorite players; he's unique, he's special; how could you leave him off the 100 greatest players list?"
That's the beauty of it. From his early years in Japan, to his career in the majors, to his contributions outside the sport. Ichiro Suzuki is a Top 100 player in baseball history, even if his MLB statistics do not stack up with some other players on the list.
Joe DiMaggio clocks in at #56. Do you think he is just the 56th best player in history?
No, I'd argue he should be in the top 30, maybe even top 20. But that's my personal opinion, and I'm sure there is someone on the other end of this article thinking, "Top 20?! No way! DiMaggio was overrated at No. 56, he should actually be No. 71!"
But No. 56 is unique to DiMaggio. Tom Seaver is at No. 41 because of his iconic jersey number. Jackie Robinson is at No. 42. You get the idea.
This list is not a group of names pulled together for the pure "art."
It's a well-balanced and incredibly comprehensive list; as Joe describes,
"This is a real list, I will fight tooth and nail to argue to anyone who wants to… But let's be honest, you're not going to be able to get the 100 greatest players in perfect order."
Posnanski beautifully illustrates the careers of these players through a new set of stories that "even the biggest fans may not know."
Who's the greatest pitcher of all-time? Who is the greatest power hitter ever? Who's the best all-around player in baseball history?
Check out Joe's book and find out.
My Answer to those questions:
Greatest Pitcher Ever: Pedro Martinez.
Greatest Power Hitter: Josh Gibson
Greatest of All-Time: Babe Ruth.
What's yours?