Analysis
What Should The Chicago White Sox Do With Eloy Jimenez?
The Chicago White Sox seem to be one of the real sellers right now, which could put the oft-injured but impactful Eloy Jimenez on the market.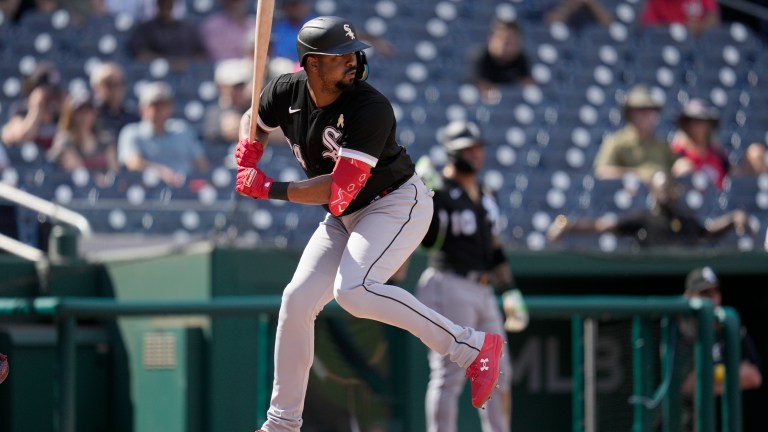 During a rebuild there comes a time where teams have to let go of players that mean a lot to the fanbase. No one wants to see their team shipping off talent, especially talent that once was a sign of hope for the city. The Chicago White Sox have started to see those dominos fall with Jose Abreu, Lucas Giolito and Tim Anderson among the headlining names to depart from the roster.
The names above were hard to see go, yet more could be on the way out. Especially with a new general manager in Chris Getz figuring out which direction he wants to take the team.
One of the main names with an undefined future with the Sox is outfielder Eloy Jimenez, or as the SouthSiders know him as Big Baby. Jimenez has been with the White Sox since being traded to them in July of 2017 from the Cubs. The trade also involved Dylan Cease coming to the Sox for Jose Quintana.
Since that wondrous day, Jimenez has displayed extreme power for the Sox from the plate and consistent defensive efforts. He is currently sitting with a career slashline of .275/.324/.487 to accompany never dipping below a .985 fielding percentage.
There is no doubt when Eloy is on the field that he is a difference maker and being 26 years old, he fits the mold of being able to hit his prime at the right time on a rebuilding team.
There is just one problem: He can rarely stay on the field.
Dating back to April, 2019, Jimenez has dealt with various injuries that have taken him off the field, and out of the lineup, for the White Sox. According to Fox, there have been 20 separate injury designations during that span.
While he was able to get on the field for 120 games this past year, his most since his rookie season, there were only two months (July and September) where Jimenez did not pop up on the injury report for something. And his performance suffered from it as well (105 wRC+).
The injuries he had to deal with varied his amount of time away from the team. However, the results were always the same, the team missed his presence as he has a career WAR of 5.6.
Some may argue that the risk of injury is just something that the White Sox are going to have to deal with, especially if they want to keep some talent on the roster. Yet, the other options for the Sox are just as enticing.  
Chicago, obviously, has three options here: Trade, cut or cross their fingers. Each has their pros and their cons. Just like any decision.
Getz needs to figure out where he values Jimenez in his first rebuild process as the commander and chief of the Sox. Below is a look into each of the options and analysis to what could be the outcome with each move. Here we go.
Hold
Let's kick things off on a positive note.
The power, confidence and locker culture are there. Put him at DH, and allow him the chance to sit in bubble wrap while the other kids play outside.
Truthfully, I see this as the way to keep Big Baby on the south side. Limit the chances of him getting hurt. He may get hurt running the bases after a moonshot, but that is way less likely than him diving for a ball in left field.
It really isn't a secret about what Eloy has gone through, even he acknowledged it during his stint with Double-A Birmingham this year. Jimenez joked that the reason his rehab assignment was in Double-A instead of Triple-A is because he has already spent too much time in Charlotte.
Despite the Barons being on a road trip during, the joke still got a good laugh. 
Jokes aside, it has been a problem for Eloy to stay on the field. Not all of his injuries have come from playing in the outfield, but a good chunk of them have. Jimenez is way more than just his bat to the White Sox organization, however, if they keep him that is most likely all he would be asked to bring to the table.
Eloy always carries around a smile when playing on the southside, and brings a sense of fun to the home team dugout as well as the fans in the sections surrounding him. Yet, just looking at the oWAR and dWAR, the Big Baby should know what is best for his future in baseball.
Over the past five seasons in the MLB, Jimenez has played in 436 games accruing an oWAR of 7.2 and a dWAR of -4.1.
As the stats show, he is more useful at the plate. Eloy has ranked inside the top-10% of the league in max exit velocity and hard hit percentage multiple times in his career. He also has never been under double digit home runs in his career, despite only playing 55 games in 2020 and 2021.
That is not to discredit his performance on the field, it is just to say that it would not make a huge difference transitioning him to DH only, especially when it can allow him more time off his feet and at the plate. Especially with Eloy garnering a wRC+ of 118 over his major league career thus far. 
Keeping Eloy is not a bad choice. It is just one that has a high risk, high reward type of feel to it. The Sox could either continue to go through this type of pattern of going on-and-off the IL, or it could pan out that Jimenez taps into his youth and plays a full season and is up there with the league leaders in home runs.
To me, there is no middle ground between the two options. Hence this comes in as the second-most likely thing to happen with Eloy. 
Trade – Before Season/Trade Deadline
This option, before Getz was able to send off Aaron Bummer to Atlanta for FIVE players, seemed a little far fetched to happen in the off-season. Now, the young GM has shown his capability to get solid value. 
In reality Bummer is not Eloy, and Eloy is not Bummer. Bummer's performance was dipping at a high rate as his ERA rose to a 6.79 last season. Jimenez still plays at a high level, when in the lineup. But, the importance is that Getz, in theory, did not just send off Bummer for nothing. He filled holes on the roster.
If he can do that with a left-handed reliever, think of what he could get from a powerful outfielder like Jimenez.
Teams don't just buy at the trade deadline. Some are just as active in the off-season. For Jimenez a trade right now seems like they would not be selling high. But, it is still very likely as the Sox look to be fast movers to kick off this latest rebuild. Also the weak free agent class could aid Getz in getting more surplus value for teams willing to gamble on the upside.
If a trade were to happen sooner rather than later, I would watch for teams like the Arizona Diamondbacks, San Francisco Giants and San Diego Padres. All are looking for some more power in their lineup coupled with some aid in the outfield.
Plus they are in a window to contend, meaning they are more willing to send rising prospects to take advantage of the team they have right now. Something that a rebuilding team like the Sox are looking for in a trade partner. 
A trade leading up to the season is possible, yet I wouldn't put all my chips on it. Jimenez is only 26 years old and could be a part of this turn around.
The Sox may want to enter the season with the young power hitter, and see where else they can fill in the holes around him. The outfield as of right now is Eloy, Luis Robert Jr. and Andrew Benintendi, and does not have a lot of bench/organizational help to fall back on. 
Getz could be looking at the unit as an area that doesn't need to be touched right now. That does not, however, take away a possible trade during the deadline. The Sox are seeming to be a little more rapid in this rebuild. If they can find some sort of rhythm early in the season the team may be in a place that would enable Jimenez to thrive. Or, more likely, the team as a whole isn't making any moves and Eloy has displayed his talents and stayed healthy to raise his stock.
If the Big Baby is consistent enough throughout the first part of the season any team would love to add a bat like that for a second half push. Nonetheless, teams are a bit more aggressive at the deadline and Getz could snag a higher/fairer price for Eloy.
If I were to bet, this seems the most likely to happen. The outcome of this is rather similar to what the Sox were able to do with Jake Burger last season. Burger was smashing the baseball and Chicago flipped him for Jake Eder, who just had his contract selected by the club to join their 40-man roster.
Cut
As much as I am hard on the Sox, and think that they do need a full on rebuild. Cutting a player like this to save money can be a tough move to make. Especially if you don't use the money properly.
Chicago looks to save just under $14 million, if they cut Jimenez this off-season. The money could be used to grab starting pitching or a middle infielder. Which do not get me wrong, would help out the Sox. Just doesn't seem like a move that makes the most sense for a team to make. Even if they are trying to restructure the team.
I don't believe that the Sox would give away one of their most talented players still on their roster. I do, however, think they are going to be active on the free agent market with ties to a bunch of different versatile players that are available to sign. 
There is a world where this is a possible outcome, but it's highly unlikely.