Analysis
Is 2023 Make or Break for the Chicago White Sox?
Glimpses of superstardom set expectations that haven't been met by the Chicago White Sox. If they're not met in 2023, will they ever be?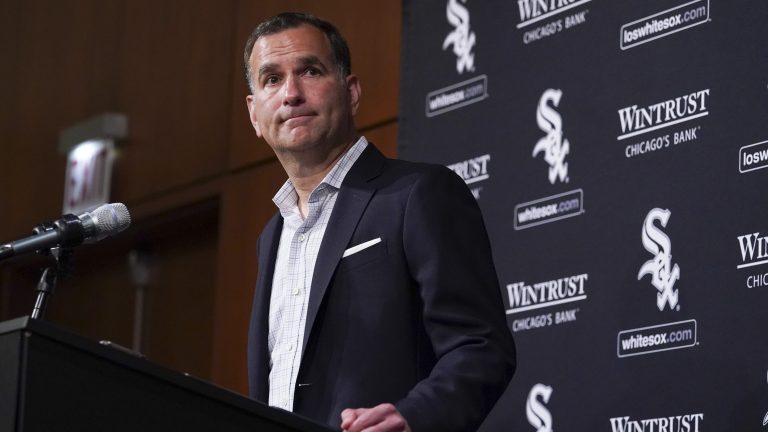 The 2005 World Series sweep of the Houston Astros seems like centuries ago. Since then, the Chicago White Sox have experienced up and down seasons, winning the American League Central only twice without a World Series appearance.
After managers Robin Ventura and Rick Renteria led the way through a rebuild, the roster was finally ready to compete. Budding young stars such as Lucas Giolito, Michael Kopech, Eloy Jimenez, Tim Anderson, Luis Robert, and Yoan Moncada were paired with veterans, constructing the best roster in the American League Central and positioning the team for several years to come.
Well, things have not gone as planned. Chicago elected to hire Tony La Russa as manager heading into the 2021 season. While La Russa has a Hall of Fame resume, the move was a bit peculiar. The 76-year-old manager had not managed since his St. Louis days, which ended in 2011. Talent alone carried them to 93 wins in 2021, but questionable in-game decisions and off-the-field issues crashed hopes that La Russa was the answer.
In 2022, the White Sox drastically underperformed, as La Russa stepped away in late August due to health concerns, eventually leading to him no longer being part of the organization. With two seasons of a prime competitive window down the drain, the White Sox need to show they can still win with this core in 2023. If not, a dreaded rebuild could be in order.
To fully grasp where this team currently stands and how they could look in the near future, we need to work through the roster and contracts.
The Lineup
While the White Sox return much of the 2022 roster, a big piece is missing. All-Star and fan favorite Jose Abreu left in free agency, signing a 3-year, $58.5 million deal with the Houston Astros. Although Abreu was fantastic, this move allows Andrew Vaughn and possibly Gavin Sheets to return to their natural position at first.
Chicago did add a bat this winter, signing outfielder Andrew Benintendi to a club-record 5-year, $75 million contract. A plus player in a position of need, but hardly a player that can fill the production left by Abreu.
The lineup has recognizable names, but plenty of concern. Luis Robert has the ability to be a superstar, but injuries have plagued him the past couple of years. The same could be said for Eloy Jimenez who has shown flashes, but cannot stay on the field or show consistency.
Catcher Yasmani Grandal might be in the twilight of his career. The 34-year-old posted a 68 wRC+ in 2022 and looked like a shell of himself. Yoan Moncada has yet to reach the lofty expectations placed on him as a prospect acquired in the Chris Sale deal.
Not to mention the White Sox have neglected to address second base once again. Stop-gaps and underperformers have been the recipe for filling the position for some time. Rolling out Leury Garcia or youngster Lenyn Sosa is a less-than-ideal plan.
Sure, a bounce back or breakout case could be made for several of these players. But a team in the thick of their theoretical window sure seems to be putting a lot of hope and chance into a lineup with so much uncertainty.
The Rotation and Bullpen
In a season filled with disappointment, Dylan Cease shined in 2023, posting a 2.20 ERA and finishing second in American League Cy Young voting. Chicago has it's ace, and and the rest of the rotation still looks formidable. Veteran Lance Lynn might not have many years left, but he's proved he can still be productive. Michael Kopech was finally given a rotation spot and showed enough to be considered a top three option if his development continues to trend in the right direction. Kopech has shown flashes, but if he cannot cut down on walks a return to the bullpen is not out of the question.
The big question comes down to which Lucas Giolito and Mike Clevinger the Sox get in 2023? After a few years finishing in the mix for Cy Young, Giolito took a major step back in 2022. The walks went up, strike outs went down, and the advanced metrics showed something was off.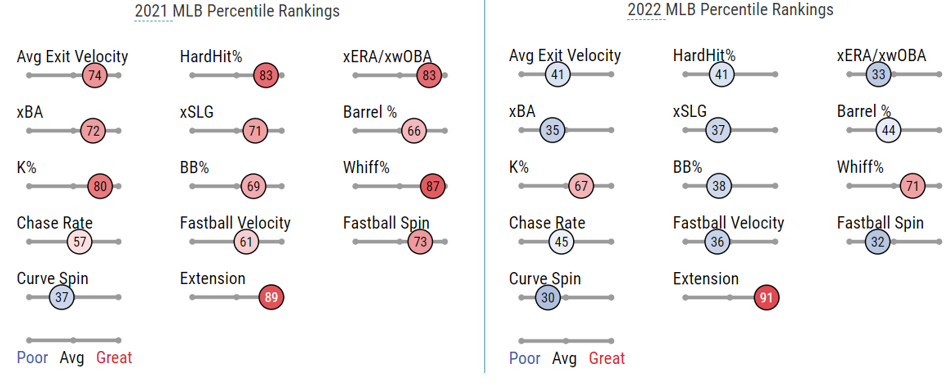 Just about every metric was considerably worse, raising questions and concerns about Giolito going forward. Was 2022 an off year? A fluke? Or, has Giolito taken a step back? I'd bet he's back closer to 2021 than 2022 this upcoming year, but if he is not, Chicago will have a big question mark as he enters free agency.
The Clevinger signing is one that flew somewhat under the radar. After several elite season in Cleveland, Clevinger was viewed as a disappointment in San Diego. Injuries played a role, but if he is healthy, there's a chance (albeit slight) that he could return to his more dominant self. If he doesn't, then the White Sox have a veteran back-end option.
The bullpen took a major hit recently when it was announced closer Liam Hendriks had been diagnosed with Non-Hodgkin's lymphoma. Hendricks future is unclear at this time and the White Sox will have to rely on other arms to fill the void.
Garrett Crochet, the former first-round pick, will be back and healthy and should handle plenty of high level situations. Veterans Aaaron Bummer, Joe Kelly, and Kendall Graveman have had success in the past, but each has their own concerns.
A surprise from 2022 was 29-year-old Reynaldo Lopez, pitching in big innings posting a 2.76 ERA and 0.95 WHIP, much better than his 4.43 ERA and 1.30 WHIP career numbers. Lopez has a chance to really solidify himself as a major piece for 2023, and potentially for the future. Of course, he will have to produce closer to his 2022 numbers and not his career numbers.
Contracts
Obviously, an essential part to roster construction and extending your completive window revolves around contracts. The White Sox, much like the Braves are doing now, locked in their young players to muti-year deals early in their careers. Yoan Moncada, Eloy Jimenez, and Luis Robert were all signed to long-term deals which now come with mixed reviews.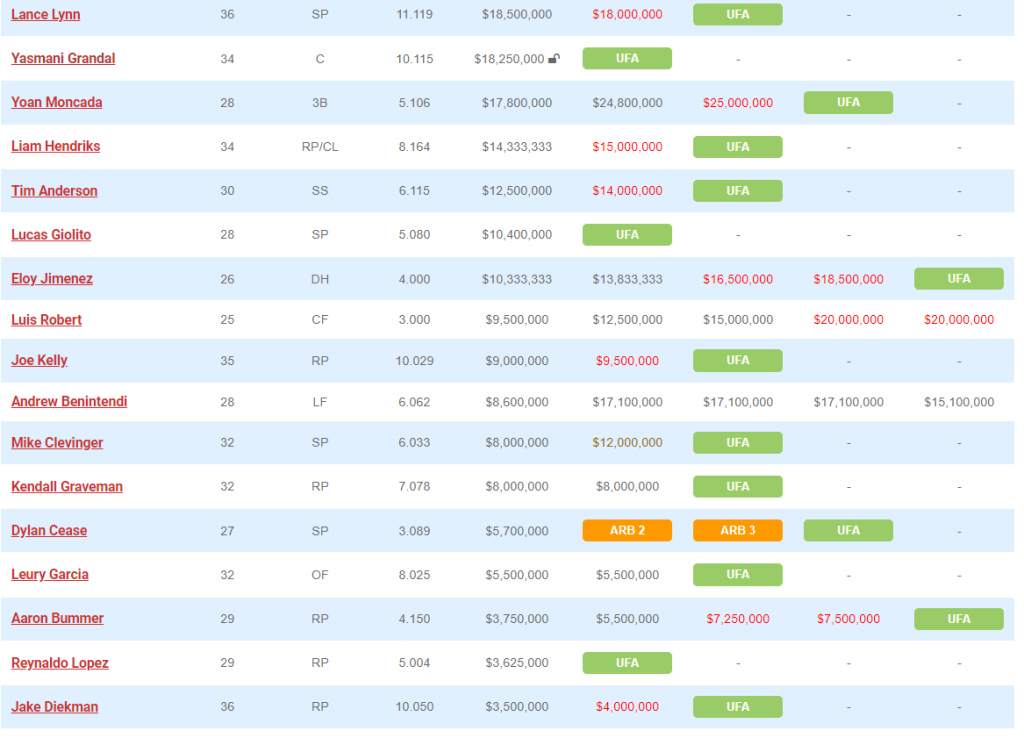 This table shows each year's contract numbers committed to each player. The red numbers signify club options and Pre-Arbitration players are not included on this table. There's not a *terrible* long term deal on the books, but several key decisions will need to be made soon.
Chicago could elect to get out of the 2024 club options for most of these contracts. Doing so would free up money to extend Giolito, rework the Tim Anderson deal for an extension, or lock up a Cease (Free agent 2026), Kopech (Free agent 2026), or Andrew Vaughn (Pre-Arbitration) to a long term deal.
The White Sox can create enough money coming off the books to dip into free agency and add if they choose to do so. Holes at catcher, second, outfield, and starting pitching looking like more immediate needs, that list could grow depending on Tim Anderson's future.
Well, how about filling team needs with prospects? That's what good teams do right? Chicago has one of the weakest farm systems in the league right now. Outfielder Oscar Colas and shortstop Colson Montgomery made the Just Baseball Top 100 prospects, but the drop off is steep from there. The front office cannot bank on a next wave of prospects from the group they currently have. Because of that, management needs to determine their direction and this season is the most important factor in that.
2023 or Bust
We know the roster flaws, we have seen the contracts, and the farm isn't bailing this team out. The American League Central has seen the Twins and Guardians set themselves up to compete. Kansas City is trending in the right direction, as well. Still, for 2023, this White Sox team needs to prove they can be a legit contender or they likely start to fall apart.
Will they finally reach their potential, or will we see that start of key players moving on?