Analysis
Washington Nationals Offseason Outlook for 2023-2024 Free Agency
The Washington Nationals once again finished in last place in the NL East. What will their offseason look like as they eye contention again?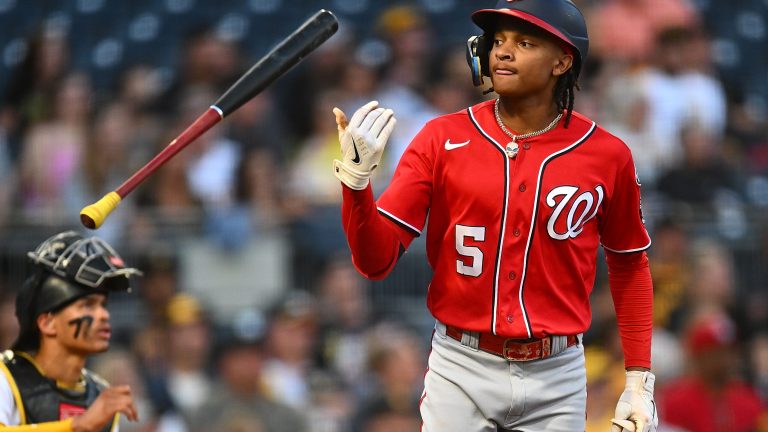 Anything but a last-place finish in the NL East was going to be a tough ask for the 2023 Washington Nationals. Don't forget, this is the very same team that won the 2019 World Series just to finish fourth or fifth in each of the four seasons since.
The squad that takes the field every day now is an entirely different one than the championship-winning group from a few years back. Gone is that star power provided by Trea Turner, peak Anthony Rendon, Juan Soto, Max Scherzer and Stephen Strasburg.
Nowadays, CJ Abrams and Keibert Ruiz are two of the top run producers in the starting lineup. To provide some context there, neither of them had an OPS+ over 100 this year, which is league-average.
Take that statistic with a grain of salt, though, as the Nationals are going to be in a long, slow rebuild for the next few years still. The club is going to be in the rebuilding phase for quite a bit longer than other organizations have been in years past.
What Went Wrong for the Nationals in 2023?
The Coaching Staff
There's a whole lot that went wrong for this club. As soon as the regular season officially ended, the front office was active; making a ton of personnel changes. Reed Dunn and Brad Ciolek both joined the Nationals in scouting roles, while bench coach Tim Bogar, third base coach Gary DiSarcina, assistant hitting coach Pat Roessler and first base coach Eric Young Jr. were all cut loose.
Despite all of this, both manager Dave Martinez and general manager Mike Rizzo received multi-year contract extensions.
The Pitchers
Only one arm in the starting rotation had an ERA under 4.00 and an ERA+ over 100, Josiah Gray. Every other pitcher to make 10 or more starts had ERA's in the mid-to-high 4.00's and even 5.00's.
As assembled, the Nationals' pitching staff finished 27th in the league in K/9, 23rd in BB/9, 30th in HR/9 and 26th in ERA.
MacKenzie Gore, one of the pieces acquired in the Juan Soto trade last year, has long been expected to be a top-of-the-rotation arm once he got up to the big leagues. Instead, he struggled mightily with home runs and walks allowed and failed to truly take a step forward in the majors.
The same can be said for Jake Irvin, who doesn't strike anyone out, walks a ton of batters and got lit up like a Christmas tree in the first 24 starts of his big league career. At this point, he's a No. 6 starter, a.k.a. Triple-A depth.
Patrick Corbin and Trevor Williams, the two most experienced arms on the staff, were both horrendous as well. Each of the hurlers is on the wrong side of 30, had an ERA well over 5.00, and is under contract through next season.
The Hitters
The offense wasn't much better. The unit finished 29th in home runs, 20th in runs scored, 21st in on-base percentage and 22nd in slugging percentage.
Joey Meneses, one of the game's best feel-good stories in 2022, took a massive step back at the plate, hitting just 13 home runs with a .722 OPS and 99 OPS+ in 154 games.
Ruiz and Abrams, two of the aforementioned "building blocks" in the club's offense, both failed to make any major strides in their own development. Abrams stole 47 bases and Ruiz finished at or near the top of the league in K% thanks to an advanced eye at the plate, so there's still hope for improvement.
Lane Thomas, 27, had a great year, hitting 36 doubles and 28 home runs with 86 RBI and an OPS+ of 114. However, this performance likely lands him on the trade market rather than in any discussions of a long-term extension.
What Went Right for the Nationals in 2023?
Despite a last-place finish in the division, it wasn't all bad for this team. After all, they were able to boost their winning percentage up to .483, the highest it has been since that World Series win.
In the bullpen, Kyle Finnegan, Hunter Harvey and Jordan Weems all performed admirably, and all are set to return to the club in 2024.
Stone Garrett's major breakthrough was nice to see as well. The 27-year-old hit nine home runs and had a 120 OPS+ before a gruesome season-ending injury took him out of the lineup. He has a ton of team control left and should be a key participant in the lineup once he returns to game action.
Beyond that, there isn't much at the big league level.
Down on the farm, there were quite a few top prospects making moves this past season. For one, No. 3 prospect Brady House made it all the way up to Double-A and hit .312 in 88 games. James Wood, No. 2 in the organization, hit 26 home runs with 91 RBI in 129 games. Dylan Crews, the organization's top prospect, started his pro career off on the right foot as well.
At this point, the Nationals are best suited to just keep an eye on the future. Through a long list of trades, the club has built up a strong farm system that will be one to watch in the coming years.
Arbitration-Eligible Players and Pending Free Agents
As of right now, the only player set to become an unrestricted free agent is reliever Carl Edwards Jr. The right-hander made 89 appearances over the past two years in D.C. but will likely be replaced on next year's roster.
Here are the Nationals' arb-eligible players, as well as what MLB Trade Rumors predicts they will earn:
Luis García, $2.4MM
Hunter Harvey, $2.2MM
Kyle Finnegan, $5.1MM
Tanner Rainey, $1.5MM
Victor Robles, $2.7MM
Dominic Smith, $4.3MM
Lane Thomas, $7MM
Ildemaro Vargas and Carter Kieboom are also arb-eligible but could be non-tender candidates. Robles and Smith stand out as others who are in danger of being non-tendered. Beyond that, Michael Chavis cleared waivers and elected free agency, as did Victor Arano.
Where Does the Team Go From Here?
With such a strong farm system already in tow, the Nationals need to stand pat and let their young players develop at their own speed. This means that any free agents they target should be strictly on short-term deals.
Starting pitching should certainly be an area of focus for the Nationals. A look at the weak market shows arms like Alex Wood, Frankie Montas, Kyle Gibson or Jack Flaherty as experienced, low-cost options. It's worth noting that the entire rotation from this year is still under team control, so it's also possible the organization sticks with what they've got.
With the bullpen being one of the worst in the league aside from the "big three" (Finnegan, Harvey and Weems), this is also going to be an area to upgrade. Shintaro Fujinami, Phil Maton, Michael Fulmer or Matt Moore stand out as names the Nationals could pursue.
Addressing Third Base Should Be a Top Priority
Third base is easily the biggest weak spot in the Nationals' lineup, which is really saying something. Kieboom, who may not even be in the organization next year, is atop the depth chart. A reunion with Jeimer Candelario seems unlikely, so the Nats may have to get creative in filling this hole.
Brian Anderson, Joey Wendle, Eduardo Escobar or someone like Isiah Kiner-Falefa could all be had on cheap contracts, but all come with their fair share of warts.
The trade market is going to be interesting to monitor, as the Nationals have pieces to sell and places they could be buyers. Thomas could command a nice package, as could relief pitchers Finnegan and Harvey. Each of that trio is under control for a while still, so the Nats won't be feeling any pressure to get deals done.
It's worth noting that the Nationals shopped both Finnegan and Thomas at this year's trade deadline. There was quite a bit of interest, but it seems that Mike Rizzo and Co. value their players much more than any other teams. This is something to keep in mind as the offseason rolls along. Will Rizzo soften his stance to make some deals at the Winter Meetings? Only time will tell.