Analysis
Washington Nationals Trade Deadline Guide
The Washington Nationals are sitting at the beginning of a rebuild and will be sellers at the trade deadline, but what do they have to sell?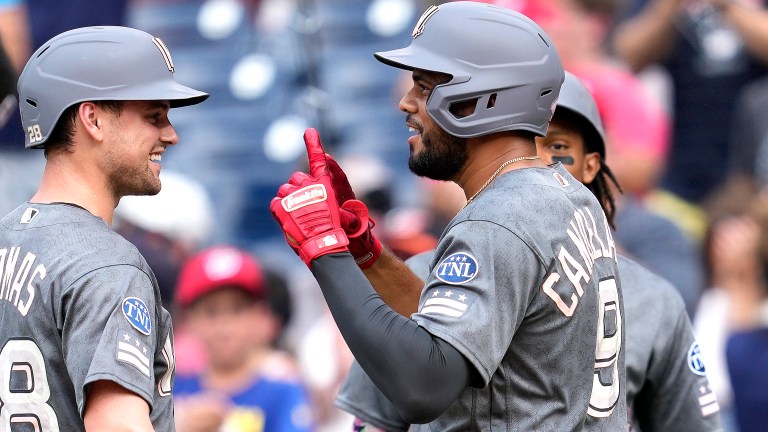 Last year, the Washington Nationals had the most-prized piece available at the trade deadline, when they were able to dangle Juan Soto on the market for a haul of prospects. The trade of Soto triggered a full rebuild for the Nationals, who were also able to include another quality trade piece in the deal with Josh Bell going to the Padres along with him.
This year, the Nationals will find themselves in a seller position at the deadline again, but without any piece as tantalizing to sell as Soto. In fact, they might not even have a piece as good as Bell was last year, and he was just a rental.
Looking over the Nationals trade options, you will find a lot of bullpen arms that could be flipped, and a few bats that could intrigue contending teams in the right situations. Ultimately, the Nationals may have a hard time trying to extract great prospect value at the deadline, but will likely do the best they can to make use of limited trade pieces that they do have.
2023 Trade Deadline Candidates
| | | | | | |
| --- | --- | --- | --- | --- | --- |
| | 2023 | 2024 | 2025 | 2026 | NOTES |
| Trevor Williams | $6,000,000 | $7,000,000 | FA | | |
| Jeimer Candelario | $5,000,000 | FA | | | |
| Kyle Finnegan | $2.325,000 | Arb 2 | Arb 3 | FA | |
| Victor Robles | $2.325,000 | $3,300,000* | FA | | * Club Option |
| Carl Edwards Jr. | $2,250,000 | FA | | | |
| Lane Thomas | $2,200,000 | Arb 2 | Arb 3 | FA | |
| Dominic Smith | $2,000,000 | Arb 3 | FA | | |
| Ildemaro Vargas | $975,000 | Arb 2 | Arb 3 | FA | |
| Hunter Harvey | $870,000 | Arb 2 | Arb 3 | FA | |
Numbers from Spotrac
The Lone Viable Starting Pitcher to Deal
When it comes to starting pitching, the Nationals have struggled greatly ever since their trio of Max Scherzer, Stephen Strasburg and Patrick Corbin led them to a World Series back in 2019. We are now nearly four years removed from that title though and Scherzer is gone with Strasburg and Corbin still hanging around on the books more than anything.
Corbin is pitching, but not well, sporting a 4.89 ERA across 108 2/3 innings pitched this season. No one is eating that contract, as the Nationals are probably best served letting him eat innings on a bad team for the next two years than trying to do anything to get it off the books.
Meanwhile Strasburg has thrown just over 30 innings in the past four seasons since winning World Series MVP and is doubtful to ever make a meaningful return to the mound at this stage.
This leaves the Nationals with a rotation that includes Corbin, Trevor Williams, Jake Irvin and a couple of intriguing young arms they are building around with MacKenzie Gore and Josiah Gray. Gore and Gray are not pieces to be flipped, but rather built around. Irvin is a 26-year-old rookie, pitching to a 4.60 ERA in his first tour of duty.
That leaves us with Williams, who is the only viable starting pitcher who can be dealt this season.
Williams signed with the Nationals on a two-year, $13 million deal this offseason with the promise that he could return to a role in the starting rotation after having a solid year as a swingman for the Mets in 2022. Last season, Williams pitched to a 3.21 ERA across 89 2/3 innings pitched.
Back in a full-time starter role this year, Williams has pitched to a 4.45 ERA across 18 starts and 91 innings pitched. A contending team won't look at Williams as a piece for their playoff rotation, but if there is a team that needs some depth to get through the regular season, who doesn't mind the idea of Williams on a $7 million contract next season as a swingman, a trade could be made.
Still, hard to believe the Nationals can extract much value out of Williams or any of their starting pitchers, unless they decided to dangle Gore or Gray on the market.
Bullpen Arms
Like most selling teams, the place where the Nationals have the most offer is arms from their bullpen, with a few viable candidates that could help winning teams.
Kyle Finnegan is in his fourth season with the Nationals, where he has been a dependable arm at the back-end of their bullpen. This season, Finnegan has saved 11 games and has pitched to a 3.38 ERA across 37 1/3 innings pitched. For his career, Finnegan has a 3.42 ERA.
Most teams won't view Finnegan as their closer, but a well-above average option for a middle relief role, if not someone who can continue to pitch in leverage situations. With two years of control beyond this season, Finnegan could likely fetch the Nationals a pretty decent return for a reliever.
Hunter Harvey is another arm that is in a very similar tier when it comes to moveable trade assets for the Nationals. Three years younger, the 28-year-old is also two years removed from free agency beyond this year and has shown an ability to pitch in high-leverage games for Washington.
Harvey has eight saves and has pitched to a 3.20 ERA across 39 1/3 innings this year. He is also working on his second-consecutive season where his strikeout-per-nine is in double digits.
Carl Edward Jr. is the last viable reliever who could be dealt at this year's deadline and considering the fact that he is a rental, he's the most likely to be moved. The Nationals have control to be able to try to get a decent return on Finnegan or Harvey, but Edwards is more a piece you sell to get all you can for, despite what is likely to be an underwhelming return.
Who knows, at that cost, maybe keeping Edwards and his 3.69 ERA for the remainder of the season is more valuable to the Nationals, especially if they are able to move Harvey and Finnegan for more significant returns.
Is Lane Thomas a Building Block or a Trade Piece?
This year's trade market looks to be rather barren, which could lead the Nationals to deal their best hitter for 110 cents on the dollar. Lane Thomas is posting a career year in Washington, having hit 14 home runs in the first half, while producing a .302/.347/.497 slash line.
Thomas could very well be a flash in the pan, as he is 27 years old and has a career .762 OPS across 364 games in the big leagues. This year that OPS is at .844 and his 126 wRC+ is the best mark on the Nationals.
With two years left of team control beyond this season, the Nationals would be wise to sell now and try to fetch a decent return for a player who likely doesn't fit this teams window as they are still staring down the barrel of a very long rebuild.
Other Moveable Bats
Outside of Lane Thomas, you would be hard-pressed to find a bat on the Nationals roster that would be considered an everyday player on a contending team. Jeimer Candelario has pretty solid stats, hitting .261/.337/.478, with 13 home runs and a 118 wRC+, but most good teams would view him as a quality utility man for their bench.
Candelario could thrive in such a role, but as a rental, the value the Nationals can seek back for that is probably fairly thin. Ildemaro Vargas could serve in a similar role for playoff teams, but offers even less with his bat. A name to mention, but not spend to much time on. Same goes with Dominic Smith, who the Nationals hoped would turn into a trade piece, but has been pedestrian at best.
This leaves us with Victor Robles as the last trade deadline candidate on our list.
Lauded for his defense in the past, Robles has posted -10 DRS and -3 OAA this season. The 26-year-old is a change of scenery guy if they ever was one, but there is no guarantee any team would trade anything of value to get their hands on him.
Robles is currently on the IL with a back injury and holds a contract with a $3.3 million club option for next season. The Nationals might not even pick up said option, which is likely when he gets his chance at that change of scenery. Yet you never know, maybe he is flipped at the deadline if he gets back healthy in time and a team is willing to take a shot on him.