Analysis
Washington Nationals Offseason Outlook
With the Juan Soto trade having already taken place, the Washington Nationals already did most of their offseason work at the trade deadline.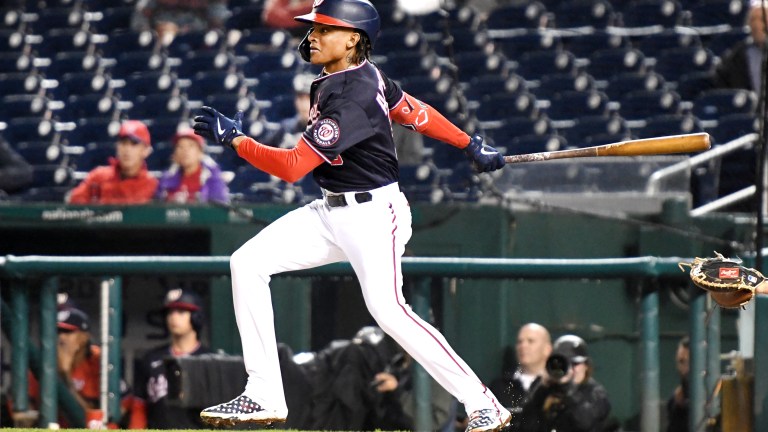 With the World Series currently being underway, it is easy to forget that just three years ago the Washington Nationals were in the exact same position that their division rival Philadelphia Phillies are in right now.
During the 2019 season, the Nationals were the team of destiny. They won the Wild Card game and would proceed to upset the Los Angeles Dodgers in the NLDS, before sweeping the Cardinals in the NLCS in their path to the World Series. They went on to beat the Houston Astros in a thrilling seven-game series.
That roster was full of star-power, featuring Max Scherzer, Anthony Rendon, Trea Turner and Juan Soto, amongst others. Now we look at the Nationals and it is hard to find any remnants of that championship team.
Really all that is left on the Nationals is their two highest-paid players, starting pitchers Stephen Strasburg and Patrick Corbin. Due to injuries for Strasburg and ineffectiveness for Corbin, those last two key pieces of their championship team are currently representing their biggest road blocks in building a future contender.
Waiting Out Bad Money
As just referenced, the Nationals currently have a pair of albatross contracts on their books with Patrick Corbin and Stephen Strasburg both signed on long-term deals.
Since he played a vital part in their winning the World Series, the Nationals would not take back the six-year, $140 million contract they gave to Patrick Corbin, but it doesn't make that money any easier to swallow.
Among pitchers who threw at least 100 innings this year, no one had a worse ERA than Corbin's 6.31 mark (fellow National Erick Fedde was actually second on that list at 5.81). To his credit, Corbin did eat a lot of innings for a bad team, taking the ball for 31 starts and 152 2/3 innings pitched.
While there is certainly motivation to get his money off the books, the Nationals would be wise to just let him pitch out the remainder of his contract at this point, as there are only two years left.
Strasburg on the other hand is still on the books for $35 million a year for the next four seasons. The 34-year-old made just one start this year before another season-ending injury. Since signing his seven-year, $245 million contract, Strasburg has made just eight starts and has pitched a grand total of 30 1/3 innings.
Luckily for the Nationals, there really is no other long-term money on their books moving forward, so if they wait out Corbin and work around Strasburg, there is no reason why they can't build a competitive team in a few years.
All About the Kids
At this stage, the Nationals have to lean into their youth, letting their top prospects get a chance to grow at the big league level to hopefully be part of a contender one day. Right now, that means letting CJ Abrams and Luis Garcia work through their growing pains and play every game together up the middle.
The Nationals unearthed a nice talent this year with 30-year-old rookie first baseman Joey Meneses. In 56 games, Meneses hit .324/.367/.563, with 13 home runs and 14 doubles. They also have their starting catcher in place with Keibert Ruiz, although he will need to produce more than a .673 OPS next season if he wants to hold onto that position beyond 2023.
Next season, we could see the debut of top prospect Robert Hassell III, who finished this season in Double-A. Drafted eighth overall by the San Diego Padres in the 2020 MLB Draft, Hassell was one of the pieces that came over in the Juan Soto trade.
He finished the year ranked 46th in our top 100 update, as the 21-year-old is one of the top outfield prospects in baseball. Hassell tore the cover if the ball in High-A with the Padres, hitting .299/.379/.467, with 30 extra-base hits. He did however struggle following the trade.
James Wood (No. 16) and Elijah Green (No. 47) are another pair of outfield prospects the Nationals have in our top 100, but both are nowhere near the big leagues. The same can't be said for the final Nats prospect in our top 100, starting pitcher Cade Cavalli.
Cavalli actually made his MLB debut in 2022, making one start at the end of August, in which he allowed seven runs. Cavalli is a flame-thrower, who pitched to a 3.71 ERA across 20 starts in Triple-A this season.
Expect Josiah Gray, Cade Cavalli and MacKenzie Gore to headline the Nationals rotation in 2023, as they hope to build around their young arms, with Corbin and Strasburg potentially filling out the back end of the rotation.
Stopgap Free Agent Signings
The Nationals are not going to be major players in free agency, as they are too far away from contention to spend significantly at this time. They also really have nothing left to trade, other than maybe Luke Voit and Victor Robles, although neither would fetch much.
Washington would be wise to sign a bunch of vets on one-year deals to fill out their roster in attempt to be at least moderately respectable in 2023.
Carter Kieboom likely still has the inside track to the starting job at third base, but the Nationals should at least sign a veteran to compete with him. Bullpen arms, depth starting pitchers and veteran hitters should all be on the Nationals priority list this offseason.
At the end of the day though, the Nationals are at the beginning of their rebuild. They need to see which prospects are building blocks and which need to be moved on from after next season. Other than supporting their youth, it should be a quiet offseason for the Nationals this year.