Analysis
Bullpen Decisions Are Looming for the Blue Jays
The Toronto Blue Jays will have some weighty decisions to make in the bullpen over the next couple of months.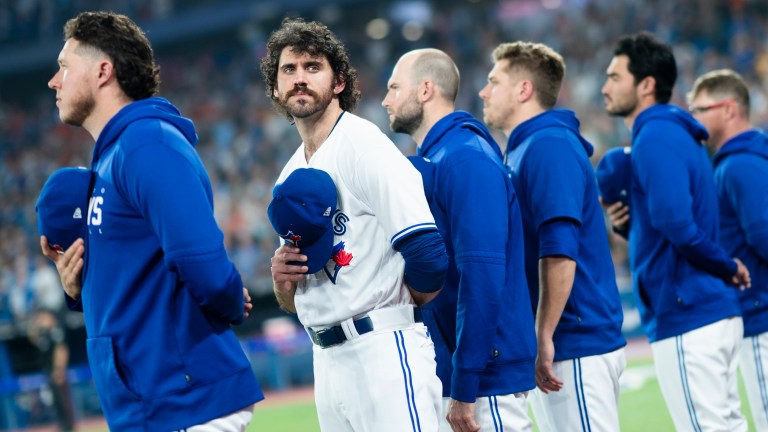 After last night's game, the Toronto Blue Jays bullpen sits in the middle of the pack within MLB, sporting a collective 3.82 ERA as the season hits the midway mark.
So far, the Jays have used 14 different arms out of the bullpen and one position player in knuckleball throwing Ernie Clement, who pitched late in the Marlins-Jays contest when the club was down 11-0 at loanDepot Park back on June 19th.
Leading the charge are Tim Mayza and Erik Swanson, who both have 38 outings on the year and boast a 1.29 and 2.82 ERA, respectively. In the closer's spot is Jordan Romano, who is currently sitting tied for first in the league with 24 saves. Trevor Richards is having a bounce-back campaign working as a reliever and an opener, sporting a 1.112 WHIP and a 126 ERA+ as a dual threat.
The Jays and Their Looming Bullpen Decisions
While the Jays have a few arms that are performing well, there are a few other relievers that have not found a consistent rhythm yet this season.
Nate Pearson had been pitching well since being called up to the big leagues. Then, a rough road trip in Texas and Miami, where he allowed eight earned across two outings, saw his ERA rise to 4.88, although the fireballer is starting to bring that tally down.
Adam Cimber and Yimi García, dependable relievers for the Jays last season, are struggling as well, sporting a 7.40 and 5.18 ERA, respectively, while Cimber is back on the IL for the second time this season.
The team also cut ties with veteran Anthony Bass earlier this month, who they re-acquired at the 2022 trade deadline after he posted a 4.95 ERA through 22 outings. He upset the fanbase when he shared a video on his Instagram page that contained anti-LGBTQ comments.
Rounding out the group is a mix of Bowden Francis, Mitch White, Jay Jackson, Trent Thornton, Thomas Hatch, and Zach Pop, who is also on the IL and is currently rehabbing in Triple-A (to mixed results).
Looking ahead, the Blue Jays bullpen has fluidity when it comes to arms and options, as Francis, Pearson, Hatch, Thornton, Pop, and Jackson can all be sent to the minors if needed (and all have spent time at Triple-A this year).
Cimber technically has options as well but is close to the five-year mark in service time, where he can reject an assignment to the minors. White and Richards are out of options, although it is highly unlikely Richards is going anywhere.
Pearson and Pop can both hit the high-90s with their fastballs and can generate weak contact when their stuff is working. The rest of that group has pitched well at the big league level this year, with each member sporting an ERA under the 3.00 mark, albeit limited sample size.
While Pop is slated to return from the IL in the near future, he can remain in Triple-A as the Jays see fit, or they could bump Thornton or Francis down. The club has been using Francis, a former Brewers prospect, as a bulk inning reliever following Richards since Alek Manoah was optioned to the Florida Complex League earlier this month (opening a spot in the rotation).
The Jays will have a similar decision to make when Cimber is ready to return, which would likely spell the end of Thornton's tenure with Toronto should he still be on the roster.
To throw a wrinkle into the mix, the Jays will likely get reliever Chad Green back sometime in late July/early August, at which point the club will need another spot in the bullpen as well as a 40-man roster spot.
Manoah and Hyun Jin Ryu are on track to join the team sometime later this summer as well. They would each require a spot in the rotation, and Ryu would need a 40-man spot as well. Toss in potential trade deadline deals, let's say potentially one or two more arms, and the Blue Jays front office may have some tricky decisions ahead.
Looking at the Future Blue Jays Bullpen
Pearson has an electric arm that has performed well in high-leverage situations, although he did have a rough stretch recently and the business side of baseball could see him head down to the minors if needed. Cimber and his elevated ERA might be a casualty as well should the Jays acquire another bullpen arm. Both he and García are potential DFA options.
Another big question mark will be Mitch White and his role on the squad moving forward. Acquired last season from the Dodgers in a deal that saw prospect Nick Frasso go the opposite way (Frasso is performing extremely well, by the way), White is out of options and would need to be DFA'd should the club want his roster spot for someone else. Presumably, the Jays would like to avoid such a move, given the recent trade.
White can pitch bulk innings similar to Francis but isn't sitting high in 'the circle of trust,' and simply, other relievers have performed better. He has also missed a large chunk of the season already with various ailments.
There are a lot of pieces that could be moved around over the next couple of months, but considering how the Blue Jays bullpen struggled in the AL Wild Card Series last year, it would be shocking if the Jays didn't walk away from the trade deadline with at least another arm or two for the relief corps.
With that in mind, and with several injured pitchers returning over the next month or two, there will be some interesting decisions that need to be made down in the bullpen. These decisions could spell the end for a few different veterans on the squad, depending on how much the front office values keeping younger players away from the waiver wire, or how willing they are to keep promising arms down in Triple-A.