Analysis
Could Nate Pearson Become an X-Factor for the Blue Jays?
Injuries have kept this former top prospect off the mound, but if Nate Pearson stays healthy, he could have a huge impact on the Blue Jays in 2022.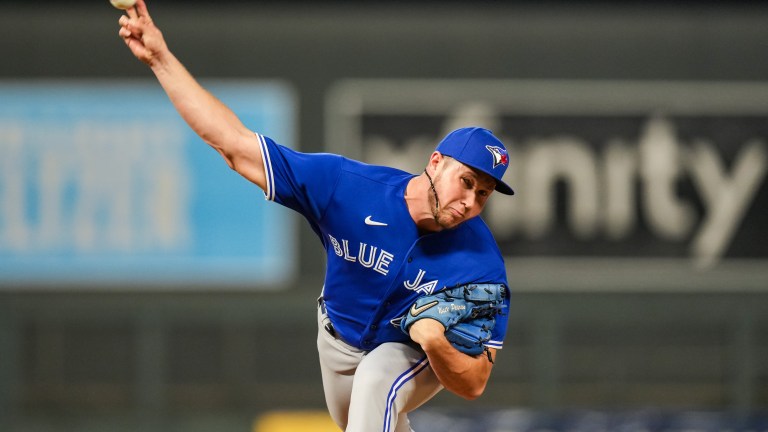 Right-hander Nate Pearson has been one of the top Blue Jays prospects in the club's minor league system in recent years. Regarded as the Blue Jays' "ace of the future" earlier in his career, Pearson has unfortunately been unable to stick in the Major Leagues due to injuries and some shaky performances.
Pearson has logged over 46 appearances and a total of 155.2 innings at the Minor League level. The Florida product has seen his fair share of injury struggles, including a comebacker that broke his arm back in 2018, which forced him to nearly the entire season. He also has experienced injuries to his throwing arm and most recently a sports hernia that saw him miss some time midway through last season.
Pearson made his MLB debut back in 2020 and Blue Jays fans were excited to see the top prospect in action at the big league level. However, he struggled to find a rhythm through five appearances (four starts) and spent time on the IL. He made one appearance in the bullpen before the Wild Card round against the Rays and pitched two solid innings in Game Two, striking out five.
Fast forward to the start of the 2021 campaign and Pearson wouldn't make his first start until early May against the Houston Astros. He struggled with his command and lasted only 2.1 innings. Pearson spent a majority of last season split between the IL and the Triple-A roster, working out of both the rotation and the bullpen.
He was a late-season call-up to the Jays roster and worked out of the pen once again, finishing strong with a 2.84 ERA, 20 strikeouts, and seven walks through his final 12.2 innings of work.
The Blue Jays solidified their rotation this offseason by adding both Kevin Gausman and Yusei Kikuchi via free agency. These moves shored up the starting pitching corps and pushed Pearson to either begin the year in the bullpen or head back down to Triple-A. However, the hard-throwing right-hander once again found himself on the IL with mononucleosis to start the year.
What Will Nate Pearson's Role Be in 2022?
Pearson is slowly starting to get some reps under his belt with the 2022 campaign underway and was recently moved to Triple-A to continue getting back into game shape. In his one appearance in Low-A Dunedin surrendered one earned run, one walk, and struck out one batter through 1.2 innings in relief.
The JUCO product was available Wednesday night for the Triple-A Buffalo Bisons, but the game was cancelled due to inclement weather, pushing his potential first appearance to Thursday.
It wouldn't be surprising if the Jays keep him in the bullpen role moving forward, given the past injury history and lack of innings this season. Pearson has made his intentions to continue starting quite clear and he has the frame and makeup to do so if he can shake the injury bug.
The problem is with a rotation as deep as the Blue Jays currently have, there is really no need to rush him at this point in time. There has also been an indication from the Blue Jays front office that Pearson will not be handed a spot in the big leagues and will have to earn his way back, which makes sense given his past two seasons.
Regardless of what the Jays intend to do with Pearson, the best thing he can do is stay healthy. There are spots available in the big league bullpen should he find a groove in Triple-A, but he needs to earn them first.
We are only two years removed from Pearson entering the 2020 campaign ranked as a top-10 prospect in all of baseball by both Baseball America (No. 7) and MLB.com (No. 8). If he can find some consistency in Triple-A, the Blue Jays could unlock a real weapon with Pearson.