Analysis
Top MLB Free Agents Who Can Be Signed To A One-Year Deal
Cody Bellinger, Michael Brantley and Brandon Belt headline a long list of impact free agents that can be had on a one-year deal this winter.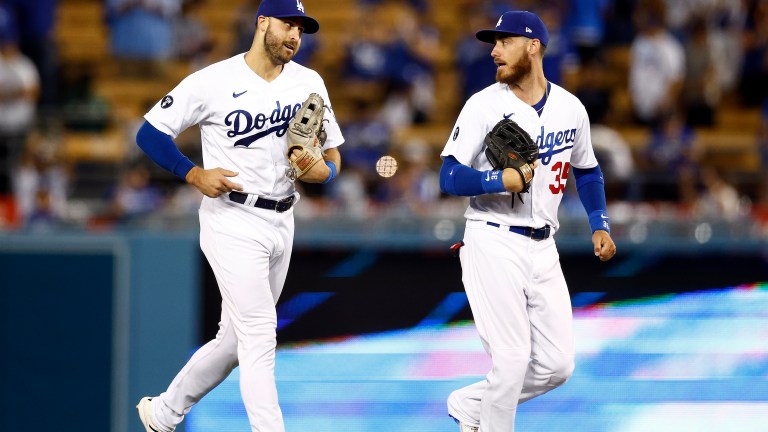 So far, we have examined the top of the market in free agency, ranking our top 20 and then our top 50 free agents, while also looking at the top outfielders, top shortstops and top relief pitchers who could be signed this winter.
While there is obviously great value atop the market, there are some less-heralded free agents who could prove to be the most valuable. Every year there are free agents who hit the open market in search of a one-year deal that end up being some of the best steals of the offseason.
Look at Marcus Semien two seasons ago, who signed a one-year deal in free agency and then delivered 45 home runs to the Blue Jays, while winning the Gold Glove and the Silver Slugger. He later cashed in on a seven-year, $175 million contract the following offseason.
Players could be in a search of a one-year deal either because they are coming off injury or a drop in performance, or because they are veterans looking to win a ring at the end of their careers.
Today we are going to examine which are the best players who can be had this offseason on a one-year deal.
Cody Bellinger and Joey Gallo
If we were to get into a time machine and go back three years, we would be looking at Cody Bellinger and Joey Gallo as two of the best young sluggers in the game. Bellinger won the MVP in 2019, hitting .305/.406/.629, with 47 home runs and a 161 wRC+.
That year, Gallo was limited to 70 games due to injury, but still hit 22 home runs, while getting on-base at a .389 clip. The pair of powerful left-handed hitters clubbed a total of 214 home runs from 2017 through 2019, each being one of the 15 players to eclipse 100 home runs during that span.
Now fast-forward three years later and Bellinger was just non-tendered, while Gallo coming off arguably the worst season of his career, where he hit .160/.280/.357, striking out in nearly 40% of his at-bats.
While they have seen better days, Bellinger and Gallo hit the market in their late 20s, when they should be in the prime of their career. Each brings a great glove in the outfield, raising the floor for any team looking to add the former All-Stars. With the upside to hit 40 home runs if everything is right again, you can't beat the value these guys will bring on a one-year deal.
Bellinger is the best center fielder on the market not named Brandon Nimmo, so expect him to cash in pretty well on his one-year pact. Gallo has to compete with some other right fielders (including a few that will be on this list), but is the best defender of the three and is also the only one coming off a healthy season.
Michael Conforto and Mitch Haniger
If not for injury concerns, Michael Conforto and Mitch Haniger would be some of the top free agents on the market based on the back of their baseball cards. But with Conforto missing the entirety of the 2022 season due to a shoulder injury and Haniger being limited to just 57 games, teams will be wary of committing to these guys beyond a one-year deal.
Still, we are talking about two players who can field their position well enough in right field, that have the capability to go out and hit 30+ home runs if they are healthy. Haniger probably has more juice, as he blasted 39 home runs in 2021 and hit 11 more this year.
Haniger also has the benefit of finishing last year healthy, giving teams a greater sense of confidence that he can still play at a high level, as long as the injuries don't resurface.
Conforto will have to prove that his surgically repaired shoulder can hold up over the course of a full season and that his power has returned, but we aren't far removed from a 2020 where he hit posted a .927 OPS, hitting .322/.412/.515.
Even in a down-year in 2021, Conforto posted a 106 wRC+ and 1.4 fWAR, despite getting off to a dreadful start that saw him hit .202/.341/.298 in the first half. Conforto finished that season strong and has every chance to return to form if healthy in 2023.
Veterans With Just Enough Left in the Tank
The first four players on this list still have plenty of baseball left in their future. They are either squarely in their prime, or at least at the tail-end of it, where a great season could get them a big long-term deal next offseason.
The remaining players on this list are veterans who have become one-year mercenaries at this stage of their career. These are guys who have remained supremely productive when on the field, but have been injured and could at any point give way to father time.
Still, there is a good chance that we look up come October next year and one of these vets is a big-time contributor on a team that is making a run at the World Series.
Michael Brantley
Michael Brantley is awesome at baseball. The guy has turned in an on-base percentage over .360 in each of his last five seasons, hitting .307/.367/.465, with a 127 wRC+ across that span.
The 35-year-old finally won a World Series as a member of the Houston Astros this year, but unfortunately had to watch from the sidelines as a torn labrum in his shoulder cut his season short. Brantley was seeing the ball great prior to his injury, as he walked more than he struck out in 2022.
A shoulder injury at 35 is concerning, but Brantley is a sure bet to be productive whenever he can make it into the lineup and teams will be willing to that gamble on him. In fact, the Astros could even be the one's to bring him back, giving him another opportunity to play for a ring.
Brandon Belt
Among hitters with a minimum of 500 plate appearances from 2020 to 2021, do you know where Brandon Belt ranked in wRC+? He was third.
Juan Soto led MLB across that two-year span, posting a 172 wRC+ and Bryce Harper trailed behind at 164. Belt, on the other hand, hit to a 162 wRC+, finding more success than he ever had throughout his decade-long career with the Giants.
Across 148 games played in 2020 and 2021, Belt blasted 37 home runs and 23 doubles, posting a 5.4 fWAR despite grading out as a below-average defender at first base. Injuries have become a real concern for Belt and can also explain his regression in 2022 (96 wRC+).
Still, there is a scenario where a team signs Belt and keeps him upright all year by getting him off his feet at DH and he responds by hitting 40 home runs, while getting on-base at a .380 clip.
Evan Longoria
Let's stay in San Francisco but flip across the diamond.
Evan Longoria signed a six-year, $100 million contract extension back in 2012, which added to an existing deal that ultimately gave him a decade-long contract. Now Longoria hits free agency for the very first time in his career, hitting the market when he is frankly past his prime at 37 years old.
Injuries have followed Longo ever since he was traded to the Giants back in 2018, as he has missed time nearly every season and has failed to eclipse 100 games played in each of the last two.
While it is hard to count on his health, production hasn't really been an issue for Longoria despite being in his late 30s. Over the last two seasons, Longoria has hit .252/.333/.466, with 27 home runs and 30 doubles in 170 games played.
Strikeouts did spike for Longoria in 2022, as he posted a 27.9% K rate, but he still graded out as an above-average hitter with his 115 wRC+. Longoria could thrive in a platoon role, similar to the one Albert Pujols just served with the St. Louis Cardinals.
JD Martinez
Speaking of hitters who can mash left-handed pitching, JD Martinez enters the conversation as one of the top right-handed hitters available in free agency.
Martinez may very well get a two-year deal. He just saw Jose Abreu get three years at 35 years old and may wonder why he can't do the same. Just like Abreu, home runs were down for Martinez this year, but he was still a very productive DH for the Red Sox.
Across 139 games played, Martinez hit .274/.341/.448, peppering the Green Monster for another 40+ double season. For the fourth-consecutive season, Martinez was named an All-Star, adding to what is a now a very long resume of success.
It feels like Abreu has more left in the tank than Martinez, but that does not mean that JD can't be a really quality DH in 2023.
Justin Turner
Every time Justin Turner hits the market it always feels like a matter of time before the Los Angeles Dodgers bring him back on another deal. Turner has become as much of a staple as anyone, having played nine years now in Los Angeles.
Turner has been one of the most consistent players in Major League Baseball, posting a wRC+ of 123 or better in each of his seasons wearing Dodger blue. The 38-year-old posted a identical .278 batting average in each of the last two seasons and drove in over 80 runs in each campaign as well.
Still capable of playing a solid defensive third base, Turner was worth 1 DRS in 2022. Teams could look to sign Turner as their everyday third baseman, or could play him at first base, if not just let him DH. Regardless of the position, Turner could absolutely rake again next year and a team will pay him very well to do so.