Analysis
Top Free Agent Landing Spots for Tim Anderson to Bounce Back
Last year, Cody Bellinger was able sign a one-year prove-it deal to reclaim his free agent value. Can Tim Anderson do the same this year?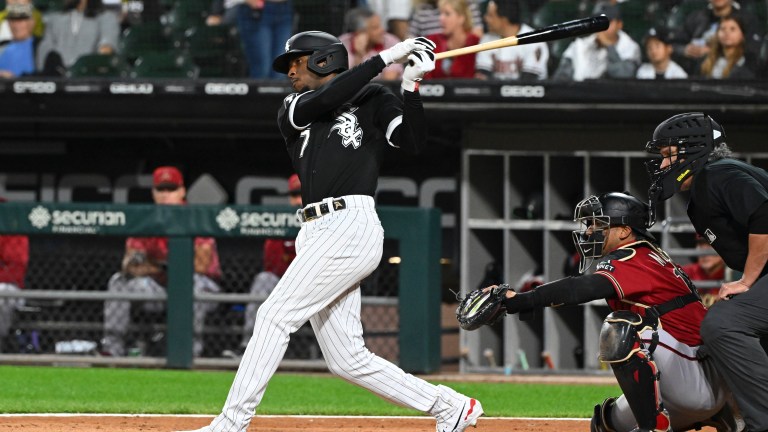 Every year in free agency there are various players coming off a hard season with the ability to provide much more pure value than their contracts indicate they will.
Last season, Cody Bellinger was coming off multiple years of being a well-below-average player. However, Bellinger was the National League MVP in 2019 and had a track record of being one of the most impressive young players in baseball at the beginning of his career with the Dodgers.
After signing with the Chicago Cubs last winter on a one-year prove-it deal worth $17.5 million, Bellinger bounced back in a massive way on his way to being the leader of the Cubs offense throughout much of the 2023 season.
Looking at this offseason, there are a number of players coming off career-worst years with the potential to impact their future team much more than it seems like they can when looking at the surface-level metrics.
One of the players that stands out is former All-Star shortstop Tim Anderson. It took him a bit to get there while going through a few years of growing pains with the rebuilding White Sox, but he became the staple at the top of the order in Chicago with top-10 shortstop production from 2019-2021.
Anderson fully broke out by winning the AL Batting Title in 2019, after he finished the season with a .335 average and 128 wRC+ as the leader of the offense alongside Jose Abreu. At the time, his defense was above-average at the position and he looked to be one of the brightest young stars at the shortstop position for many years to come.
His personality grew his national presence as his commitment to being an energizing force for the young White Sox team was displayed all around baseball.
Unfortunately, since the midway point of the 2022 season, Anderson has not been the same player. With the White Sox organization in absolute disarray, he became a prime example of the entire team regressing and performing well below expectations.
Since the All-Star break in 2022, Anderson has slashed .247/.286/.296 with just a 60 wRC+ across just under 600 plate appearances. While dealing with a few injuries, he has experienced a steep drop-off in power with a decline in his defensive metrics at shortstop as well.
While Anderson was one of the most exciting players in the game less than two years ago, he has simply been one of the worst players in Major League Baseball in that time span. He hit just one home run during that season and a half which is nowhere near his previous track record.
Anderson hit between 17 and 20 home runs in every full season from 2017-2021 with 10 during the Covid-shortened 2020 season.
It has not been pretty of late for the veteran shortstop, but it's worth noting that he is still just 30 years old and is arguably the best middle infielder in a free-agent class deprived of any great options, unlike last winter.
Anderson was a key piece of the Team USA squad that finished runner-up in the World Baseball Classic earlier this year, while playing second base for the first time in his career. He has expressed a willingness to play the position in the future and his defense would play much better at second. While he has been a below-average defender at shortstop, his athleticism would instantly make him an above-average one at second base.
The market is filled with various buy-low candidates this offseason and Anderson is going to be just that for the team he ultimately signs with in the coming months.
Whether it be a contender or a team needing to fill out their roster, someone will have the chance to experience a major bounce-back from Anderson. There is also a world where he continues to produce essentially nothing at the plate, but his track record is strong enough to take the chance.
He may not have the offensive upside of someone like Cody Bellinger, but his services could be brought on for affordable costs on a short-term deal that could turn into a valuable piece.
Especially if he's willing to play second base, Anderson could instantly become a top-10 player at the position who is available for the lowest of his possible value.
Potential Landing Spots
There are a number of teams that could be considering Anderson with the hope that he could tap into his former self and return to being a productive everyday piece. Teams with a clear need at either shortstop or second base will be inquiring about him and it seems likely that the contenders interested would plan to use him more frequently at second base.
Los Angeles Angels
One of the few teams with just as rough of an outlook as Anderson's former team could look to bring him aboard. The Angels are likely to lose the best player in baseball this winter and will have a challenging winter ahead of them in which they need to reconfigure their roster.
The Angels are lacking much depth in their infield right now and could pair the veteran with youngster Zach Neto as he continues to grow at shortstop. While Neto would be the primary shortstop, Anderson could start at second base and provide a stable backup to Neto at shortstop.
If he turns in a great start to the year, the Angels could flip him for younger assets or keep him around for an additional season with their new wave of talent.
Boston Red Sox
While the Angels don't have many options at second base, the Red Sox desperately need to add a middle infielder to the fold alongside Trevor Story.
Boston appears ready to compete again after struggling in the tough AL East for much of last season. They have a lot of money ready to be deployed this year with high-end pitching appearing to be the priority as their rotation needs multiple additions.
Anderson could be an affordable add to play second base and potentially even split shortstop duties with Story. The Red Sox offense was their strongest unit last year and the best version of Anderson would add another layer to their lineup.
San Francisco Giants
They wanted Carlos Correa and Aaron Judge last year and they're going to spend in a big way this offseason. The Giants have continually refused to rebuild and they appear committed to competing with their current core and a plethora of additions to be made.
Top prospect Marco Luciano got his first taste of the league in 14 games in 2023, but may not be ready to take over the position on a full-time basis. Thairo Estrada was one of the best players in their lineup last season while primarily playing second but can play all over the infield.
J.D. Davis and Wilmer Flores are both corner infield/designated hitter options but Davis isn't guaranteed a major role next season.
Anderson wouldn't necessarily have a defined role with the Giants as they definitely want to continue giving Luciano opportunities but he could fit well into a role with a mix of time at shortstop and second base. He could split shortstop duties with Luciano while playing second on days when Estrada could shift over to third.
It would be typical Giants' fashion to add another platoon player to their infield mix.
Miami Marlins
If Anderson wants a chance to be an everyday shortstop still, Miami is likely the best possible destination for him. There is possibly no team more in need of a shortstop than the Miami Marlins right now.
While they did acquire Vidal Brujan from the Rays this week, Anderson would certainly become their starter at shortstop if signed. The Marlins made a surprise run to the playoffs last year and will look to continue building upon that with some additions throughout the roster. If he can return to even a fraction of his level from two years ago, he would be the best shortstop in recent memory for Miami.
The Marlins were a team floated as a landing spot for Tim Anderson at the deadline and it would be a logical addition for them still now.
Los Angeles Dodgers
There is a realistic chance for any player to make their way to the Dodgers and improve greatly. This could be the case with Anderson as the Dodgers have more work to do than in some previous offseasons of late.
They have plenty of needs on the pitching side and their middle infield is far from solidified as seen by how they added multiple players at the deadline to attempt to fill holes. Gavin Lux is due back from injury and was expected to take over as the full-time shortstop last season prior to tearing his ACL last spring.
Miguel Rojas was the shortstop for much of the 2023 season and excels with the glove but adds minimal value with his bat. Anderson isn't an improvement on paper but as I've mentioned he could be much better next season. Anderson could play some shortstop to ease the burden on Lux while also taking the majority of innings at second base which would allow for Mookie Betts to return to primarily playing right field.