Analysis
Top Five Landing Spots for Frankie Montas
One of the few top-tier starters available at the deadline, the Athletics are about to get a haul for Frankie Montas. But from which team?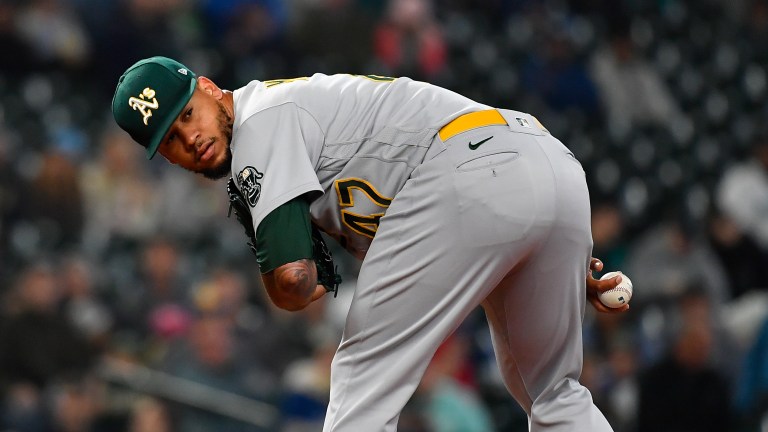 Written By: Max Cutler
With the August 2nd trade deadline nearing, teams continue to monitor the market for starting
pitching. It's a relatively weak group of players compared to years past, headlined by Luis Castillo of the Reds and Frankie Montas of the Oakland A's, with other guys seen more as back-of-the-rotation depth behind them: Wade Miley, Jose Quintana, etc.
The Oakland A's started one of their seemingly-annual fire sales last offseason, when they traded three All-Star players within a few weeks. Matt Chapman was sent to the Blue Jays, Matt Olson to Atlanta, Chris Bassitt to the Mets, as well as the non-All-Star but still talented Sean Manaea to San Diego, where he joined a stacked Padres rotation.
This summer, all signs point to more selling, with the club owning the worst record in the American League at 38-63, 16 games out of a wild card spot. Starter Frankie Montas is the best player on the Athletics, and seems the most likely to be moved.
In a seller's market that is full of teams on the bubble, hoping to contend, a significant
prospect package in return for the right-hander is likely.
Montas is coming off of a career year in 2021, during which he posted a 3.37 ERA, struck out 207 batters in 187 innings, accumulated 4.1 fWAR and finished sixth in AL Cy Young voting. He's stayed strong and healthy through the first half of 2022, as he continues to find success by making hitters swing and miss, evidenced by an 88th percentile chase rate and a 68th percentile whiff rate.
Montas throws five pitches consistently, often leaning on a split-finger with sharp vertical break which he plays off of two effective fastballs, a four-seamer and a sinker, as well as a slider he throws 24% of the time to righties, and the occasional arm-side cutter. Montas, who is making just over $5 million in his second year of arbitration, is cheap– even for the A's.
The combination of his elite stuff, good command (just 2.41 BB/9 this year), recent success, and extra year of team control (will be a free agent after the 2023 season) all come together to leave opposing GMs salivating.
Without further ado, let's take a look at the five clubs who seem to have the most interest in
acquiring Montas. I'm not gonna bother writing a sentence about "fit", because a pitcher of
Frankie's quality will "fit" on any roster in the sport.
5. Chicago White Sox
The White Sox are having an… interesting year, to say the least. A talented group with high expectations has sputtered, sitting just above .500 with 65 games to play. The good news?
They live in the AL Central, the weakest division in baseball, one that looks like it could be won by a
team with 88 wins or so. The bad news?
They've received disappointing seasons from several players who were expected to be key contributors, including Lucas Giolito (5.12 ERA) and Lance Lynn (6.43 ERA in eight starts since returning from injury). However, they seem willing to make moves to strengthen the roster, including showing interest in starting pitchers like Montas and Pittsburgh's Jose Quintana.
Pairing Montas with breakout right-hander Dylan Cease would make a three-game series against Chicago's south side team much more scary for any opponent.
4. Atlanta Braves
The reigning champs started off slow, sputtering to a 23-27 start. Since then, they've only gone and went 36-14, storming back to within spitting distance of the first-place Mets.
The Braves have received excellent performances from rookies Michael Harris III (.828 OPS) and Spencer Strider (2.17 FIP, 13.44 K), as well as Cy Young caliber production from southpaw Max Fried (2.73 ERA, 3.8 fWAR, 2nd in NL WAR for pitchers).
The Braves wouldn't acquire Montas because they've had poor starting pitching– in fact, their 3.60 starters' FIP ranks fourth in baseball, ahead of both the Yankees and Mets.
However, Ian Anderson, who has thrived in the postseason for the Braves— a 1.26 ERA in eight starts, including five shutout innings in the World Series isn't too shabby– has struggled largely this year. His ERA is a bloated 5.31 thanks to a rise in walks, decrease in strikeouts, and a slight velocity dip. Not a good combination.
With Strider already having thrown more innings than he has in his pro career, don't be surprised if
savvy GM Alex Anthopolous makes a move for Montas, or someone similar.
3. Seattle Mariners
Seattle is not a lock to make the playoffs, despite recently rattling off an impressive 14-game win streak. Team "fun differential" currently sits in the second Wild Card spot, but with the young Guardians and red-hot Orioles within range, trade wizard Jerry Dipoto is likely to make several moves to bolster his roster.
On Seattle Sports radio, Jeff Passan said that the Marines are "in on Montas", and that makes perfect sense. Seattle's staff ranks 20th in MLB in FIP, and despite a breakout campaign from highly-touted youngster Logan Gilbert (2.77 ERA in 117 IP), as well as new Mariner Robbie Ray slotting into the upper end of the rotation, there's upside to be desired.
George Kirby and Marco Gonzales have both been solid, but this rotation lacks a third real ace-type arm. Montas could be just that.
2. St. Louis Cardinals
The Cardinals seem to make the playoffs every year. They've failed to get out of the Wild Card round in each of the past two seasons, though, and there's no other playoff contender with such a desperate need for starting pitching.
According to Fangraphs' projected WAR depth charts, the Cardinals project to accumulate the third-fewest WAR in the National League for the rest of the season.
To put this in perspective, here are the names St. Louis is sandwiched between and
around: Pirates, Rangers, Tigers, Rockies, Royals, Cardinals, Orioles, Athletics, Nationals, Diamondbacks.
That's seven teams with dreadful records who are sure to be selling, the confusing Orioles, and a team that hopes to win a division title. The current roster simply will not cut it for this Cardinals team, regardless of the production it gets from Nolan Arenado and Paul Goldschmidt.
Jack Flaherty cannot stay healthy, the Steven Matz signing has not worked out (5.70 ERA, multiple IL stints), and despite a phenomenal season from Miles Mikolas (2.87 ERA, 1.80 BB/9), the Cardinals are in desperate need of pitching help.
One has to wonder just how daunting a 40-year-old Adam Wainwright would be facing off in a playoff series against Max Scherzer, Brandon Woodruff, or Clayton Kershaw.
According to Buster Olney of ESPN, the Cardinals are "viewed by some rival execs as a favorite to get… Frankie Montas". A trade for the right-hander would certainly provide a boost to the rotation. Expect STL to make one or more moves to bolster their starting rotation.
1. New York Yankees
According to Jon Heyman of the New York Post, "The Yankees are in on Frankie Montas,".
Take one look at the Yankees pitching numbers, and you might be surprised. The second-best rotation by ERA in the American League is anchored by Gerrit Cole and Nestor Cortes Jr., both with fWAR's over 2.0 already on the season.
Jameson Taillon (3.81 FIP, 3.5 BB%), Jordan Montgomory (3.50 ERA), and Luis Severino (3.45 ERA) make up a formidable back of the rotation, one that seemingly has succeeded enough to the point of being in a good spot for the postseason. But there might be some factors we are overlooking.
For one, despite all of his success, Cortes Jr. has never thrown more than 93 innings in a season, and the Bronx Bombers might want to limit his innings to ensure he'll be effective come October.
The aforementioned Severino has hit the IL and is expected to miss extended time– he, too, will have his innings monitored as he is working through his first full season since 2018, finally back from Tommy John surgery.
Assuming full health, a top three of Cole, Severino, and Cortes is a formidable one– both Cole and Severino are outstanding pitchers with some of the best stuff in the league. But these are the Yankees we're talking about.
They don't want to rely on the best-case scenario to be able to compete with the Astros for the pennant. This is a team with the farm system depth and financial resources to pull off just about any move, whether that be for Juan Soto, Montas, or Luis Castillo.