Analysis
What to Make of the Oakland Athletics Surprising Strong Start
Expected to be one of the worst teams in baseball after an offseason fire sale, the Athletics find themselves with a winning record through 17 games.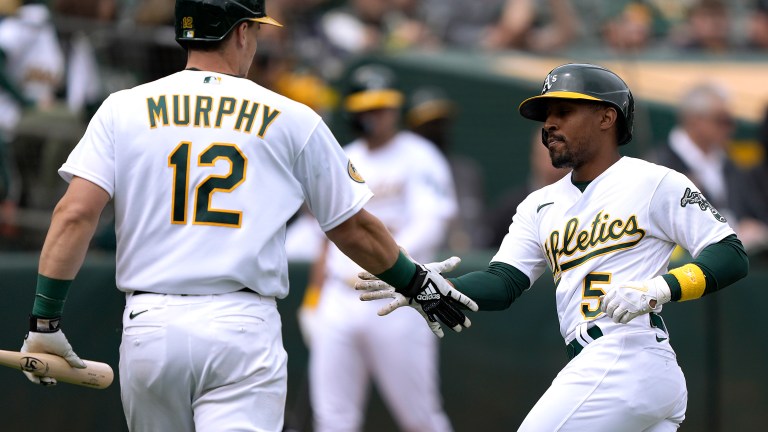 From 2018 through 2020 the Oakland Athletics made the playoffs in three consecutive seasons. Last year, the A's attempted to make one last run at playing in October with their homegrown core, trading for Starling Marte, Josh Harrison, and other complementary pieces in attempt to make a playoff push. Ownership appeared focused on winning.
We later found out, ownership only focused on winning in 2021. Since the end of the 2021 season, the Athletics lost Starling Marte and Mark Canha in free agency and have traded Matt Chapman, Matt Olson, Chris Bassitt and Sean Manaea from their 86-win team. The cherry on top was seeing long time manager Bob Melvin depart for San Diego.
Doubling season ticket prices and trading All-Star talent while the rumors continue to swirl of moving the team have not done any favors for ownership. Payroll is currently second-to-last in the league ahead of only Baltimore.
Yet despite a lineup full of replacement level players, the Oakland Athletics started the season over .500 with a 9-8 record. What should we make of this surprising start and will the trend continue? That's what we are here to find out.
Early Season Pitching Success
We all know the Athletics ace, Frankie Montas. The 29 year-old has strung together a productive career while flying under the radar in Oakland. His numbers are hovering around career averages with a 3.28 ERA with a 9.12 strikeout per nine. That's to be expected. The surprise comes from the other starters.
Paul Blackburn and Daulton Jefferies have combined to give up only five earned runs, leading to a 1.17 ERA for Jefferies and a 1.80 ERA for Blackburn.  Blackburn is still throwing his sinker more than any other pitch (36.4%) resulting in a .125 batting average and no extra-base hits. While the peripherals point toward regression, especially with Jefferies, each have done enough to position their team to win in each outing.
As a team, the Athletics are in the top half of the league (ninth) in ERA, quality starts (sixth), and WHIP (fifteenth). Since Lou Trivino went on the injured list, the bullpen has been anchored by Dany Jimenez. Jimenez has a two-pitch mix of slider and four-seam that has resulted in nine strikeouts through seven innings. Perhaps a benefactor of the small sample size, but effective nonetheless.
Offense Is Struggling
Oakland currently ranks bottom five in batting average, on-base, and OPS. A .209/.278/.341 slash line is ugly and usually will not lead to many wins. Combine that with the fourth-most strikeouts in the league and you have a recipe for disaster. Stephen Piscotty is the only player currently with an OPS over .800, and he's only logged 21 at-bats.
Until Ramon Laureno returns, Sean Murphy is the closest thing to an All-Star caliber player in this lineup. Laureno is set to return in early May and adding his bat will go a long way for this team. Christian Pache has displayed his Gold Glove caliber defense while his bat remains a huge question. Replacing Pache with Laureno helps fill one of the several holes in the lineup.
Simply put, this team lacks the offensive talent to win many high scoring games. Without many options in Triple-A, the hope lies on Kevin Smith, Sheldon Neuse, Seth Brown, Tony Kemp and others to pick up the slack. The pitching has carried the Athletics this far, but I am not sure how much further they can carry the load.
The Schedule
Starting the season with ten games on the road versus Philadelphia, Tampa Bay, and Toronto is absolutely cruel. Even with the tough slate, Oakland avoided being swept in each series. Taking three of four from Tampa Bay was a huge boost for a team trying to find their identity. Taking one game in both Philadelphia and Toronto helped position the Athletics to earn a winning record with Baltimore and Texas coming to town.
Oakland took care of business winning three of four against Baltimore and lost two of three against Texas, including a great outing from Montas where he allowed only three hits, but the Athletics couldn't push across a run.
Sure, we've seen some luck that led to a few wins. We've also seen unexpected pitching performances. As the team is currently constructed, we are not looking at a playoff appearance in 2022. A fanbase that has endured stars being dealt, ownership raising prices, and a constant cloud of uncertainty with moving the team, seeing more wins than losses at least feels good.