List
Top 10 Starters Under 25-Years-Old
These young pitchers will be giving hitters fits for years to come.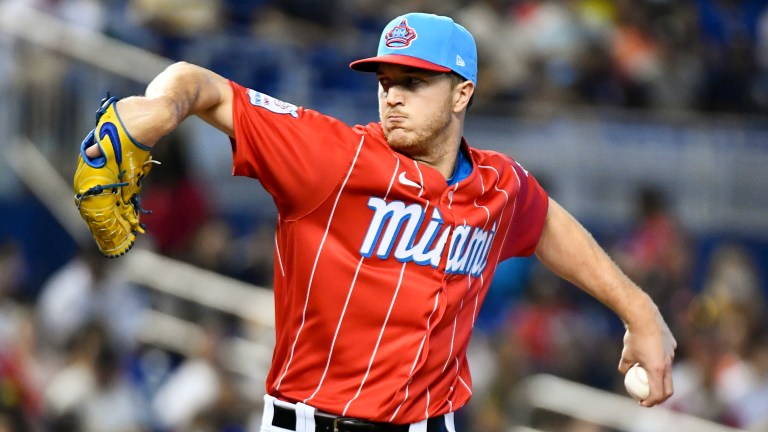 Major League Baseball rotations are filled with top of the line talent. Some of which are under 25-years-old, which makes for a crazy future of dominant arms. Below, we look at 10 pitchers in-depth who are primed to be aces in the not-so-distant future.
Honorable Mentions
All numbers are career statistics.
Alek Manoah – Toronto Blue Jays: 15 G, 79.1 IP, 3.63 ERA, 4.06 FIP, 26.4 K%, 8.4 BB%
Tanner Houck – Boston Red Sox: 15 G, 66.2 IP, 2.57 ERA, 2.68 FIP, 30.9 K%, 7.8 BB%
Huascar Ynoa – Atlanta Braves: 24 G, 92.1 IP, 4.29 ERA, 4.20 FIP, 23.6 K%, 8.1 BB%
Logan Gilbert – Seattle Mariners: 19 G, 91 IP, 5.14 ERA, 3.66 FIP, 26.1 K%, 5.2 BB%
26 G | 26 GS | 137 IP | 3.22 ERA | 3.64 FIP | 24 K% | 10.2 BB%
2021 has been a rough go for Ian Anderson after an impressive six game stint in 2020. Anderson was a big time prospect for Atlanta, so there is still room to mature and grow as a pitcher. Despite low spin rates, the 6-foot-3 righty used his velocity at the top of the zone to get outs. Through 20 starts this season, Anderson has taken a huge step back, but an injury may have effected his performance. Now healthy and activated, the 2016 first-round pick looks to find his stride once again. The Braves should get excited about their future rotation, which is primed to feature Anderson, Max Fried, and Huascar Ynoa.
61 G | 61 GS | 328.1 IP | 4.03 ERA | 3.78 FIP | 22.8 K% | 6.4 BB%
Pablo Lopez is yet another exciting piece for the future in Miami. While he is only 25, Lopez has pitched for the Marlins in parts of four seasons, dating back to 2018. Unlike Trevor Rogers and Sandy Alcantara, the Venezuela-born righty relies on his changeup to produce soft contact, rather than a high-90s fastball. This season has been Lopez's best, posting a 3.03 ERA and 3.21 FIP in 101 innings. Even though Lopez has been extremely good, he is only the Marlins' number three starter. This shows how strong the Marlins' pitching staff will be, with Lopez being an integral part of it.
31 G | 25 GS | 146.1 IP | 3.26 ERA | 3.44 FIP | 27.7 K% | 7.6 BB%
Luis Garcia has been a very pleasant surprise for the Houston Astros this season. After a brief five game stint in 2020, many believed that Garcia would wind up in the bullpen. Since getting an opportunity to work in the rotation, the Venezuela native has made the most of it. Through 26 games in 2021, Garcia holds a 3.29 ERA, 3.37 FIP, and a 28.5% strikeout rate. While limiting walks, the 6-foot-1 righty produces a litany of swings-and-misses. Garcia has stepped up with the disappointment of prospects such as Forrest Whitley and has given the Astros a promising young hurler.
90 G | 89 GS | 485 IP | 3.32 ERA | 3.82 FIP | 28.7 K% | 8.4 BB%
After being drafted in 2014, Flaherty was able to make his MLB debut at just 21 years of age in September 2017. His next two seasons were utterly dominant. In 347.1 innings, Flaherty pitched to a 3.01 ERA and 3.64 FIP, while striking out 29.8% of batters. Since then, his metrics look quite concerning, as he has struggled to stay healthy and has given up a myriad of hard contact. There is no doubt that Flaherty can succeed, but his future depends on if he can find his stride again. Keeping the ball in the yard will need to be a point of improvement for the Harvard-Westlake product.
6. Dylan Cease – Chicago White Sox
54 G | 54 GS | 280 IP | 4.40 ERA | 4.56 FIP | 26.5 K% | 10.5 BB%
Dylan Cease is one of the harder pitchers to face, with a wipeout slider and vertical curveball that work well with his hard fastball. After struggling in 2019 and 2020, the 6-foot-2 righty found his stride this season, producing a 31.1 K% in 148.2 innings. Coming into 2021, many were concerned with his ability to throw strikes, that turned into walks in years past. Like Freddy Peralta, Cease tends to give up his fair share of walks, but counters that with elite strikeout rates. The White Sox have a decent amount of young pitching, including Lucas Giolito and Michael Kopech, boding well for many deep playoff runs in the near future.
21 G | 21 GS | 105.1 IP | 3.76 ERA | 3.27 FIP | 28 K% | 7.4 BB%
McClanahan gave the Rays a much-needed boost to their rotation, which has enabled them to take a 9.5 game lead in the AL East. A highly-touted prospect, the South Florida product is still getting acclimated to the majors, but has impressed to this point. McClanahan strikes out hitters and limits walks well, but has issues with hard contact. His stuff is there, evidenced by a nasty fastball/curveball combo, but he needs to learn how to pitch to big league hitters. Many evaluators believe McClanahan will become a reliever long term, with a violent delivery and spotty control. While this is a common opinion, McClanahan continues to perform well as a starter, keeping him in the rotation for now. The Rays no doubt have an impact arm for years to come, but the question is where Shane McClanahan will end up.
4. Trevor Rogers – Miami Marlins
28 G | 28 GS | 142.1 IP | 3.22 ERA | 3.06 FIP | 28.5 K% | 9.2 BB%
Rogers leads an exciting, young group of arms in Miami, including Sandy Alcantara and Pablo Lopez (#9 on the list). After a seven game stint in 2020, the 2017 first-round pick has a legitimate shot at winning the NL Rookie of the Year, competing with Reds' infielder Jonathan India. Through 21 starts this season, Rogers has a 2.52 ERA with a 2.75 FIP and 28% strikeout rate in 114.1 innings. The young lefty is doing everything well, from limiting hard contact to getting swings-and-misses.
3. Logan Webb – San Francisco Giants
43 G | 40 GS | 213.1 IP | 3.84 ERA | 3.40 FIP | 23.4 K% | 7.6 BB%
Logan Webb has completely transformed his game since getting the call to the majors in 2019. He went from primarily using his four-seam fastball to throwing a sinker 36.4 percent of the time in his five pitch repertoire. This change produced a spike in ground-ball rate, making Webb a more effective pitcher. The 2014 fourth-round pick had something click for him in 2021, arguably being the best pitcher since the All-Star break. Webb has an elite chase rate, along with dominant xwOBA, xERA, and xSLG numbers.
2. Julio Urias – Los Angeles Dodgers
101 G | 65 GS | 395.1 IP | 3.16 ERA | 3.41 FIP | 24.5 K% | 7.5 BB%
Doesn't it feel like Julio Urias has been in the league forever? Probably because he has been taking the mound for the Dodgers since he was just 19-years-old. This was definitely warranted, as Urias has been very good in his 101 career games. So far this season, the Mexican-born lefty has been dominant, pitching to a 3.11 ERA, 3.31 FIP, and 26.7 K% in 156.1 innings. Urias is a high spin, high velocity type of pitcher, with a fastball that averages in the mid 90s. After working primarily out of the bullpen in the 2019 season, Urias has settled into a full-time starter role and has taken a huge step forward.
1. Freddy Peralta – Milwaukee Brewers
94 G | 46 GS | 316 IP | 3.90 ERA | 3.47 FIP | 32.2 K% | 10.7 BB%
Freddy Peralta's path to being a dominant starter isn't commonplace. In his 2018 rookie campaign, Peralta started 14 of his 16 appearances. For the next two seasons, the Dominican Republic native was used primarily out of the bullpen. After starting just one game in 2020, the Brewers gave Peralta another chance and it sure has payed off. Through 23 starts this year, the 5-foot-11 righty owns a 2.70 ERA, 3.09 FIP, and a 34 K% in 123.1 innings. The NL Cy Young contender also ranks at the top of the league in Whiff%, xBA, xERA, and xSLG. Peralta, along with Brandon Woodruff and Corbin Burnes, give the Brewers a dominant rotation for years to come.