Analysis
Is Nick Senzel Finally Turning the Corner for the Reds?
The Reds centerfielder has been making strides with the bat lately, reminding everyone why he was once drafted second overall.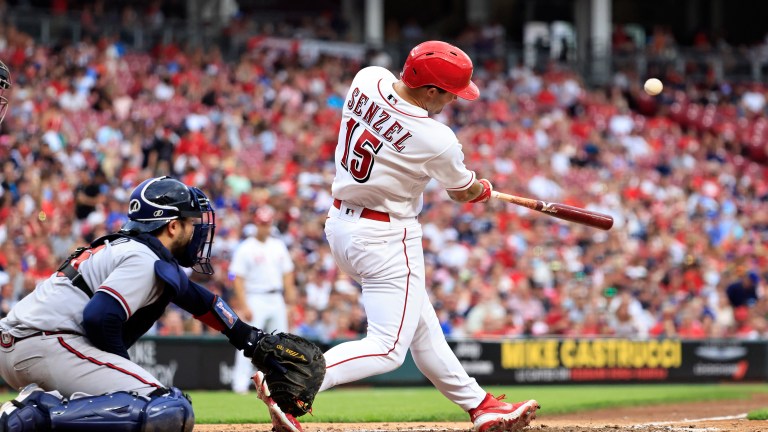 After being selected second overall in 2016, Nick Senzel was viewed as a future building block in Cincinnati. A can't-miss college bat that would help lead Cincinnati back to the Postseason. However, Senzel has yet to live up to expectations.
Now in his fourth season, Senzel has a career slash line of .247/.307/.374 and a 77 wRC+. A bust, a wasted pick, a bench player. Senzel has been labeled as many things. The centerfielder of the future is still a label he can achieve.
While Senzel's career has not gone as planned, injuries have held back his development. Vertigo issues, ankle, hamstring, elbow, thumb, shoulder, groin, heel, knee, back, and two bout with COVID are several injuries on his long list of IL stints. Now healthy, Senzel is finally getting a chance to find a rhythm and produce.
Senzel's Swinging a Hot Bat
Over the past month, Senzel is slashing .299/.361/.390 with three home runs and three stolen bases. He's looked more comfortable and confident at the plate and the results are beginning to show. Senzel has recorded a 100 MPH or greater exit velocity 25 times this season, 18 of which came in June or July. However, only two went for extra-base hits.
Below, you will see a few examples of hard contact without much luck.
Long story short, Senzel is starting to hit the ball harder. He's found his timing, now he needs to work on his launch angle in order to turn outs into extra-base hits. No, I do not think Senzel is on the verge of becoming a 30 home run hitter. Maybe he can run into 20, but doubles and triples should start to trickle in if he can keep this up.
Another positive from June and July would be Senzel's ability to hit to all fields. In this time frame, he's hit 29.9% pull, 43.7% towards center, and 26.4% to the opposite field. Being able to hit to all fields will leave fewer holes for pitchers to attack.
Every Reds fan has convinced themselves "this is the breakout" many times for Nick Senzel. Usually, that "breakout" has come to a screeching halt due to another IL stint. Now healthy, he has a opportunity to string together a few good months and prove his worth and ability to the organization.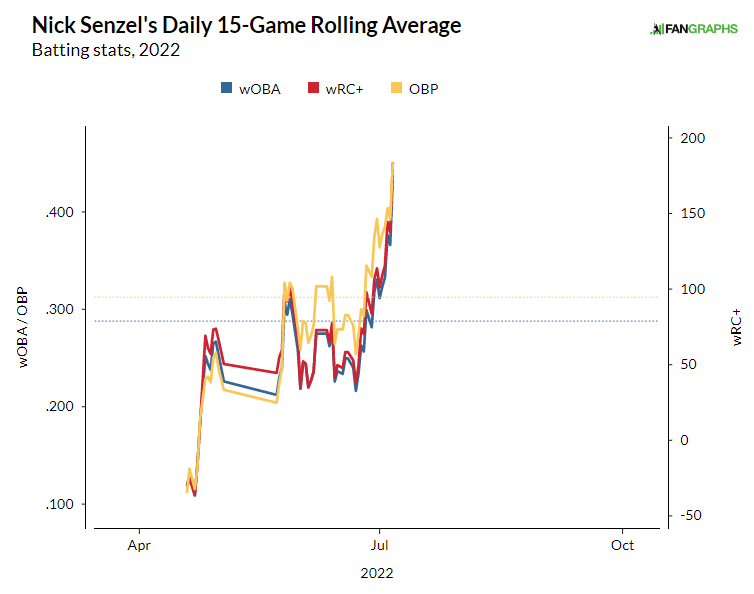 We are working with a small sample size, but things are trending in the right direction. In June and July, Senzel's wRC+ is up to 106. You might say that's only slightly above league average, but it is a huge improvement from his season wRC+ of 78 and career-high of 87 (2019). With so few storylines to follow with the 2022 Reds, Senzel's recent trend moves to the top of the list.
Conclusion
Whether or not he can keep this up is still a question.
Can he stay healthy?
Can he turn more hard contact into doubles, triples, home runs? Time will tell.
With a huge question mark for the future of centerfield in Cincinnati, Senzel finally putting it all together would do wonders for this team moving forward. A plus runner and plus defender under team control through 2025, Senzel can still factor into the next playoff team in Cincinnati.
Now, we wait and see where he goes from here.