Rankings
Top 10 MLB Free Agents for 2023–24 Offseason
Despite the best player in the game hitting the open market, the 2024 MLB Free Agent class lacks the depth of previous years.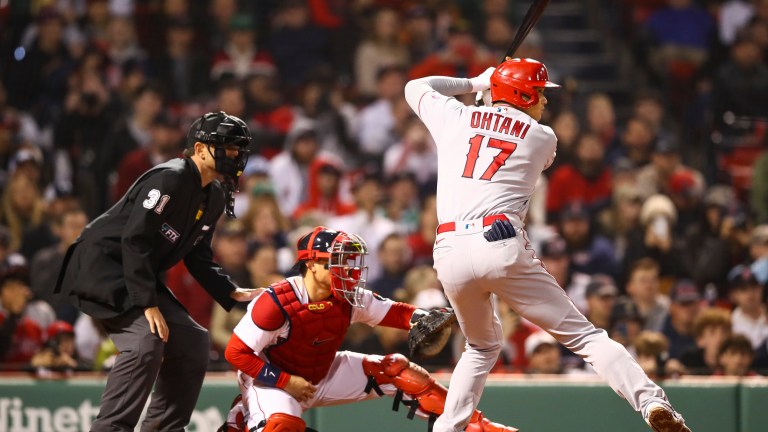 Rhys Hoskins isn't a player without his flaws, but the slugging first baseman has proven to be capable of hitting 27-32 home runs per season and consistently drawing walks. Hoskins isn't an irreplaceable player, but most teams don't currently employ a first base/DH option better than the 30-year-old.
Among those teams are his current employer, the Philadelphia Phillies. While the defending National League Champions have one of the deeper lineups in baseball, their depth is being tested early after Hoskins tore his left ACL late in Spring Training. Two-time NL MVP Bryce Harper and first baseman/DH Darick Hall are also currently out with injuries.
Dave Dombrowski and company are getting an interesting look into what life after Hoskins — who can become a free agent after the season — could be like.
For Hoskins, a Scott Boras client, likely missing all of the 2023 season is a crushing blow. While Hoskins isn't as accomplished as José Abreu, he's six years younger. Had Hoskins had another 30 home run, 90 RBI season, he very well could have landed a deal similar to the three-year/$58.5 million deal that Abreu received from the Houston Astros this past winter. Maybe a fourth season — whether guaranteed or in the form of a club option with a buyout — would have even been a possibility. Now, there's a real chance that Hoskins will have to settle for a qualifying offer, assuming one is extended to him, and hope he's productive coming off of ACL surgery in 2024.
With Hoskins' stock down for the time being, here's a look at the 10 best potential MLB free agents in the 2023-24 class:
10. Teoscar Hernández: RF/LF … Age 31 in 2024
While there's a lot to like about the Seattle Mariners, a slugger being traded to T-Mobile Park before his contract year feels like cruel and unusual punishment. Hernández has some qualities similar to Hoskins in the sense that he's not necessarily a player you build your team around, but in any given year he could be an All-Star on a contending team. Between 2018 and 2022, Hernández homered 121 times and posted an .819 OPS for the Toronto Blue Jays.
9. Jordan Montgomery: LHP … Age 31 in 2024
Montgomery isn't an ace, but he's a solid middle-of-the-rotation option. In 35 starts since the beginning of the 2022 season, Montgomery has a 3.39 ERA and 3.49 FIP over 196 2/3 innings pitched between the New York Yankees and St. Louis Cardinals.
8. Blake Snell: LHP … Age 31 in 2024
Perhaps Snell's 2018 season — when he posted a 1.89 ERA and won the AL Cy Young Award as a member of the Tampa Bay Rays — was something of an outlier. But while he's off to a slow start in 2023, he posted a 3.79 ERA and 3.31 FIP in 51 starts for the San Diego Padres between 2021 and 2022. That pitcher can be a No. 3 on a World Series-caliber team.
7. Josh Hader: Closer … Age 30 in 2024
There was a hiccup last summer, but the four-time All-Star has gotten back on track and is throwing as hard as ever. Hader is on a Hall of Fame-trajectory, and while paying relievers well into their 30s can end poorly, there should be robust market for the three-time Trevor Hoffman NL Reliever of the Year.
6. Lucas Giolito: RHP … Age 29 in 2024
Giolito has a 4.99 ERA and 4.05 FIP in 33 starts since the 2022 season began, disappointing production for a Chicago White Sox team that has underwhelmed over that same period. But the former top prospect is on the right side of 30 and posted a 3.47 ERA and 3.54 FIP in 72 starts between 2019 and 2021. There's no reason to believe that Giolito won't make corrections and re-emerge as a very intriguing free agent this offseason.
5. Max Scherzer: RHP … Age 39 in 2024
Eventually Scherzer is going to hit a wall, and it's possible that the 6.08 FIP that the future Hall of Famer has posted in his first three starts in the pitch clock era is the beginning of that. But, waiting for Scherzer to fall off a cliff feels similar to doing the same for Tom Brady. This may not be peak Scherzer, but he's still one of the best arms in the sport. And if he has another All-Star caliber season, why wouldn't he opt out of the final year of his three-year/$130 million deal and search for a multi-year commitment?
4. Matt Chapman: 3B … Age 31 in 2024
Chapman is off to a scalding-hot start at the plate, slashing .421/.484/.719 with a 1.204 OPS at the time of publication. What's interesting is the two-time Platinum Glove Award winner has -1 defensive runs saved and -3 outs above average so far at the hot corner. Chapman's best attribute for most of his career has been his glove, so it will be interesting to see how teams view him if he reaches free agency after a great year at the plate but with declining defensive metrics.
3. Julio Urías: LHP … Age 27 in 2024
Urías has a real chance to climb to No. 2 on this list, and will be paid handsomely in 2024 and beyond regardless. Since the start of the 2021 season, Urías is 40-11 with a 0.991 WHIP. And because he debuted at age 19, Urías will be only 27 years old when he hits the open market.
2. Aaron Nola: RHP … Age 31 in 2024
Nola is sometimes a polarizing figure in Philadelphia, but while he's off to a slow start, his value over the last half decade is hard to deny. Since the start of the 2018 season, Nola is second among all pitchers in innings pitched (893) and fifth in WAR (22.1), per FanGraphs. The fact that he's never been reliant on overpowering hitters should mean that the former first-round pick will age well.
1. Shohei Ohtani: DH/RHP … Age 29 in 2024
What's there to say? If Ohtani isn't the greatest show that the sport has ever seen, he's not far behind. It's fair to wonder how sustainable being a frontline starter and elite slugger is, but it's impossible to look away when Ohtani is on the field right now. There's been a lot of talk about how the former AL MVP could be the first player to get a $500 million contract, but don't be shocked if the number ends up closer to $600.