Analysis
At Least the Phillies Have Trea Turner
The Philadelphia Phillies have gotten off to a dismal start, but at least their superstar shortstop is living up to the hype.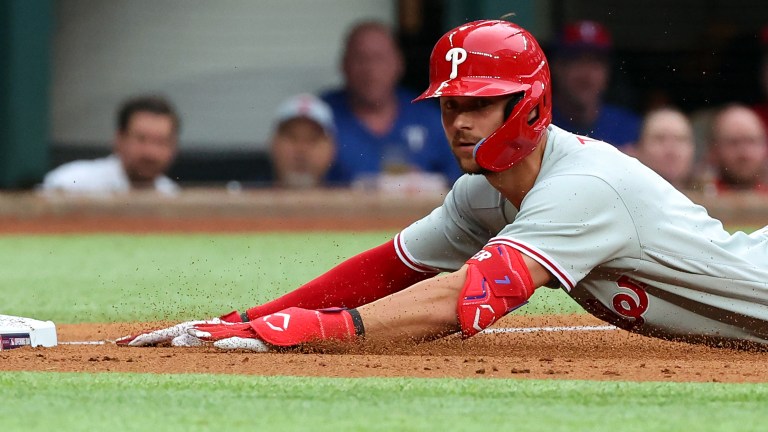 As J.T. Realmuto closed his glove around the final pitch of the evening, the sold-out Citizens Bank Park crowd roared with excitement. It had been one hell of a ballgame. Bryce Harper crushed a mammoth blast in his first at-bat to put the Phillies on top. A few innings later, Rhys Hoskins served up one of his own, and Philadelphia took a commanding 7-0 lead.
The Phillies were firing on all cylinders. Ranger Suárez was masterful through five scoreless frames. The defense was on point. The lineup made Lance McCullers Jr. regret that he ever came back from the injured list. It was a game of beauty, and the city of Philadelphia was buzzing.
The Phillies haven't won a baseball game since.
Across the first four games of the 2023 season, the Phillies have been outscored 37-12. They were swept by the Rangers, and the Yankees aren't going to make things any easier. The pitching staff has a 9.28 ERA. Their 6.52 FIP is hardly any better. The defense has been sloppy, and the offense has gone dead after a few good innings on Opening Day.
Small sample sizes are a dangerous thing. By the end of the week, the Phillies could completely turn things around. Yet all the same, it's impossible not to feel discouraged. This isn't the start to the season fans were hoping for.
Hopes were high this spring. The Phillies went 65-46 over the final four months of the 2022 season. They were a powerful force in the playoffs. Fans were looking to see that team take the field again, augmented with a brand new superstar at shortstop. Unfortunately, the NL Champion Phillies have yet to show up. But on the bright side, at least that superstar shortstop has been every bit as good as promised.
Through four games, Trea Turner is slashing .389/.421/.667. He has seven hits, including a double and two triples. He's reached base safely multiple times in every game. His elite speed and superb contact skills are already on full display.
If it weren't for Turner, this pathetic 0-4 start would be even harder to bear. The 29-year-old shortstop is single-handedly preventing the Philadelphia faithful from ripping their hair out and screaming into a pillow.
Okay fine, perhaps that's a bit of an exaggeration. After all, Turner isn't the only Phillies player succeeding thus far. Alec Bohm is off to a terrific start, and J.T. Realmuto has been solid as ever. Nick Castellanos already has three doubles, which bodes well for his for chances to have a bounceback season.
However, Turner might just be the most important player on the roster – especially while Harper is out. Trea Turner is an MVP-level talent, and if the Phillies are going to compete without Harper and Hoskins, they need Turner at his best. It's great to see Bohm, Realmuto, and Castellanos thriving at the plate, but no single player's success is more critical than Turner's.
The Phillies are off to a dismal start, but hey – at least they have Trea Turner. Can you imagine if they didn't?
Actually, I'd rather not.