Rankings
Top 10 MLB Catchers For 2023
The 2023 season is set to be an exciting year behind the plate, with a ton of talented catchers to watch and root for.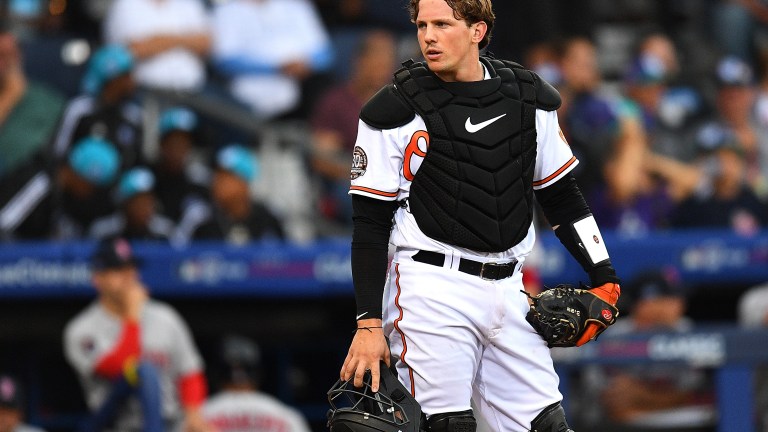 Catchers don't always get the love and attention they deserve. They play less often than other position players, and their careers don't always last as long, but that's only because of the incredible demands this position puts on their bodies.
This year, however, it's going to be pretty hard to overlook the guys behind the dish. The catching position is stacked with talent, including more than a dozen backstops who could reasonably earn an All-Star nod. The position is so stacked, in fact, that star veterans and bounce-back candidates Yasmani Grandal and Salvador Perez didn't even earn an honourable mention on our list.
There will also be plenty of exciting catching storylines to follow this season. Big names will suit up for new teams. New stars will try to build upon strong breakout campaigns. A man whose name rhymes with Schmadley Schmutschman could become one of the best players of his generation. And that's just the tip of the iceberg. Here are Just Baseball's staff consensus top 10 catchers for the 2023 season.
10. Jonah Heim – 2.8 fWAR
2022 Stats: 450 PA, .227/.298/.399, 16 HR, 48 RBI, 9.1% BB%, 19.3% K%, 99 wRC+
2022 Defensive Metrics: 8 DRS, 9.1 FRM
Jonah Heim had a big year in 2022, finally hitting well enough to warrant regular playing time. Heim is a terrific defender, and his glove will always be his carrying tool, but he needs to contribute something with the bat in order to stick in the starting lineup.
In 95 games from 2020-2021, Heim batted .198 with a 52 wRC+. He had some sneaky power, swatting 10 home runs, but his plate discipline was awful and he wasn't reaching base as much as he needed to.
Last season, he improved his walk rate enough to boost his OBP close to .300 and his wRC+ close to league average. Those aren't impressive numbers, but they're enough to allow him to play every day and let his glove do the talking.
Heim will turn 28 this season as he looks to further improve his offense and maintain his stellar D. He'll also have honor of catching the most improved starting rotation in baseball, headlined by superstar Jacob deGrom.
9. Jose Trevino – 3.7 fWAR
2022 Stats: 353 PA, .248/.283/.388, 11 HR, 43 RBI, 4.2% BB%, 17.6% K%, 91 wRC+
2022 Defensive Metrics: 21 DRS, 19.1 FRM
While the top eight backstops on this list are all talented hitters in one way or another, Jose Trevino is more of a defense-first catcher. Don't take that the wrong way, however – Trevino has a strong enough glove that he doesn't need to hit to rank among the top ten at his position.
Trevino broke out in a big way last season, earning the Rawlings Platinum Glove to go along with his Gold Glove and All-Star nod. His best skill was his phenomenal pitch framing; according to Baseball Savant, he saved the Yankees 17 runs with his framing prowess. The next best catcher, Jonah Heim, saved his team just 12 runs, and only three other catchers (Travis d'Arnaud, Cal Raleigh, and Alejandro Kirk) saved even half as many runs as Trevino with their framing skills.
All in all, Trevino's defense helped him amass 3.7 fWAR, fifth among AL catchers. It's hard to believe he can maintain such absurd framing numbers going forward, but he'll still be an excellent defensive catcher even if his framing stats come down to earth.
8. Tyler Stephenson – 1.5 fWAR
2022 Stats: 183 PA, .319/.372/.482, 6 HR, 35 RBI, 6.6% BB%, 25.7% K%, 134 wRC+
2022 Defensive Metrics: -3 DRS, -1.9 FRM
Tyler Stephenson was limited to just 50 games in 2022, but when he was on the field, he played at an All-Star level. By all reports, he's completely healthy this spring, and the Reds are counting on a full season from their young, star catcher.
Stephenson is a fine defensive player, but if he's going to stand out, he's going to do it with his bat. While his bat-to-ball skills aren't great, Stephenson has made up for it with impressive plate discipline. Furthermore, he's got big power potential bubbling under the surface if he can learn to tap into it.
I'll be perfectly honest here — I wouldn't have ranked Stephenson in my own top ten. That being said, I can't blame anyone who did. He's a former top prospect with a number of impressive tools, and he's still just 26 years old. He has what it takes to be a star if he can finally put it all together over an uninterrupted season.
7. Cal Raleigh – 4.2 fWAR
2022 Stats: 415 PA, .211/.284/.489, 27 HR, 63 RBI, 9.2% BB%, 29.4% K%, 121 wRC+
2022 Defensive Metrics: 14 DRS, 8.2 FRM
Cal Raleigh is an all or nothing kind of guy. His batting average is going to be low, and he strikes out a ton, but he makes up for those shortcomings with prodigious power. Raleigh struck out 122 times in 119 games, but he also crushed 27 home runs in just 370 at-bats.
For further proof, just take a look at Raleigh's sliders on Baseball Savant — you'll see a lot of red, a lot of blue, and not much in between. His chase rate is poor and his whiff rate is atrocious, but his barrel rate and max exit velocity are elite.
Behind the dish, it's a similar story. Raleigh has proven to be an excellent pitch framer, and the Mariners praise his game-calling skills, but his pop time is slow and he allows a few too many stolen bases.
At the end of the day, Raleigh is one of the better backstops around, but if he can work on some of his weaknesses, he has the potential to get even better.
6. Alejandro Kirk – 3.8 fWAR
2022 Stats: 541 PA , .285/.372/.415, 14 HR, 63 RBI, 11.6% BB%, 10.7% K%, 129 wRC+
2022 Defensive Metrics: 9 DRS, 7.6 FRM
Alejandro Kirk has quickly become one of the most popular catchers in the sport. Last summer, he earned over one million fan votes for the All-Star Game – third in the AL, behind only Mike Trout and Aaron Judge.
It's not hard to see why the young catcher is so beloved by his fans, teammates, and coaches alike. He walks a ton, he almost never strikes out, and he has a surprising amount of power for his 5'8″ stature. Kirk also made a tremendous effort to improve his defense in 2022, becoming one of the better pitch framers in the game.
Still just 24 years old, Kirk has time to develop his power and further improve his skills behind the plate. Adley Rutschman will give him a run for his money in All-Star voting, but rest assured, Kirk is one of the best backstops in the American League.
5. Willson Contreras – 3.3 fWAR
2022 Stats: 487 PA , .243/.349/.466, 22 HR, 55 RBI, 9.2% BB%, 21.1% K%, 132 wRC+
2022 Defensive Metrics: -1 DRS, -3.5 FRM
Willson Contreras isn't the strongest defensive catcher, but the man can hit. He led NL backstops (min. 400 PA) in OBP and wRC+ last season and earned himself an $87.5 million payday from the Cardinals as a reward.
After a couple of down years in 2020 and 2021 (by his own standards), Contreras returned to his All-Star form in 2022, posting the lowest strikeout rate and highest wRC+ of his career. He was swinging more and making more contact, just as he did when he started two consecutive All-Star Games in 2018 and 2019.
Contreras's defense isn't great, but he's not a liability either. His framing skills are lacking, but he's got a strong arm that helps him keep opposing runners in check. If there's one serious cause for concern, it's his durability; Contreras dealt with various nagging injuries in 2022 and played more than a third of his games as the designated hitter.
4. Sean Murphy – 5.1 fWAR
2022 Stats: 612 PA , .250/.332/.426, 18 HR, 66 RBI, 9.2% BB%, 20.3% K%, 122 wRC+
2022 Defensive Metrics: 1 DRS, 8.7 FRM
Sean Murphy has taken a step forward in each season of his big-league career. He broke out in 2020, finishing fourth for AL Rookie of the Year. He followed that up with a Gold Glove campaign in 2021, his first full season. In 2022, he was better than ever, finishing 11th in the AL in fWAR and even earning a tenth-place MVP vote.
Murphy made a concerted effort to improve his plate discipline last season, significantly cutting down his strikeouts without sacrificing walks. He doesn't have the offensive ceiling of the very best hitting catchers in the game, but his power skills are impressive and his newfound plate discipline is a promising sign of good things to come.
The new Atlanta Brave is a complete player on the other side of the ball too. Murphy does a great job framing and controlling the running game, and he grades out favorably according to nearly every defensive metric available.
3. Will Smith – 3.9 fWAR
2022 Stats: 578 PA , .260/.343/.465, 24 HR, 87 RBI, 9.7% BB%, 16.6% K%, 127 wRC+
2022 Defensive Metrics: 7 DRS, 0.5 FRM
Will Smith was our top catcher last season, and the fact that he's fallen to number three says absolutely nothing about his abilities – it just tells you how good the two guys ahead of him are.
The Dodgers' backstop had another terrific season in 2022, leading NL catchers with 24 home runs and 87 RBI. He brought his strikeout rate down and continued to hit the ball hard and often. All things considered, Smith is arguably the best offensive catcher in the game.
His defense isn't going to win him any awards, but Smith holds his own behind the plate. His pop time and framing skills have improved significantly over the past few years, and his durability is a major asset.
2. Adley Rutschman – 5.3 fWAR
2022 Stats: 470 PA , .254/.362/.445, 13 HR, 42 RBI, 13.8% BB%, 18.3% K%, 133 wRC+
2022 Defensive Metrics: 18 DRS, 9.1 FRM
Adley Rutschman was a revelation in his rookie season, succeeding in every aspect of the game. The former number-one pick got off to a bit of a slow start but soon found his footing, leading all AL catchers in wRC+ and fWAR (min. 400 PA).
The 25-year-old catcher has remarkable plate discipline and contact skills, and he still has room to add a little more pop. Combine that with his elite defense and surprisingly effective baserunning, and you have the makings of a future MVP.
Rutschman has been compared to Johnny Bench since his draft days, hardly a fair comparison for a young player to live up to. Even so, the fact that anyone is drawing those comparisons at all tells you just how special a player Rustchman can be.
1. J.T. Realmuto – 6.5 fWAR
2022 Stats: 562 PA , .276/.342/.478, 22 HR, 84 RBI, 7.3% BB%, 21.2% K%, 128 wRC+
2022 Defensive Metrics: 11 DRS, 1.1 FRM
Phillies fans gave J.T. Realmuto the nickname BCIB (Best Catcher in Baseball) for a reason. Over the last five years, the All-Star backstop has put up 23 fWAR. The next best catcher, Yasmani Grandal, has just 14.7.
In 2022, Realmuto played the best season of his already excellent career. His 128 wRC+ was a career-high, as were his 21 stolen bases. His defense, too, was phenomenal as usual. He caught a league-leading 30 runners on the bases to go along with his excellent blocking skills and strong pitch framing.
Realmuto is the rare five-tool catcher; last season, he led NL backstops in batting average, slugging percentage, stolen bases, Defensive Runs Saved, and pop time. While his age has many fans bracing for a decline (he turns 32 this season), the BCIB isn't showing any signs of slowing down just yet.
Honorable Mentions:
William Contreras:
After one of the most confusing trades in recent memory, William Contreras ended up in Milwaukee, where he'll be the starting catcher for the 2023 season. He'll look to build off of his breakout 2022 campaign in which he smacked 20 home runs in just 97 games. If he can improve his pitch framing too – a skill the Brewers are excellent at teaching – Contreras can be a perennial All-Star.
Danny Jansen:
Danny Jansen is one of the most underrated players in baseball, because he's overshadowed on his own team by Alejandro Kirk. Jansen, however, is far more than just a backup, and he'd be the full-time starter if he played on most other teams.
Jansen put up 2.6 fWAR in just 72 games last year, and his 140 wRC+ led all catchers (min. 200 PA). If he keeps playing at that level, it won't be long before he graduates from the "honorable mentions" section of this list.
Gabriel Moreno:
Gabriel Moreno needed to get out of Toronto, where he was blocked by not one but two excellent backstops. He has a much clear path to playing time in Arizona, where he'll share catching duties with Carson Kelly until he's ready to take over the starting role.
Moreno technically isn't a prospect anymore (he graduated in 2022), but many continue to think of him as such. That tells you how young and inexperienced he still is, so the fact that he made this list at all is a huge accomplishment. This is just the beginning for Moreno.