Analysis
What Have the Rockies Found in Elias Díaz?
Elias Díaz, a 32-year-old catcher, has quietly been the Colorado Rockies' most valuable player so far in 2023.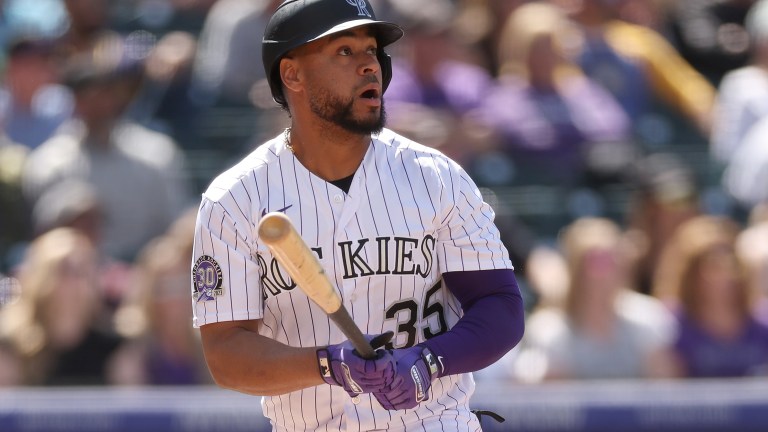 Who's been the Colorado Rockies' most valuable player so far in 2023?
It's not Kris Bryant or Ryan McMahon or Kyle Freeland. No, the Rockies' MVP is catcher Elias Díaz, whose 1.4 fWAR leads the team. In fact, when considering all catchers, he's tied with Adley Rutschman in third place. Because Díaz did not have a remarkable 2022, this is a welcome revival for the Rockies.
How Did Elias Díaz End Up in Colorado?
In the spring of 2020, the Rockies signed then-29-year-old Díaz to an MiLB contract after he'd had a grim 2019 with the Pirates. At the time, the Rockies were trying to give their catching corps some offensive power, given that Tony Wolters did not hit the ball well. When he was allowed to play, Díaz proved himself a much better hitter even though he finished the season with -0.1 fWAR. That changed in 2021 when he became the team's primary catcher (1.6 fWAR); Díaz was less good in 2022 (-1.4 fWAR) though he began to show signs of improvement at the end of the season; finally, in 2023, he is producing at career-best levels.
In 2022, Díaz signed a three-year, $14.5 million contract, so he will be with the Rockies through the 2024 season.
One point is worth mentioning. Manager Bud Black, himself a former pitcher, takes catching seriously because he understands the catcher plays a key role in developing young pitchers.
"The thing about Elias is that he's so capable and so willing," Black said. "He's strong as a bull and he wants to play every day. There is a strong desire to do it all — and do it playing a tough position."
That Díaz has earned Black's trust says a great deal about his ability behind the plate.
So, How's His Offense This Season?
It's good — really good.
Currently, Díaz is slashing .343/.396/.517 with a wRC+ of 135. His walk rate is low (8.2%), but it usually is. What's notable is the power. Thus far, he has hit five home runs. (In 2021, his best season, he hit 21 homers.) ZiPS projected Díaz to hit seven home runs in 2023, so he is on track to far surpass that.
Actually, here's one of his most recent from Monday's game against the Marlins:
He's also hit ten doubles this season with 25 RBI. Currently, Díaz has a BRS% (percentage of baserunners who score during his PA) of 18.7%. His career average is 14.9%.
But it's not just the Rockies. Elias Díaz is one of the better hitters in baseball. Currently, he is second in MLB in batting average and fourth with a .452 average (19-for-42) with RISP.
His improvement has not gone unnoticed. "He's calm," Bud Black said. "His at-bats have been really solid all year. You've seen the clutch at-bats. You've seen the pinch-hit at-bats. The total game is under control."
Some of Díaz's production is boosted by his home ballpark (1.090 OPS at Coors Field as opposed to .703 elsewhere). In addition, he is leading MLB with a .397 AVG (31-for-78) at home and has gone 14-for-24 with RISP.
In short, Elias Díaz is on track for the best offensive season of his career.
How's His Defense?
There were concerns about how catchers would adjust to the increased ease of base stealing, but Díaz is distinguishing himself on this front as well.
His 11 runners caught stealing ranks third among all MLB catchers. (Shea Langeliers leads with 14, while Gabriel Moreno is second with 12.) Here's a nice example:
His catcher pop time to second base, as measured by Baseball Savant, is 1.94, putting him in the top 15 of all MLB catchers.
In terms of catcher throwing time, Díaz ranks second in all of MLB with four CS Above Average. (Moreno leads all catchers with five.)
This is an improvement from 2022, when he led all catchers in errors with 11. It was a part of his game he worked on in the offseason.
"I definitely feel like I'm in a good place," he said. "In spring training we talked a lot about, 'Don't try to do too much, don't overthrow, just be accurate.' That's what I've been doing. I mean, I don't try to throw it 100 mph to second base."
Defensively, Elias Díaz is having a stellar year.
He is less comfortable with pitch framing (47th in MLB), but given everything else Díaz is bringing this year, the Rockies will take it.
What's Next for Elias Díaz?
Mostly, questions swirl around whether he'll be an All-Star this year.
"For every player in the major leagues that is the dream," Díaz said of the possibility. "Everybody wants to play in the All-Star Game. I don't know if I'll make it but I'll continue to play hard and we'll see what happens."
Here's something else to be watching for:
Not bad.
The more interesting question is whether the Rockies are willing to trade Díaz at the deadline.
In addition to some effective relievers on one-year contracts, Díaz will probably prove one of the Rockies' most valuable trade pieces — and the Rockies will be desperate for starting pitching given the injuries to their rotation. (Although 2023 is pretty much a wash, their competitive window is beginning to open, and they will need pitching to support it.)
But that's down the road.
For now, Elias Díaz is the most valuable Rockie.