Analysis
WBC Roster Preview: Team Venezuela is Stacked with Veteran Talent
A deep team with loads of talent, Venezuela should threaten to hoist the trophy in Miami if they make it out of Group D.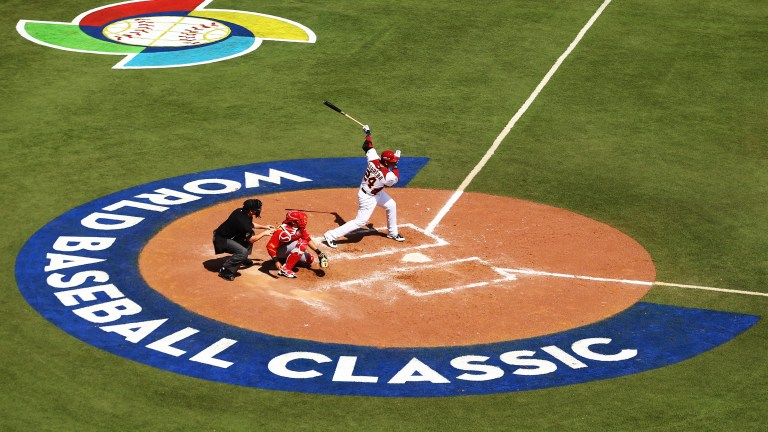 As we look forward to the World Baseball Classic, a lot of attention is on Group D this year. This group features the absolutely loaded Dominican Republic team, the reigning runner-up in Puerto Rico, the 2017 Cinderella team in Israel, a solid Nicaragua team, and a very strong Venezuela team.
This group is going to be an absolute battle, but Venezuela looks incredibly deep from top to bottom and is ready to compete in this group. They performed well in 2017 but got stuck in a group with Puerto Rico, the United States, and the Dominican Republic in the second stage of the tournament.
This team is much deeper than in 2017 as it features high-quality MLB talent in every positional group. When examing the roster, I actually think this team is a borderline top-5 squad and has a chance to make a run if they can make it out of the group stage.
Position Players for Team Venezuela
There are going to be numerous MLB talents coming off the bench for this squad, which should tell you a lot. Very few teams in this tournament are as deep in every area as this group.
They've got ten positional players that have been All-Stars, numerous Silver Sluggers, multiple batting champs, and a surefire first-ballot Hall-of-Famer leading them.
Catchers
Salvador Pérez, Omar Nárvaez, Robinson Chirinos
Pérez missed the majority of the 2017 WBC after suffering an injury and while his prime may be in the past, he's still one of the best offensive catchers in baseball. He's a seven-time All-Star and just recently shared the MLB lead in home runs in 2021. And, if he needs a break behind the dish, they have another good option to rely on as well.
Nárvaez was brought in by the Mets primarily for his glove and he'll form one of the better catching tandems of this tournament with Pérez. He's been one of the more consistent defensive catchers in the league the past few seasons and is a great backup. Chirinos will provide steady depth while the other two handle most of the in-game catching work for this team.
Infielders
José Altuve, Luis Arráez, Andrés Giménez, Miguel Cabrera, Eduardo Escobar, Gleyber Torres, Eugenio Suárez, Luis Rengifo, Miguel Rojas
This group is full of quality MLB players and possibly represents the strength of this team, as they have an entire second unit of players that will all be starters for their Major League teams this season.
Miguel Cabrera enters the last season of his illustrious career as the leader of this team. He's likely to play DH in most games as he represents Venezuela one last time. Altuve will lead the offense with Cabrera as another former MVP coming off his second World Series Championship with the Astros.
The left side of the infield has numerous options and will likely employ more of a platoon approach. While the likely top three infielders in Altuve, Arráez, and Giménez are all naturally second basemen, they have the versatility to find their way into the lineup. Arráez may see time at first base where he played for the Twins at many times last year, while Giménez has some experience at shortstop and could start there given the lack of a star shortstop on this roster. Escobar and Suárez should lead the playing time at third base and Torres will get time all over the diamond as a powerful bat.
Rengifo and Rojas will likely support the others via a bench role, but they're both versatile defenders with experience to play in other places if needed.
This group is very solid all around and has the depth to really make an impact in this tournament. They've got plenty of speed, versatility, and experience to keep up with other loaded infields.
Outfielders
Ronald Acuña Jr., Anthony Santander, David Peralta
This trio is expected to start in the outfield for Team Venezuela and while it only features one superstar, the other two have quietly been productive MLB players.
Obviously, this group is headlined by Acuña, who will look to start off his season hot with Venezuela after a bit of a down season coming off of injury last year. He's one of the most talented and electric players in the game and will surely put that on display while manning center field and leading the heart of this team's lineup.
Peralta recently signed with the Dodgers and has been a consistent quality hitter throughout his long MLB career. Santander is coming off a career-best 33 home run season with the Orioles and will provide some more power to an offense that truly has a lot of it.
While these three are the only official outfielders, Luis Rengifo would likely be next in line as the fourth option as he's spent some time in the corner outfield spots during his career which helps the depth of this team.
Pitchers for Team Venezuela
Starting Pitchers
Pablo López, Martín Pérez, Jesús Luzardo, Eduardo Rodriguez, Luis Garcia, Germán Márquez, Ranger Suárez
This might be the single deepest rotation group. These seven pitchers have all proven to be effective MLB starters at some in their careers and while it's unlike all seven will draw starts, it's never bad to have options.
López and Pérez seem likely to draw the first starts as they're both coming off very solid MLB seasons while Garcia, Luzardo, and Rodriguez won't be far behind. Suárez is coming off an impressive performance during the Phillies' playoff run, but his experience pitching out of the bullpen may be important to this team.
This group isn't headlined by a true ace like some of the other teams, but they're filled with quality starters that can all limit opposing offenses well. It will very interesting to see who is called upon from this group of pitchers for potential elimination games.
Relief Pitchers
José Alvarado, Endrys Briceno, Maximo Castillo, Emmanuel De Jesus, Jhonathan Diaz, Edwin Escobar, Norwith Gudino, Silvino Bracho, Jhoulys Chacin, Carlos Hernandez, Elieser Hernandez, Darwinzon Hernandez, Andres Machado, José Quijada, José Ruiz, Anthony Vizcaya
This team has plenty of options to call upon in the bullpen and it's likely that Suàrez and Márquez could be joining this group as relief options.
Alvarado appears to be the likely choice to close out games as he was one of the top bullpen options for the Phillies last season and excelled at it. Many of these others arms have minimal MLB experience or haven't found a lot of success, which leads me to expect Venezuela will rely fairly heavily on their seven starting pitchers.
This is probably the biggest weakness of Team Venezuela, but with Alverado anchoring the group and ample starters to support the bullpen, it's still not a bad group. This team is very deep and the other areas of excellence should make up for the bullpen.