Rankings
Top 10 MLB Catchers for 2022
Just Baseball's rankings of the top catchers in baseball heading into the 2022 MLB season.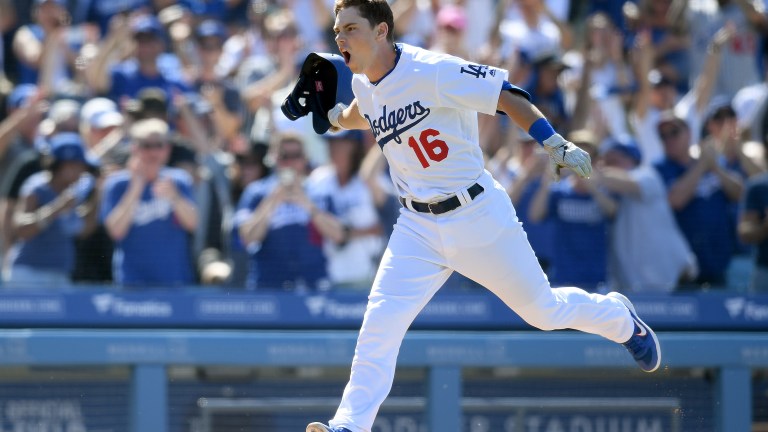 Welcome to our official positional rankings for the 2022 MLB season!
In this series, you'll find our rankings for the best players at each position in Major League Baseball. These rankings are not a measure of performance since 2019; we are projecting the ten best at the position for 2022.
All types of analysis went into these rankings. We look at every advanced analytic we can to make our lists, but we include intangibles not typically found in the numbers. This is not a perfect list, but no list truly is.
The catching position is challenging to order, to say the least. We placed heavier weight on defense but rewarded catchers for well above average offensive prowess. Catchers have difficulty staying healthy with the increased workload, so we don't ding them for that as much as you may see on other lists.
We have accounted for defensive and offensive production since 2019, with an added emphasis on 2021. The age you'll see next to each name reflects what they will be on Opening Day.
We will use some advanced baseball jargon in this article. You'll see stats such as FRAA, CDA, Savant Framing Metrics, Pop Time, fWAR, DRS, and more. I suggest quickly reading about those stats on the links attached, and as always, please feel free to reach out on Twitter with any questions.
Honorable Mentions
Jacob Stallings – Miami Marlins
He's 32 years old and he just played his first full season. He won the NL Gold Glove last year, but a .246 average with a .704 OPS doesn't move the needle. He was superb behind the dish last year, but he has an 88 wRC+ since 2018. He makes his money on defense. He's a top-five defender at the position and didn't allow a single passed ball all year.
Travis d'Arnaud – Atlanta Braves
Travis d'Arnaud won the Silver Slugger in 2020 but followed it up by his batting average dropping from .321 to .220 and his OPS dipping from .919 to .671. He's better than he was in 2021, but the drop in production is certainly worrisome. He's not a bad defender, but he's also not in the upper-third. He's a slightly above-average catcher moving forward, which is what nets him in the 10-15 range.
Yadier Molina – St. Louis Cardinals
He's still Yadi. He was a 2021 All-Star, he's a nine-time Gold Glover, a four-time Platinum Glover, and we'll take .252 with 11 homers from a 39-year-old Yadi if we're getting his leadership and Hall of Fame-caliber defense. If you had one game to win, you might still be putting Yadier Molina behind the plate.
Max Stassi – Los Angeles Angels
He was a failed project in Houston that was revitalized in Anaheim. His OPS is up about 80 points from Houston to Anaheim, and he's been above average in the OPS+ department and plays really solid defense. He graded as a top 5 defender in most defensive metrics and has some pop in the bat. What keeps Stassi out of the top-10 is his inability to accumulate innings. Stassi made his MLB debut in 2013; he has yet to play more than 88 games in a season.
Tyler Stephenson – Cincinatti Reds
Stephenson had a great rookie season in 2021 that saw him finish sixth in NL Rookie of the Year voting. He played in 132 games, hit 10 homers, and had an OPS just below .800. He kept the strikeout rate under 20% and the walk rate was above 10%. He graded average defensively across the advanced metrics but he has the toolset to improve.
The Top 10
10. Carson Kelly – Arizona Diamondbacks (Age: 27)
2021 Stats: 98 G, .240/.343/.411, 103 wRC+, 13 HR, 12.3% BB Rate, 20.6% K Rate, 1.7 fWAR
There's some excitement here with Carson Kelly. He was the strongest piece of the return in the Paul Goldschmidt deal with St. Louis in 2019, and he's been solid since. Across 250 games with the Diamondbacks over three years, Kelly is hitting .240 with a .768 OPS. That's fine. But while the counting numbers may not be there yet, he's a good bat-to-ball catcher that has superb zone discipline. He's got a 20% strikeout rate and a 12% walk rate.
His calling card is his ability to lay off of pitches outside the strike zone. His career Chase Rate sits at 22.1%; the Major League average is at 28.3%. He's an average defender, a slightly above-average hitter, and with excitement being on his side at 27 years old, he sneaks into a thin top-10.
9. Omar Narvaez – Milwaukee Brewers (Age: 30)
2021 Stats: 123 G, .266/.342/.402, 99 wRC+, 11 HR, 9.2% BB Rate, 18.9% K Rate, 2.8 fWAR
Arguably the most crucial facet of a catcher's game is their ability to steal strikes for the pitching staff. Omar Narvaez was the number one pitch framer in 2020 and 2021 and ranked in the top 5 of both FRAA and CDA. If not Realmuto, Omar Narvaez is the best defender at the position.
What drops Narvaez to ninth is the bat, or lack thereof. He makes a lot of soft contact, ranking dead last in hard-hit rate out of all catchers with at least 200 plate appearances. He's a disciplined hitter with almost no pop. He doesn't chase or strike out much, and takes his walks. He controls the strike zone well and even hit .266 last year, but his expected batting average was .235. The 30-year-old is super valuable behind the plate, but the bat keeps him out of the top-five.
8. Mike Zunino – Tampa Bay Rays (Age: 31)
2021 Stats: 109 G, .216/.301/.559, 134 wRC+, 33 HR, 9.1% BB Rate, 35.2% K Rate, 4.5 fWAR
This guy was the butt of jokes before 2021. Now, he's a top-10 catcher in baseball. 2021 Mike Zunino was an absolute beast. Not only did he belt a career-high 33 home runs and blow out his previous best with a .559 slugging, but he got his OBP north of .300 for the first time since 2017!

The defense has never been his problem, but it's not necessarily sterling. He's one of the best pitch framers in baseball, he puts up sub-two second pop times, but he only threw opponents out at a 22% clip last year, and his 10 passed balls allowed this past season were the most in the American League. Regardless, he got his first All-Star nod last year, and his 36% strikeout rate in 2021 didn't entirely kill him. Mike Zunino, you're the eighth-best catcher in baseball.
7. Sean Murphy – Oakland A's (Age: 27)
2021 Stats: 119 G, .216/.306/.405, 99 wRC+, 17 HR, 8.9% BB Rate, 25.4% K Rate, 3.3 fWAR
Let's start with the facts when it comes to Sean Murphy. He's a top-five defender among catchers. No debate. He ranks in the to-five of basically every catching metric we have, he's got an above-average arm, and the man only allowed one passed ball in all of 2021. Now that we understand he's a top-five defender, let's look at the bat.
In his first full season, it wasn't what we hoped. He hit .216 with a .306 OBP and a 99 wRC+. He didn't take his normal amount of walks, so what do we expect from 2022 Sean Murphy? His expected stats point towards some bad luck, and he still hits the ball harder than most catchers. Getting out of Oakland should help his counting numbers (he's been the subject of trade rumors over the last few weeks), but even if he stays, his bat should definitely improve as he enters his age 27 season.
6. Willson Contreras – Chicago Cubs (Age: 29)
2021 Stats: 128 G, .237/.340/.438, 109 wRC+, 21 HR, 10.8% BB Rate, 28.6% K Rate, 2.1 fWAR
Willson Contreras hammers baseballs. He has upped his average exit velocity every season since 2017. It was methodical at the start; 88.1mph in 2017, 88.5mph in 2019. But then, 89.8mph in 2020, and 91.8mph in 2021. He consistently peppers balls north of 110 miles per hour. This past year, he had both the highest hard-hit rate and the highest launch angle of his career. All-in-all, he logged his third 20-homer season while getting on base at a .340 clip.
Defensively, he's got a hose. In 2019, he logged the third-best average pop-time in Major League Baseball, only three-hundredths of a second off of J.T. Realmuto for the top spot. He plays with runners. If Yadier Molina perfected the back-pick at first base, Willson Contreras is the best copycat.
If the question is Willson vs. Sean Murphy for the sixth spot on this list, Willson's 29 years old. He's got a career 114 wRC+ and logged a 109 wRC+ last year. Murphy is a career 109 wRC+ with a 99 wRC+ in 2021. In 2022, with the track record and recent offensive success playing in, Willson is slightly preferred.
5. Mitch Garver – Texas Rangers (Age: 31)
2021 Stats: 68 G, .256/.358/.517, 137 wRC+, 13 HR, 12.8% BB Rate, 29.2% K Rate, 2.1 fWAR
When Mitch Garver is on the field, he pillages baseballs like few catchers in the sport. Since 2019, Mitch Garver has had the same wRC+ as Will Smith and is a tick higher than Salvador Perez at 135.
The only problem with Garver is availability, as he's only played 184 games since 2019. But, in those 184 games, he has 46 home runs, and his home run rate and slugging percentage are second among catchers only to Salvy.
He's an above-average catcher behind the plate, with a slightly below-average arm. He's a solid blocker behind the plate and rates very well as a framer. You can knock him for health concerns, but he's an elite bat and an above-average defender when he plays. His name is Garvsauce on Twitter. How can you keep a man like that out of the top five?
4. Salvador Perez – Kansas City Royals (Age: 31)
2021 Stats: 161 G, .273/.316./.544, 127 wRC+, 48 HR, 4.2% BB Rate, 25.6% K Rate, 3.4 fWAR
Listen. Salvy is nowhere close to what he once was defensively. If he was, what he did offensively, coupled with the Salvy behind the plate of years prior, would be far-and-away the best catcher in baseball. But there is a problem. He's not buying a young staff strikes on the borders, and that's massive. What he is still doing is throwing out 44% of would-be base stealers, which led the league this past year.
He also hit 48 homers and drove in 121 last year, by the way. He played in 161 games in 2021, with 124 of them coming behind the plate. Can we praise him for his durability? He doesn't walk, but he hammers the ball. Career-highs in average exit velocity, line drive percentage, and fly-ball rate all came with a top-10 AL MVP finish. And he's not even that old! If Salvy averages 40 homers over the next four years, I think you can live with the putrid framing. He's still a top-five catcher, and he'll be a top-five DH when he makes that switch.
3. J.T. Realmuto – Philadelphia Phillies (Age: 31)
2021 Stats: 134 G, .263/.343/.439, 108 wRC+, 17 HR, 8.9% BB Rate, 24.0% K Rate, 4.4 fWAR
J.T. Realmuto is still among the elite catchers in baseball, especially on the defensive side.
Without much debate, he is still the best overall defender at the position. He ranked better than any other catcher in pop time last year, number-one in FRAA and CDA, fourth in fWAR, and tenth in Savant framing metrics.
What drops him to three is the downturn of offense. He's still an above-average bat, but he's striking out more than he once was, and the power took a dip last year to go along with a .782 OPS. Since 2019, he ranks ninth in wRC+ among catchers with at least 600 PA. He's still a crazy good athlete. He stole 13 bases last year which led the position and registered the same sprint speed as Trent Grisham and Shohei Ohtani. All-in-all, there are few catchers you want right now over J.T. Realmuto.
2. Yasmani Grandal – Chicago White Sox (Age: 33)
2021 Stats: 93 G, .240/.420/.520, 159 wRC+, 23 HR, 23.2% BB Rate, 21.9% K Rate, 3.7 fWAR
He's 33 years old, but what he currently contributes to the Chicago White Sox, at the thinnest position in baseball, make's him the second-best catcher in the league. The joke pre-All Star break last year was that Yaz was hitting .188 with a .388 OBP. He quieted the jokesters immediately and went ballistic after the All-Star break. He was injured for a bit, but in 30 games int he second half of the season, Grandal hit .337 with a .481 OBP and an OPS at 1.150.
He's not a prototypical "framer", but he's one of the most reliable defensive catchers in the game. Anecdotally, many pitchers rave about how Yaz commands a staff, and Lucas Giolito was worried about transitioning from having James McCann as his personal catcher to Grandal. It's worked pretty well so far.
Also, he walked more than he struck out last year. That's pretty cool.
1. Will Smith – Los Angeles Dodgers (Age: 27)
2021 Stats: 130 G, .258/.365/.495, 130 wRC+, 25 HR, 11.6% BB Rate, 20.2% K Rate, 4.6 fWAR
Will Smith is the best catcher on the planet. Smith is now about to enter his prime, turning 27 before Opening Day, and he's already the most complete backstop in the game. He finished second in WAR among catchers last year, only behind Buster Posey. He's made vast improvements both in framing and limiting the passed ball. He ranked 15th in Savant framing metrics and top-10 on average between FRAA and CDA.
He owns the best bat out of all catchers, maybe outside of Salvador Perez. He has a 135 wRC+ since 2019, which places him 11th among all hitters since 2019, and tied with teammates Mookie Betts and Trea Turner.
There isn't anyone in baseball we want behind the plate more than Will Smith.