List
Top 10 MLB Bullpens For The 2023 Season
A staple of any great team is having a bullpen that can be trusted to hold down close leads. Here are some of the best bullpens in the game.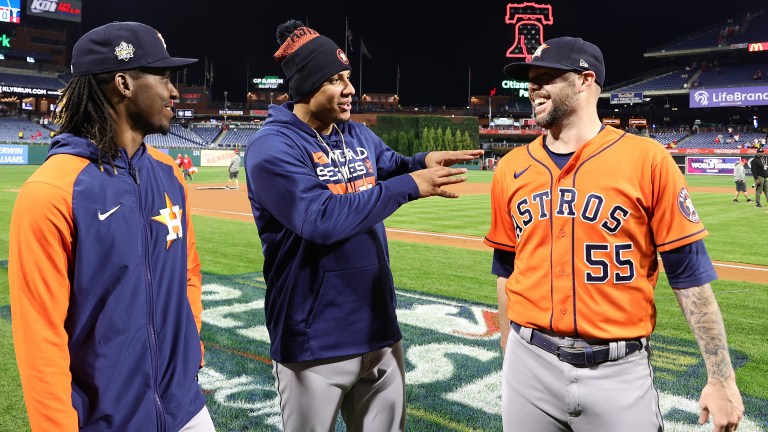 If there is one position group that is the most volatile in baseball, if not in all of professional sports, it is relief pitchers. Unlocking the combination to a great bullpen is something every team sets out to do, but few find their way to be truly successful.
There are of course relievers that stand out among the rest as the best in baseball, who can be counted on year in and year out, but those relievers are few and far between. More frequently, we see relievers can bounce between elite or terrible on any given season. This is what makes it so hard to predict which team will have the best bullpen going into a new season.
Still, based on what we saw last year and the bullpens that have been assembled this offseason, we have compiled our list of the top 10 bullpens in the game heading into Opening Day.
Honorable Mentions
Toronto Blue Jays: Best Arms: Jordan Romano, Erik Swanson, Yimi Garcia
Over the last two seasons, Jordan Romano has pitched 127 innings out of the bullpen for the Toronto Blue Jays. He has pitched to a sparkling 2.13 ERA across that span, striking out 11.20 batter per nine, while allowing just 0.78 HR/9.
Erik Swanson joins this bullpen coming from Seattle, where he pitched to a 1.68 ERA last season. Add in Yimi Garcia, who was very solid over 61 inning for the Blue Jays last year and Toronto has some guys they can trust in high-leverage spots. Still, Romano is the only arm that truly stands out in a significant way, which pushed them outside the top 10.
Philadelphia Phillies: Best Arms: Seranthony Dominguez, Jose Alvarado, Craig Kimbrel
The Phillies two big offseason additions to their bullpen are highly volatile. Craig Kimbrel was signed on a one-year, $10 million deal, meanwhile two-time All-Star closer Gregory Soto was acquired in a trade. Those names might be sexier than the production the Phillies will get though, as Kimbrel is past his prime and the expected metrics scream for regression on Soto.
On the other hand, Seranthony Dominguez and Jose Alvarado represent two dynamic high-leverage weapons the Phillies already had in house, which makes the addition of Soto and Kimbrel more of a luxury than anything. Between the four, Andrew Belatti, Matt Strahm and Connor Brogdon, the Phillies should have a strong enough bullpen to compliment an excellent rotation.
Tampa Bay Rays: Best Arms: Pete Fairbanks, Jason Adam, Jalen Beeks
The Tampa Bay Rays nearly cracked the top 10 on our list simply based on the franchise's track record for building elite bullpens. Dating back to 2019, only the Los Angeles Dodgers have a better team bullpen ERA (3.21) than the Rays (3.44 ERA). Tampa put up a top 10 bullpen every year like clockwork, most of the time finding themselves in the top five. Pete Fairbanks and Jason Adam return, after each finishing the 2022 season with an ERA under 2.00.
10. San Diego Padres
Best Arms: Josh Hader, Robert Suarez, Luis Garcia
The San Diego Padres did their heavy-lifting building their 2023 bullpen last year, when they acquired one of the best closers in the game, left-hander Josh Hader. This offseason, the Padres re-signed set-up man Robert Suarez to keep their potent 1-2 punch together for another year.
Luis Garcia is a solid arm that slots in to the back-end of this bullpen as well, but what would really take them to the next level is a healthy return from Drew Pomeranz. The converted starter pitched to a sub 2.00 ERA in both 2020 and 2021 for the Padres. If he can regain that form and stay on the field, the Padres could have a formidable pen.
9. Minnesota Twins
Best Arms: Jhoan Duran, Jorge Lopez, Emilio Pagan
The Twins acquired Jorge Lopez at the trade deadline last year, expecting him to form a great back-end duo with incumbent Jhoan Duran. It was a tale of two seasons for Lopez though, as he went from pitching to a 1.68 ERA with the Baltimore Orioles in 48 1/3 innings pitched, to posting a 4.37 ERA in 22 2/3 innings with Minnesota. If Lopez can return to form, this bullpen will take a big step up in 2023.
Luckily, the Twins still have Duran to handle closing duties, coming off an incredible rookie season. The 25-year-old flamethrower averaged 100.8 MPH on his fastball last year and got whiffs nearly half the time he threw his curveball. Duran has quickly become one of the nastiest relievers in the game.
8. St. Louis Cardinals
Best Arms: Ryan Helsley, Giovanny Gallegos, Jordan Hicks
While the postseason wasn't kind to Ryan Helsley, the Cardinals closer was sensational all year prior to that, pitching to a 1.25 ERA with 13.08 K/9. Helsley is another guy who routinely pumps in 100 MPH heaters, while also featuring a wiked slider that missed bats 53.5% of the time last year.
Speaking of velo, Jordan Hicks throws as hard as anyone in the game. While he is coming off a down season where the Cardinals tried to stretch him as a starter, there is every chance he finally makes the most out of his stuff in the bullpen this year. If not though, Giovanny Gallegos is more than capable of handling the set-up duties once again.
7. New York Mets
Best Arms: Edwin O Diaz, Adam Ottavino, David Robertson
Featuring the best closer in baseball, the Mets bullpen looks very strong heading into the 2023 season. Edwin Diaz and Adam Ottavino return, giving the Mets the same one-two punch that held so many leads for them last year. The addition of David Robertson gives the Mets another reliever with closing experience, helping ease the burden on Diaz to lock down every game for New York.
6. New York Yankees
Best Arms: Clay Holmes, Jonathan Loaisiga, Michael King
The New York Yankees knew something no one else did when it comes to Clay Holmes. After he pitched to a 5.57 ERA across parts of four seasons with the Pirates, Holmes has been nothing but sensational since coming to the Yankees midseason in 2021. He has pitched to a 2.26 ERA across his first 91 2/3 innings pitched in Pinstripes.
Jonathan Loasiga had a down year in 2022, but was lights out in 2021. Michael King pitched to a 2.29 ERA last season and Wandy Peralta pitched to a 2.72 ERA. The Yankees pen is deep and is sure to be a strength again in 2023.
5. Seattle Mariners
Best Arms: Andres Munoz, Paul Sewald, Diego Castillo
Image having a fastball that averages 100 MPH and you only throw it 35% of the time. That is life for Andres Munoz, who's slider is so disgusting that he goes to it nearly 65% of the time. A speed differential of over 10 MPH, Munoz's slider-fastball combination is the best this bullpen has to offer.
On the other end of the spectrum, Paul Sewald relies on spin rather than velo when it comes to his fastball and used it to great effect last season. Sewald pitched to a 2.67 ERA for Seattle and saved 20 games in 2022. Diego Castillo has some closing experience as well and Matt Brash could be the best pitcher of the bunch if he puts it all together.
4. Atlanta Braves
Best Arms: Raisel Iglesias, AJ Minter, Joe Jimenez
As an Atlanta Braves last season, Raisel Iglesias pitched to a 0.34 ERA. He allowed just one run across 26 1/3 innings pitched. Simply put, he was unhittable.
Now with Kenley Jansen out of his way, Iglesias is set to assume the closer role for the Braves in 2023. Luckily for the Braves, they have a lot behind Iglesias as well. A.J. Minter is one of the best left-handed relievers in the game. Joe Jimenez and Collin McHugh are as solid as they come and Nick Anderson is a great bounce back candidate coming off injury.
3. Cleveland Guardians
Best Arms: Emmanuel Clase, James Karinchak, Trevor Stephan
If Edwin Diaz did not exist, Emmanuel Clase would be considered the best reliever in baseball. With a cutter that routinely hits 100 MPH and a slider that drops off the table, Clase is as nasty as they come. The soon-to-be 25-year-old has pitched to a sub 1.40 ERA in each of the last two seasons with the Cleveland Guardians.
James Karinchak is another nasty arm in Cleveland's pen, striking out 14.31 batters per nine last year with an ERA just over 2.00 (2.08). Trevor Stephan and Nick Sandlin each return off seasons where they pitched to ERAs of 2.69 and 2.25 respectively.
2. Los Angeles Dodgers
Best Arms: Evan Phillips, Alex Vesia, Brusdar Graterol
The Los Angeles Dodgers are always going to find a way to put together a plus bullpen and 2023 should be no different. Evan Phillips pitched to a 1.14 ERA out of the Dodgers pen last year. Alex Vesia has been amazing since coming to the Dodgers in 2021, striking out well over 12 batters per nine, while pitching to a low 2's ERA.
Brusdar Graterol has great stuff to give the Dodgers another back-end arm and Caleb Ferguson is as solid of a left-handed reliever as they come. Watch out for Shelby Miller this year as well, as many believe the Dodgers are going to unlock something from the former starting pitcher.
1. Houston Astros
Best Arms: Ryan Pressly, Bryan Abreu, Rafael Montero
The Houston Astros consistently have great bullpens and last year might have been their best to date. The combination of Ryan Pressly, Bryan Abreu and Rafael Montero helped the Astros cruise to a World Series title. The Astros committed to bringing that group back by signing Montero to a three-year, $34.5 million deal this offseason.
Hector Neris, Ryne Stanek and Phil Maton round out a deep and talented bullpen that should once again be the best in the sport.