Analysis
Ranking the Best Bullpens Heading into the Postseason
Bullpens have never been as important in baseball as they are in today's game. So which playoff-bound teams' relivers stack up the best?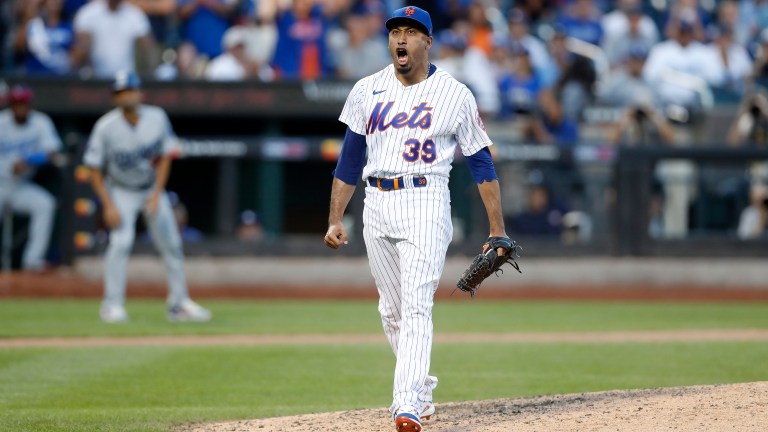 Just one season ago, the Atlanta Braves proved how important a team's bullpen can be in today's MLB during their World Series run.
Postseason games can be won or lost by arms coming out of the back-end of the 'pen and this year 11 of the 12 teams playing for the title finished the regular season with the top-14 bullpens by ERA.
While some starters may move in and out of any (and/or/all) of these bullpens throughout the playoffs; here's how all 12 teams stack heading into the Wild Card series.
12. Philadelphia Phillies
Key Pitchers: David Robertson (2.40 ERA), Seranthony Dominguez (3.00 ERA), Jose Alvarado (3.18 ERA) and Connor Brogdon (3.27).
With Brad Hand's status still up in the air for Game 1 against the Cardinals on Friday, the Phillies bullpen looks even shallower than it did in the regular season.
They ranked 23rd in bullpen ERA (4.27) in all of MLB, had the third-worst walk rate (10.8%) and only stranded runners 69.7% of the time — the seventh-worst mark in the majors.
While Philidelphia's relievers did struggle throughout the season, there is hope for them to rise to the occasion in October. The group ranked in the top-10 in K% (24.9%) and top-five in HR/9 (0.82).
If they are able to come up with strikeouts in big spots and keep opponents in the ballpark, they may be able to support the arms at the top of their rotation and steal a playoff series and make some noise in the NLDS.
11. San Diego Padres
Key Pitchers: Josh Hader (5.22 ERA), Luis García (3.39), Nick Martinez (3.47 ERA) and Robert Suarez (2.27 ERA)
Bringing in Josh Hader at the trade deadline was supposed to give the Padres the shutdown-end-of-game option that every team wants/needs in the postseason. Instead, he arrived in San Diego and added a question mark at the end of games.
Despite the early struggles as a Padre, Hader looks like he may be back to being the All-Star closer that we saw in Milwaukee. He hasn't given up an earned run in his past 10 outings and has been striking out 11.32 hitters per nine with just two walks since September 1.
While Hader looks to be turning his season around for the better, the rest of the relievers in San Diego struggled down the stretch, ranking 21st in ERA (4.17) since the first of September.
The year-end slide pushed the Padres' bullpen to 14th in MLB in ERA for the season (3.83). However, the group also has some positive features that could make them successful in the playoffs.
They rank in the top-10 in MLB in both BB% (8.0%) and HR/9 (0.86), meaning that when put into tight spots, they aren't going to give up free bases and will likely keep the ball in the yard.
10. Toronto Blue Jays
Key Pitchers: Jordan Romano (2.14 ERA), Yimi Garcia (3.15 ERA), Adam Cimber (2.84 ERA) and Anthony Bass (1.56 ERA).
While maybe not the flashiest group, the Blue Jays bullpen has gotten the job done all season, led by hometown All-Star Jordan Romano.
Toronto's relievers ranked 13th in baseball by ERA (3.77), fifth by BB% (8.3%) and ninth in left on base% (74.5%).
While they have struggled with giving up the long ball — with a 1.17 HR/9 — the Blue Jays have been around the top-10 in baseball all season long when it comes to how many runs they are allowing.
Despite not having the best strikeout stuff in the league, trading for Anthony Bass and Zach Pop (2.77 ERA) has given Toronto an extra element that helped stabilize a pitching staff that desperately needed some stability outside of Romano.
9. St. Louis Cardinals
Key Pitchers: Ryan Helsley (1.25 ERA), Giovanny Gallegos (3.05 ERA), Andre Pallante (3.17 ERA), and Chris Stratton (2.78 ERA).
Having a combination of Ryan Helsley and Giovanny Gallegos is going to help you when it comes to any bullpen rankings.
The Cardinals' late-inning combo may be the best eighth-ninth-inning duo in the majors, but the rest of the relievers in St. Louis are going to have their hands full if this team wants to make a run to the World Series.
The team ranked 11th in bullpen ERA (3.63) and sixth in left on base% (75.1%). Outside of Helsley and Gallegos, the Cardinals struggled with their strikeout rate, only punching out 21.2% of hitters, the third-worst mark in the league.
Pitching in front of one of MLB's best defenses helped out Cardinals relievers in 2022 and the group may be getting some reinforcements when the Wild Card series begins. Not only is Jordan Hicks likely to be back, but St. Louis will likely be moving their two starters that aren't scheduled to throw any of the three games to the bullpen.
This will make the group a little bit deeper and give them some bridge options to get from the starters to the duo of Helsley and Gallegos.
8. New York Yankees
Key Pitchers: Clay Holmes (2.54 ERA), Scott Effross (2.54 ERA), Wandy Peralta (2.72 ERA) and Aroldis Chapman (4.46 ERA)
From the beginning of the 2022 season right to the end, the Yankees have had one of the best bullpens in baseball. They had the fourth-best ERA (2.99), somehow only gave up 0.59 HR/9 while playing at Yankee Stadium and left runners on 75.2% of the time.
One of the Yankees' biggest strengths in a year of ups and downs for the Bronx Bombers has been their 'pen. Through a ton of injuries, the team has continued to find solid options to help them to a 99-win season. 
New York had to place Ron Marinaccio on the IL on Tuesday in what could prove to be a major blow to the Yankees World Series hopes. The rookie posted a 2.05 ERA and 30.9% strikeout rate in 44 innings this season and proved to be a stabilizing force in the rotating group of relievers.
Clay Holmes may determine just how effective this group is in October. After looking like one of the top relievers in all of baseball at the beginning of the season, he has come down to earth with a 3.07 ERA since returning off the IL at the end of August.
7. New York Mets
Key Pitchers: Edwin Diaz (1.31 ERA), Adam Ottavino (2.06 ERA) and Seth Lugo (3.60 ERA)
Edwin Diaz has been the best reliever in baseball this season. With a 50.2% strikeout rate and 7.7% walk rate, Diaz was worth 3.0 fWAR, .6 more than the next closest reliever.
Adam Ottavino also put together one of the best bounce-back campaigns in MLB this season, dropping his walk rate by more than six percent and — alongside Diaz — establishing one of the most formidable back-end bullpen duos in the league.
Once you get past Ottavino and Diaz though, things get a little more questionable in the Mets relief ranks.
Overall, the Mets ranked 10th in bullpen ERA (3.55) this season, second in strikeout rate (27.6%) and seventh in walk rate (8.4%).
While New York will likely be leaning on its strong starting rotation to get to Ottavino and Diaz for the eighth and ninth, the Mets are going to need arms like Seth Lugo, Trevor May and Trevor Williams to get some big outs if they are to achieve their goal of winning the World Series.
6. Tampa Bay Rays
Key Pitchers: Jason Adam (1.56 ERA), Pete Fairbanks (1.13 ERA) and Brooks Raley (2.68 ERA)
While maybe not as good as it's been in years past, the Rays bullpen is still no joke. Despite losing Colin Poche for the rest of the season this week, Tampa's bullpen is still pulling into the playoffs with a deep group that can compete with anyone.
Jason Adam was one of the top relievers in the American League this season, posting a sub-two ERA with an over 30% strikeout rate in 63.1 innings. Pete Fairbanks has looked even better than he did in 2020, striking out 43.7% of hitters, while walking just 3.4%. If you sort relievers by K-BB% and alter the rankings so that Fairbanks qualifies, only Diaz had a better season. 
Adding Fairbanks to a bullpen that ranked seventh in ERA (3.36) and first in walk rate (7.5%) makes the Rays a much tougher matchup in October.
The Rays are also the team that may be able to mix their starters into the 'pen most effectively which could make their relief group even deeper.
5. Seattle Mariners
Key Pitchers: Paul Sewald (2.67 ERA), Andres Muñoz (2.49 ERA), Erik Swanson (1.68 ERA) and Penn Murfee (2.99 ERA)
Seattle's bullpen has been one of the best groups across all categories this season. They rank sixth in ERA (3.33), fifth in strikeout rate (26.6%), fifth in walk rate (8.2%) and fifth in left-on-base percentage (75.3%).
Behind the trio of Paul Sewald, Andres Muñoz and Erik Swanson, the Mariners 'pen has arguably the best group to cover the seventh, eighth and ninth innings in MLB.
Combined with a deep rotation, Seattle may be able to parlay its pitching staff into an upset of the Blue Jays and make some noise against the Astros in the ALDS.
You could argue that any team in the top-five has the best bullpen in baseball and this Mariners team is no exception. Outside of their big-three Penn Murfee, Matt Brash and Matthew Boyd could all end up in some big spots for Seattle. 
One weakness that Seattle's pen has shown — although they did improve down the stretch — is a tendency to allow the long ball. They allow 1.08 HR/9 in 2022, the 20th-ranked group in the majors.
4. Cleveland Guardians
Key Pitchers: Emmanuel Clase (1.36 ERA), James Karinchak (2.08 ERA), Trevor Stephan (2.69 ERA) and Sam Hentges (2.32 ERA)
The second-best bullpen by ERA in the second half, the Guardians have one of the deepest groups in all of MLB.
Yes, Emmanuel Clase headlines the group and has arguably been the best reliever in the American League, but it's the depth behind him that makes this group so formidable.
Since getting called up in July, James Karinchak has looked like the pitcher we saw in 2020. He's striking out 14.31 hitters per nine and holding hitters to a .159 average against. Adding him to a bullpen that already featured four relievers with sub-three ERAs took this group to the next level.
The Guardians bullpen had a 32.1-inning scoreless stretch between August 15 and August 31, helping Cleveland gain ground and eventually clinch the AL Central.
3. Atlanta Braves
Key Pitchers: Kenley Jansen (3.38 ERA), A.J. Minter (2.06 ERA), Raisel Iglesias (2.47 ERA) and Collin McHugh (2.60 ERA)
The Braves bullpen has been the best in MLB since September 1, posting a 2.11 ERA with a 29.9% strikeout rate, while holding hitters to just a .168 average. 
The reigning World Series champs rode their bullpen throughout October on their way to the commissioner's trophy in 2021, but this year their relief core may be even better. 
A year ago, it was Will Smith, A.J. Minter and Tyler Matzek carrying the load for Atlanta but this year Braves' games will probably look a little different when all the chips are on the table.
Kyle Wright, Max Fried and Spencer Strider all look capable of going deep into games, meaning that the Braves bullpen may not need to be relied upon as much in 2022.
We may have gotten a sneak peek during Atlanta's recent series against the Mets on just what the bullpen is capable of. Over 12.2 innings, Braves relievers allowed just one run, seven hits, one walk and struck out 14.
If there's any group to bet on heading into the division series, it may be the Braves relievers.
2. Houston Astros
Key Pitchers: Ryan Pressly (2.98 ERA), Bryan Abreu (1.94 ERA), Rafael Montero (2.37 ERA), Hunter Brown (0.89) and Ryne Stanek (1.15)
No team's relievers had a lower ERA (2.80) in the regular season than the Astros'.
Houston's bullpen also led the league in K% (28.3%), left on base% (76.8%) and FIP (3.05).
Behind Ryan Pressly filling the closer role, the Astros have found success in their relief ranks from bounce-back and career-best seasons from Bryan Abreu, Rafael Montero and Ryne Stanek, who all threw 50 or more innings. 
While Houston's rotation has also been one of the best in baseball, the Astros have a bridge option in top prospect Hunter Brown. Brown has not allowed a run since being moved to the bullpen after his first two career starts and struck out 11 through 8.1 relief innings — where two of his appearances were multi-inning.
1. Los Angeles Dodgers
Key Pitchers: Evan Phillips (1.14 ERA), Alex Vesia (2.15 ERA), Tommy Kahnle (2.84 ERA) and Chris Martin (3.05 ERA)
While not rolling out the most notable names — aside from Craig Kimbrel — in 2022, the Dodgers' bullpen was among MLB's best.
They finished the season at the top of the majors' bullpen ranks in fWAR (8.6), batting average against (.202), WHIP (1.05), second in K-BB% (19.1%) and fourth in HR/9 (0.82).
Despite Kimbrel having a 3.75 ERA and losing the closer's role, Los Angeles has done a great job in finding value at the end of games. Evan Phillips finished the season with the lowest ERA among qualified relievers and has just a 0.50 ERA since May 1.
In addition to Phillips standing out in LA, Tommy Kahnle and Chris Martin have been almost unhittable since joining the Dodgers.
Martin has a 1.46 ERA with a 37% strikeout in 26 appearances with the NL West champions and Kahnle has only allowed runs in two of his 13 appearances this season. Since re-joining the club in September he has a 1.04 ERA and allowed just two hits in nine outings.
While there may not be a set closer in LA, the Dodgers committee is more than good enough to get the job done in October and continue the success that they had in the regular season.