Analysis
Is the Rays' Bullpen… Bad?
For all of Tampa Bay's success this season, the Rays' bullpen is looking like a serious concern for the first time in years.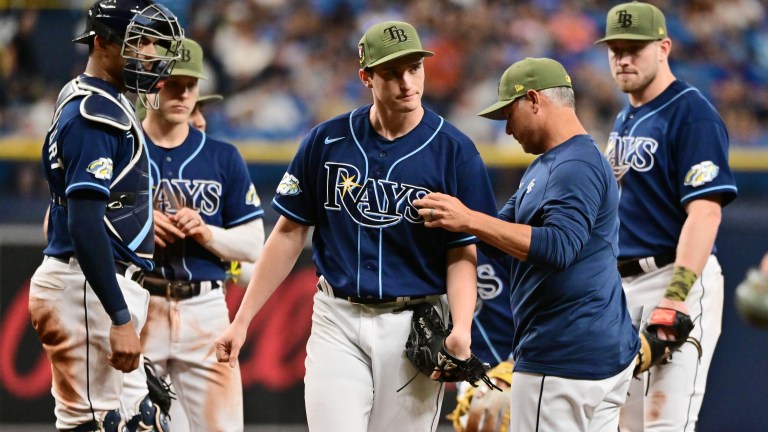 The Tampa Bay Rays find value at the margins. It's what they do. It's how they've managed to make the playoffs in four straight seasons despite a payroll that regularly ranks among the bottom ten in baseball.
So naturally, when the Rays are winning, I just kind of presume they're working with a bullpen made up of pre-arb youngsters, waiver-wire pickups, and minor league free agents, all of whom are pitching like Billy Wagner meets Mariano Rivera.
Indeed, the Rays have finished with a bullpen ERA in the top eight each of the last four seasons. From 2019-2022, their 22.3 bullpen WAR, per FanGraphs, ranks second only to the Dodgers.
In 2019, the Rays' bullpen led the majors in ERA and innings pitched, while placing second in FIP and fWAR. The following year, in the pandemic-shortened season, they led the majors in saves, led the AL in bullpen wins, and came second in fWAR once again. In 2021, they ranked first in both FIP and innings pitched, helping them to a tie with the White Sox atop the fWAR leaderboards.
The advanced metrics weren't as kind to the Rays' bullpen in 2022 (they finished 14th in fWAR and 15th in FIP), but they still ranked seventh in ERA, fifth in strikeout-to-walk ratio, and first in innings pitched.
Heading into the 2023 season, the Rays ranked eighth on MLB.com's list of the top bullpens in baseball and Fangraphs' positional power rankings. They earned an honorable mention on Just Baseball's own ranking of the top bullpens in the sport:
The Tampa Bay Rays nearly cracked the top 10 on our list simply based on the franchise's track record for building elite bullpens. Dating back to 2019, only the Los Angeles Dodgers have a better team bullpen ERA (3.21) than the Rays (3.44 ERA). Tampa put up a top 10 bullpen every year like clockwork, most of the time finding themselves in the top five.

Ryan Finkelstein
So, how have things gone for the Rays' bullpen so far in 2023? Let's put it this way: I wouldn't be writing about this if it were just more of the same.
Tampa Bay relievers rank second-last in the majors in bullpen fWAR, leading only the Oakland Athletics – and let's face it, a pitching machine could outperform the A's bullpen right now.
Tampa's 4.15 ERA ranks 19th, and the underlying numbers are even worse:
| | | | |
| --- | --- | --- | --- |
| Metric | Value | AL Rank | MLB Rank |
| ERA- | 104 | 11th | 22nd |
| FIP | 4.66 | 13th | 27th |
| SIERA | 4.44 | 14th | 28th |
| xFIP | 4.79 | 14th | 29th |
The Rays still have one of the hardest-working bullpens, leading the league with 286.1 IP, but unlike in years past, that's not exactly a good thing. A durable 'pen is great when your relievers are giving you shutdown innings on a daily basis. It's not so helpful when your relievers have the lowest strikeout rate in the American League.
Things weren't so bad in April, when the Rays' bullpen had a 2.97 ERA in 124.1 IP. However, their 3.93 FIP and 4.72 xFIP were signs of trouble to come. Indeed, they went on to allow a league-worst 80 runs (76 earned) in May, good for a 5.73 ERA. They were responsible for eight losses, twice as many as the starting staff.
Josh Fleming, who had been lights-out in April, had a particularly rough go of it in May. He couldn't get a strikeout to save his life and ultimately landed on the injured list with a serious elbow injury. Garrett Cleavinger was another reliable arm in April before a knee injury landed him on the 60-day IL.
Meanwhile, injuries to starting pitchers Jeffrey Springs and Drew Rasmussen indirectly put more strain on the bullpen; less talent in the rotation inevitably leads to more work for the 'pen.
It also didn't help that position players Luke Raley and Christian Bethancourt faced a combined 17 batters in May, giving up three homers and ten earned runs.
However, the biggest problem was the back-end guys, the ones who were supposed to shoulder most of the weight. Neither Jason Adam nor Pete Fairbanks has looked like the dominant pitcher he was in 2022. Fairbanks has also dealt with injury problems of his own.
Jalen Beeks hasn't been the reliable arm he was last season either, and while Colin Poche still has a sparkling ERA, his underlying numbers suggest he's due for some disappointing regression.
Thus far in June, things have gone slightly better. Rays' relievers are getting more strikeouts, led by rookie (and Rule 5 Draft pick) Kevin Kelly, who has struck out six of the 11 batters he has faced. Jake Diekman has seven strikeouts in six innings pitched since coming off the paternity list on May 25, lending credence to the "dad strength" theory.
Overall, the Rays' bullpen has a 3.16 ERA in June, eighth in the majors. They rank fourth with 45 strikeouts.
Then again, their 4.21 FIP ranks 15th, their 4.11 SIERA ranks 18th, and their 4.87 xFIP ranks 24th. In other words, this team still has plenty of work to do before they can call their bullpen a strength.
If any team can figure out how to retool and revamp their bullpen on the fly, it's Tampa Bay. But until they do so, the bullpen is this super team's one mortal weakness.