Analysis
The Rangers Are Still Producing Without Corey Seager
Corey Seager was leading the Rangers' offense early in the season, but his teammates have picked up the slack since he hit the IL.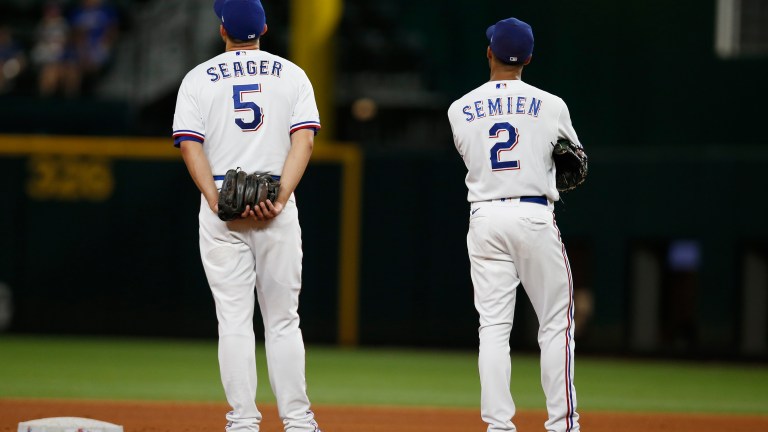 The Texas Rangers were among the biggest spenders in the league in each of the past two winters, as they signed their long-term middle infield two offseasons ago and followed that up by signing Jacob deGrom and several other arms this past winter.
The team has shown a willingness to spend, and they likely won't stop until they're successful. Things are looking up so far in 2023, as they currently lead the AL West at 14-9.
Furthermore, it's been an even more impressive start to the year considering Corey Seager went down with a hamstring injury in the 11th game of the season. Seager is not only the highest-paid hitter on the roster but was off to a blistering hot start, as he had posted a 1.007 OPS through his first 49 plate appearances.
When you look at this roster, it doesn't appear to be a lineup that should be one of the best in the league, especially without Seager. But they currently rank third in on-base percentage and fourth in OPS.
The charge has been led by two players that were expected to be leaders of the lineup along with Seager, but also by two younger players that are taking their game to the next level at the plate right now.
Who's Driving This Offense?
Marcus Semien is the other half of the $500 million infield duo signed last season by the Rangers. Semien started his time with the Rangers last season with one of the worst slumps of his career, and many were already discussing his contract as a bust just two months into the 2022 campaign.
He turned his season around last year after his brutal start and ended up putting together a quality season for the Rangers. His second-half production has certainly carried over into this season, as he's played in every game and has recorded an .857 OPS while batting .290 through his 106 plate appearances.
Semien's expected numbers are similar to last year, as he's never been someone that hits the ball particularly hard. However, he has continued to minimize his strikeouts by chasing at a low rate, putting himself in a position to keep the line moving for the Rangers. His 11:18 walk-to-strikeout ratio is well above average to this point.
The team has chosen not to add any big free agents in the outfield to this point, but they've continued to get consistently strong production from one of the more underappreciated stars in baseball: Adolis García. Unlike Semien, García hits the ball as hard as nearly anyone in the league.
He's seemingly reached another level this season, with his hard-hit rate currently over 50% and his barrel rate reaching 15.2% coming off his career-high of 12.9% last season. This uptick in his ability to crush the baseball has led to him leading all of MLB in RBIs with 28 through his first 22 games of the season.
García has been incredibly clutch and has been able to come through and bring runs home almost every time the Rangers needed him to this year. He's hit seven home runs to this point, and that number will almost definitely begin to rise quickly with the way he's been hitting the ball so far this year.
The next step in his development will be increasing his walk rate, as he's only walking at a 6.1% clip this season.
These two stars have been able to keep the offense rolling, as they've both stepped up without Seager in the lineup. However, they haven't been doing it alone. A few younger players on the team have taken a big step forward and have eased the burden of carrying the offense for Semien and García.
Catcher Jonah Heim is known for his top-tier framing skills behind the plate, but would you believe that he actually leads the team (min. 30 PA) in slugging percentage and expected wOBA? Heim is sporting an unbelievable 155 wRC+ through his first 18 games of the year. Part of this is due to his eight walks, but his offensive game has been excellent all around.
While it's a very small sample size, Heim's offensive profile has taken a huge step forward to start the season. His hard-hit rate has skyrocketed from under 40% last season to exactly 50% through his first 69 plate appearances. His expected data is up there with some of the best hitters in the game, as he ranks in the 92nd percentile or better in expected batting average, expected slugging, and expected wOBA.
He's arguably been the best hitter in the lineup, even ahead of Semien and Garciá this season. Heim's current pace is likely unsustainable, but he's been a huge part of this team's offensive success.
Coming into the season with his rookie eligibility still intact, the expectations for Josh Jung were mixed. He's a former top pick and showed flashes of potential last season, but he wasn't at the point of being a truly helpful member of the lineup. He's reaching that and more right now.
Jung's most glaring issue last season was his strikeout rate of over 38%, which prohibited him from being an effective hitter. This issue has certainly persisted, as he has already struck out 31 times this season, but his strikeout rate has dropped to a more manageable 32.6%. While this is still a major issue, Jung has shown signs of becoming a much more comfortable hitter in his second year with the team.
His hard-hit rate has jumped from 30.5% in 26 games last year to 44.8% in 22 games this year, and he's been able to increase his walk rate noticeably as well. He's slashing .281/.326/.494 in his second year, and his wRC+ of 128 is ahead of García's. He's got more to improve upon in his first full season, but Jung has helped this offense so far and will look to continue doing so.
In my eyes, these four bats have been the key players that have kept this offense rolling without Seager, but others have chipped in as well. Veteran outfielder Travis Jankowski has been really good, posting a 158 wRC+ in his 51 plate appearances.
Ezequiel Duran is coming off a somewhat disappointing rookie season last year but has shown promise early on this season. He's only had 45 at-bats, and while he has struck out 15 times and walked just once, he's hitting a respectable .289 with 13 hits.
The Rangers' offense without Seager may look suspect on paper, but all these hitters and others have allowed the offense to remain one of the best in baseball so far this season. The team will presumably regress to some extent, but when Seager returns – likely in mid-to-late May – this offense could look like one of the better units in the American League.