Analysis
Corey Seager's Return is a Jolt the Rangers Didn't Even Need
Corey Seager is back in the Rangers' lineup and is providing a spark for an offense that was already red-hot.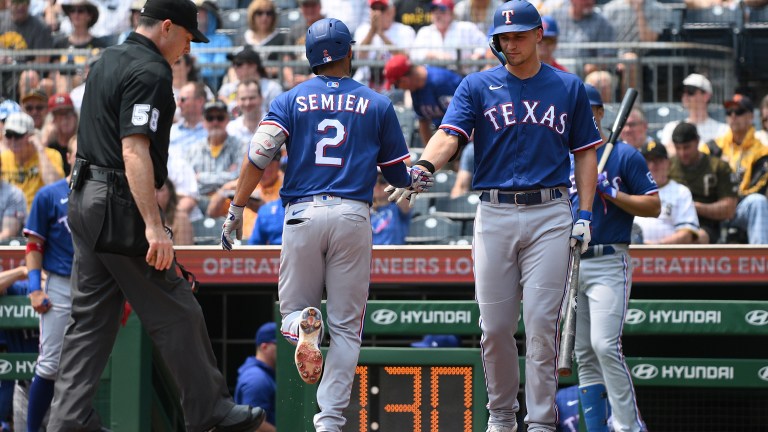 Two offseasons ago, the Rangers made an enormous splash in free agency, committing a half-billion dollars to their middle infield in an attempt to insert some impact bats to the top of their lineup. Unfortunately for the Rangers, the move did not pay immediate dividends.
After ending the 2022 season with a below-average offense as a team and winning just 68 games, there was much left to be desired from Rangers fans. However, it has been an entirely different story this season. After heading into 2023 with much of the same offensive core from a season ago, the Rangers' are firing on all cylinders at the plate to start the year.
Their offense has been a juggernaut this season, producing some of the best offensive numbers in the sport through the first two months of the season. The Rangers have received steady production from Nathaniel Lowe, have the league-leader in RBIs in Adolis Garcia, and have seen valuable offensive strides from young players in Josh Jung and Jonah Heim. But most impressively, they have done it without having their star shortstop for a majority of 2023.
Corey Seager hit the shelf back on April 12th with a hamstring strain, forcing him to miss just over a month of the season. But the Rangers' offense didn't miss a beat in his absence, as they still maintained to post the league's second-best wRC+ from April 12th to his return on May 17th.
The Rangers recently got back their dynamic shortstop, and he has continued to crush the ball, picking up right where he left off back in early April. Texas has one of the league's hottest lineups, and Corey Seager is helping elevate their offense to new heights.
The Rangers' Elite Offense
The Rangers have scored the most runs in baseball, averaging a league-best 6.4 runs per game thus far in 2023. Their success at the plate has propelled them to a 31-18 record, giving them a three-game lead in the AL West division. They've scored double-digit runs in a league-best 12 games, and they have been one of the best teams at manufacturing runs in 2023.
Following Toronto's rout of Tampa Bay on Tuesday, the Texas Rangers now have the best run differential in baseball at +112. To provide context on how impressive that number is, Tampa Bay is the only other team over +100, and the Dodgers have the third best run differential at +56. They've elevated themselves to the cream of the crop in terms of run production.
| | | |
| --- | --- | --- |
| Offensive Metrics | Rangers' 2023 Team Numbers | MLB Rank |
| BA | .271 | 1st |
| wOBA | .344 | 2nd |
| SLG | .454 | 3rd |
| OPS | .794 | 2nd |
| ISO | .183 | 5th |
| wRC+ | 119 | 2nd |
Stats Courtesy of FanGraphs
Through their first 48 games, it's impressive how steady their offensive production has been. They've excelled at hitting for both contact and power as they rank in the top five in baseball in numerous offensive metrics. No matter how you break it down, they have been one of the best offenses in baseball.
As previously mentioned, the Rangers have received valuable contributions from players all throughout their lineup. Of those with a minimum of 70 plate appearances on the season, the Rangers have 10 players with a wRC+ greater than 117. That plays a significant role in how consistent an offense can be, and it sheds light onto how the Rangers have been so successful this season. They've getting value from top to bottom in their lineup.
There are numerous players in the Rangers' lineup who are taking leaps forward offensively, and it has been a pleasant surprise and a difference-maker for Texas. Additionally, second baseman Marcus Semien may finally be living up to his $175 million contract as he's put together a great start to the year. He was a part of the spending-frenzy the Rangers had two offseasons ago, so it's encouraging to see him build upon his strong second half of last season.
But the biggest surprise of the Rangers' offensive success is that they have done it without their highest-paid hitter in the lineup in Corey Seager. Texas finally has Seager back as their shortstop, and he continues to rake at the top of the Rangers' batting order, providing even more of a jolt for one of the leagues' best offenses.
Corey Seager's Impact
At just the age of 29 years old, Corey Seager has accumulated an impressive list of career achievements. After winning NL Rookie of the Year in 2016, Seager is now a three-time All Star, a World Series champion, World Series MVP, and a two-time Silver Slugger.
When the Rangers signed the star-shortstop to such a lucrative 10-year contract two offseasons ago, there were high expectations that came along with it.
While Seager did pace all shortstops in home runs last season with 33, he fell short of expectations in his first year as a Texas Ranger. However, thus far in 2023, Seager has looked like a shortstop worthy of his $325 million contract.
Seager was red-hot to start his 2023 season. In his first 11 games, he hit for a .359 average to go with an OPS of 1.007 prior to going on the injured list. From the get-go, Seager looked comfortable at the plate, and he has picked up right where he left off since returning to the lineup on May 17th.
In his 25 plate appearances since returning to the Rangers, Corey Seager is slashing .348/.320/.739 for a rock-solid OPS of 1.059. He already has 10 RBIs, highlighted by homers in back-to-back games versus the Colorado Rockies over the weekend. Seager is putting the ball in play often, and he is doing so with impactful contact.
While it's inevitably a smaller sample size due to his time on the shelf, Seager's peripheral stats have looked very encouraging. Posting a wRC+ of 178 in his 74 plate appearances on the year, Seager has been one of the best hitters in the Rangers' lineup. The ball has been flying off of his bat, and he's looking more like the shortstop that finished in the top-ten in MVP voting back in 2020.
Seager's average exit velocity currently sits at 95 miles per hour, coupled with a fantastic hard hit rate of 52.9%. He has 51 batted balls in 2023, and 10 of which have been barrels, giving him an outstanding barrel rate of just under 20%.
While his barrel rate will likely not remain at that level as the season progresses, it's important to point out the quality of contact Seager has been making in the early goings of the season.
His approach at the plate has allowed him to produce very efficient at bats. Seager has cut his chase rate by nearly 10% thus far, which impacts so many different aspects of his offensive game. He is walking at a rate of 12.9% and posting an impressive wOBA of .429. Combining Seager's high quality of contact with his disciplined offensive gameplan, it's no surprise to see his expected statistics ranking among the best in baseball, highlighted by an xSLG of .540 and an xwOBA of .397.
The Texas Rangers are rolling offensively, and they've been doing it without household names. They finally have their star shortstop back in the lineup, and he's providing a spark to an offense that was already on fire. When healthy, Seager can be one of the most impactful players for a ball club, and he brings a dynamic bat to the plate. He will look to keep his offensive tear going as he finally looks like his Dodgers-self that was one of the best shortstops in the game.