Analysis
Ranking All the Current Marlins Uniforms From Worst to Best
Of all the jerseys the Miami Marlins wear, which one comes out on top? Just Baseball presents our Marlins uniform rankings.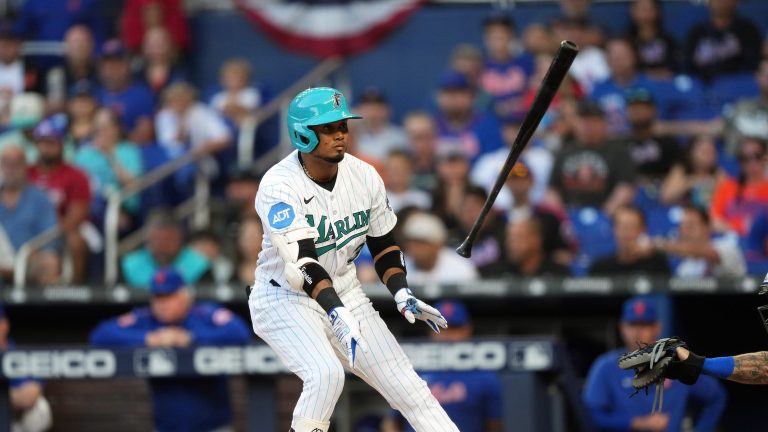 Well, well, well. Here we are again. Ethan Budowsky is talking uniforms. Good to know that in a time where so many things are changing, some things remain the same.
For the last two years, I have brought you my MLB Uniform Rankings, and it has been an absolute treat. Uniforms are my wheelhouse, they are something I love to discuss, and that is what brings us here.
This time I will be ranking individual sets, part of a series we're starting at Just Baseball. I'll be doing as many as I can because this is absolutely one of my favorite topics. I'll begin making my mark in this series by taking a trip back home.
That's right, it's time to rank the Miami Marlins uniforms.
In this year's rankings, I dropped the Marlins a spot (from 20 to 21) and put them in the category of "The Good That Should Be Better." I do think the Marlins overall have a nice uniform set, and it is definitely an upgrade over the trash they wore when they first rebranded from the Florida Marlins to the Miami Marlins.
However, there is just something missing with this set as a whole; whether it be that the Marlins don't actually wear their best permanent jersey in the regular season or that it will never match what I grew up with when they were the Florida Marlins.
Either way, the Fish do have some good individual jerseys, so let's rank them up. Just for clarification, I did not include City Connect or special edition uniforms in my overall rankings, but I will in individual team rankings. That means the Marlins have six uniforms I'll be ranking: home whites, road grays, black alternates, blue alternates, City Connects and the throwbacks they are wearing on Fridays this year.
6. Alternate Black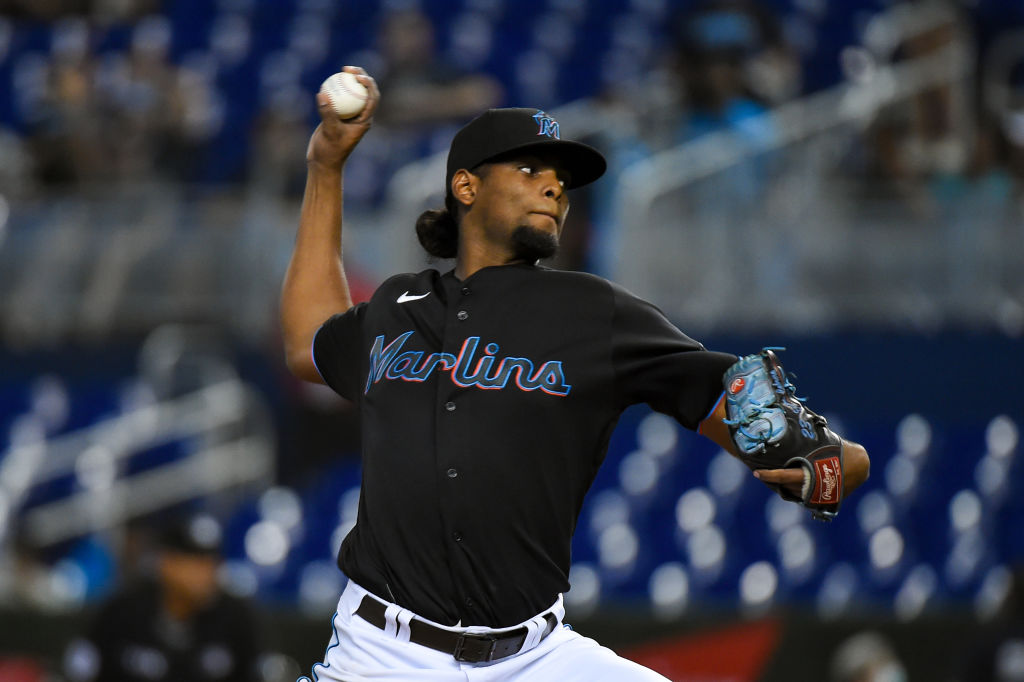 These should be really nice, but they're not. I think that the Marlins' blue and red mix really well with black, but the jersey itself is poorly done. First of all, it's just kind of bland. I think it needs some piping or better cuffs. Second–and I know almost every Marlins fan agrees with me on this–why is the lettering black?! It makes it almost impossible to read the script on the front and the names and numbers on the back of the jersey! Ugh, it's just so dumb. When the Marlins' black uniforms were done well–back in the Florida days–they had silver script that made the lettering stand out. It's been years with these uniforms already, and a change hasn't been made, even though everybody knows what needs to be done. I guess these jerseys aren't that different from the center field position in Miami.
5. Home White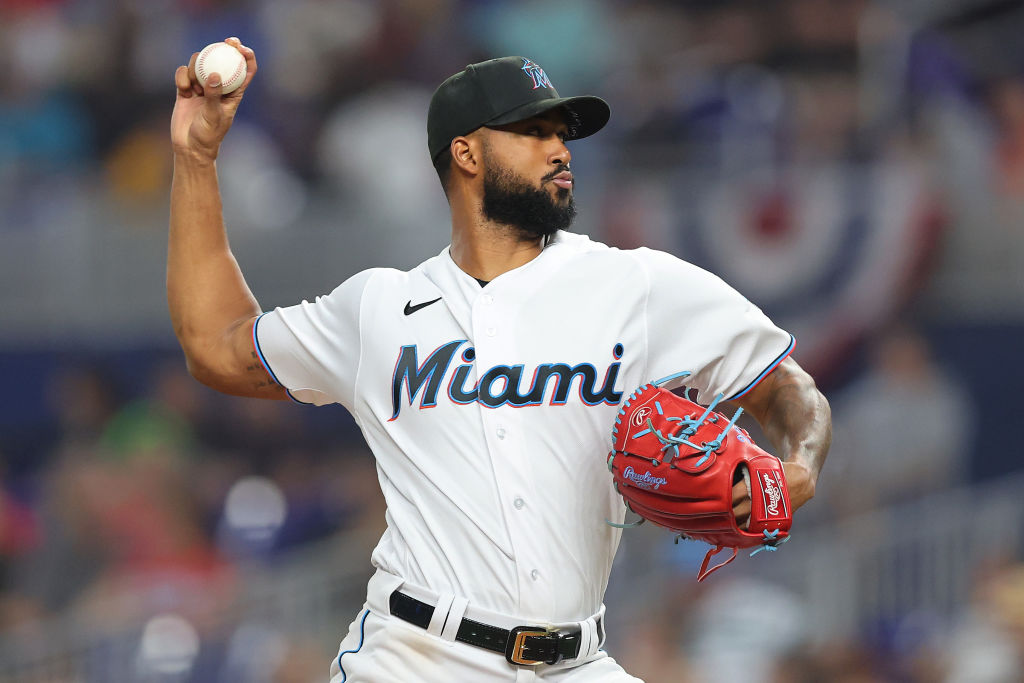 It feels weird ranking these this low because I actually really like this uniform. I think the Marlins home white uniform is super clean. It comes off very polished and nice on television and looks even better in person. The cuff on the sleeve is nice, and the pants work. It's just a good home uniform. I also love any uniform that says Miami because that is where my heart will always be. Also, the Marlins name/number combo on the back is really solid and really pops on this uniform. One way to improve it? Bring back the fin under the script from the throwback uniforms. The tail on the 'i' in Miami looks like the designer stopped halfway through.
4. Road Gray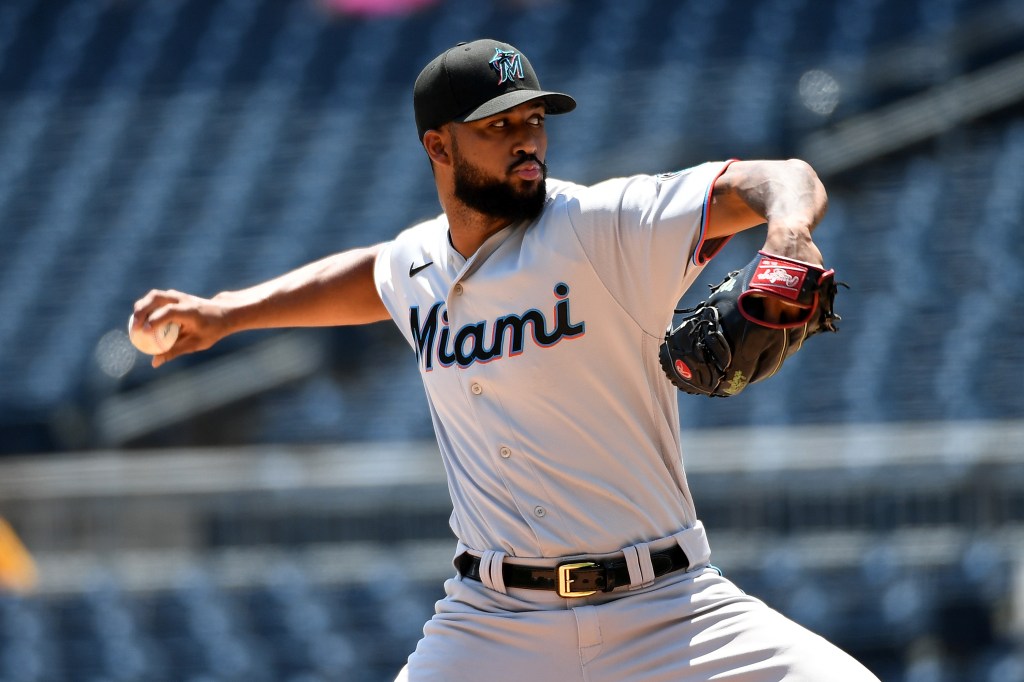 I'm a sucker for a good gray uniform, and I really think the Marlins have one of the best. My dad actually bought this jersey at a Marlins game we went to once, and I was jealous of him when he did. And yes, my dad wears jerseys and he looks awesome in them. These look especially good on a Sunday afternoon game. You know when you don't know how to explain something, but you know it's true? This is one of those times. This is just a good road look, and I like it a lot better than when they wear the black ones on the road.
3. Alternate Blue
The crazy thing about the Marlins' uniforms…they don't wear their best looks full-time! Fans have been calling for it for years, and they just refuse! WHY?! These are so good! I love light blue baseball uniforms, and this is unique from any of the other ones. The Marlins' electric blue is a gorgeous color, and they don't use it nearly enough! They do wear these in Spring Training, but would they not make a delightful Sunday afternoon home jersey? What a missed opportunity. Love the use of the small logo on the breast and just letting that gorgeous blue breathe. Please, Marlins, please start wearing these in the regular season!
2. City Connect
The Marlins were the second team in the league to drop a City Connect, and honestly, Nike should have just stopped there. I think these are widely regarded as a top-three City Connect, if not the best ones. The only other ones I'll hear an argument for belong to the White Sox. Nike has missed a lot in this campaign, but they absolutely nailed the Sugar Kings look for the Marlins. It's a tribute to the history of Cuban baseball as well as Miami's Cuban heritage, and they did it justice.
The red is perfect, the caps are great, the batting helmets rule and the gear that comes with them is spectacular as well. Red is my favorite color, and it's hard to make a good red baseball jersey, but these are just so well done. The Marlins wear them every Saturday, and I think it's just the right dosage. And again, for whatever reason, these just look better during day games.
1. Throwbacks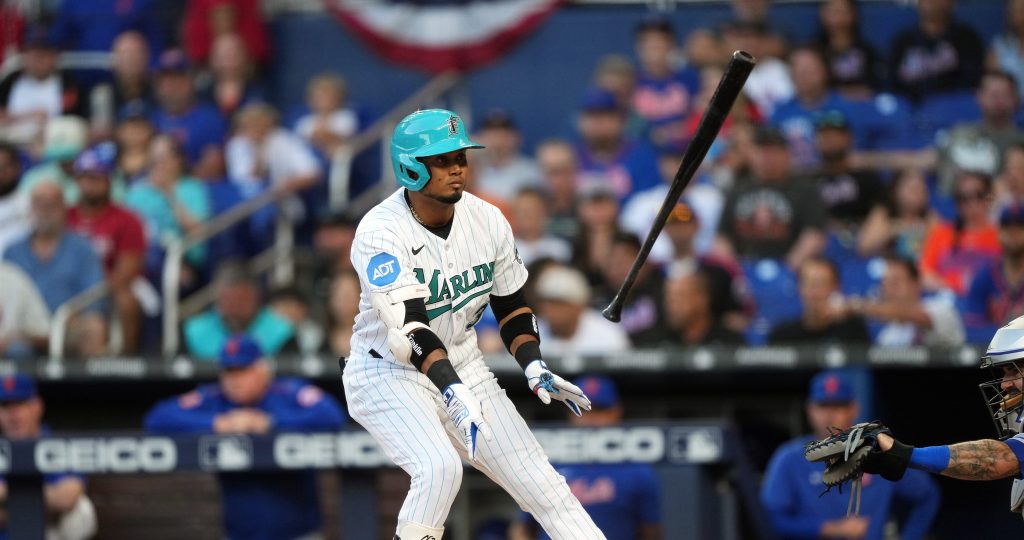 This is not to be debated. Every time I see discussion about these uniforms, people are wondering why the Marlins don't wear them full-time. I have no idea. When the Marlins rebranded in 2018, I was really hoping they would go back to this look full-time. Now, I am hoping them wearing these throwbacks every Friday–celebrating the team's 30th anniversary–is a test run for bringing them back. They are just absolutely beautiful. The teal is so desperately missed, the '90s nameplate on the back, the pinstripes. It's all just too good.
If the Marlins want to reconnect with a fanbase worn down by years of frustration, this would be a good start. Not to mention, a return to this look would mean the return of the black uniforms, the teal alternates, and an all-time road jersey. Again Marlins, I am asking you, please do the right thing. Bring back the teal!