Analysis
Miami Marlins Trade Deadline Guide
The Miami Marlins are right in the thick of the NL Wild Card race and will be looking to add at the trade deadline to make a playoff push.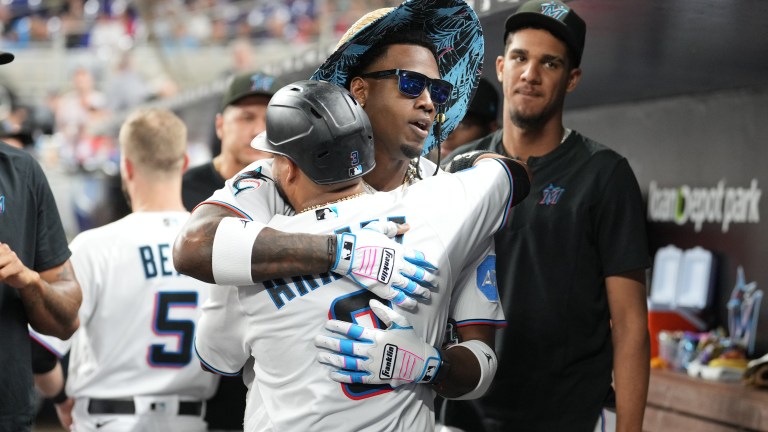 When the Marlins topped the Phillies by a score of 7-3 on July 9th, they entered the All-Star Break at the best mark in franchise history at 53-39–good enough for a three-game cushion atop of the National League Wild Card.
Since then, the Marlins have dropped nine of their last 11 games. More than half of those losses have come against last place teams. While the wind has been taken from the team's sails, Skip Schumaker's team still sits at 55-48, tied with the Phillies at a half-game back from the final playoff spot.
What Should They Do?
The team's descent back to earth puts General Manager Kim Ng in a unique spot. There are few organizations in baseball that more desperately need meaningful baseball to jolt its fanbase. The only time the Marlins have made the playoffs since 2003, fans were not even able to attend due to the COVID pandemic (2020).
Beyond that, Marlins fans have historically had little reason to be interested beyond the trade deadline. Typically it's the Marlins who are shipping out talent around this time of year…after all, the team has not finished above .500 in a full season since the Housing Crisis.
On the surface, it is clear that this team needs to add. Though impossible to quantify aside from bodies in seats, it's easy to imagine that meaningful baseball being played beyond August will go a long way for the franchise's well-documented efforts of rebuilding South Florida's baseball community.
The flip side is, there's a legitimate argument that the team is not nearly as good as the first half record may indicate. Even if the Marlins are not as bad as the last two weeks would reflect, the farm system is one of baseball's worst and when you look up and down the lineup, there's only a couple position players you could confidently say are a part of the future.
Every starting pitcher who did not win the Cy Young last year has either surpassed or are on the brink of reaching their career-high season workload, the bullpen is drained, and and their schedule the rest of the way is one of the league's toughest.
But the Marlins franchise has long desired to be in anything that resembles the position it is in right now. They couldn't get this close with Giancarlo Stanton, Christian Yelich, J.T. Realmuto, Marcell Ozuna and Jose Fernandez all on the brink of their prime. Nor could they when their previous owner shelled out nearly $200 million–that would be dumped to the Blue Jays within a year–to sign Jose Reyes, Mark Buehrle and Heath Bell.
Whether people believe the Marlins record to date is flukey or not, Skip Schumaker and his ball club have earned the opportunity for the front office to act like contenders for the remainder of 2023…just with a bit more nuance than some of the World Series favorites.
Just because the Kim Ng has a weak farm system doesn't mean she should not trade pieces who she feels are either extremely far away or have capped ceilings. Instead, there's an added importance in identifying the few prospects who do fit into the long-term plans and clutching onto those players unless a big leaguer with control is available.
This makes the deadline hard to operate for a GM. Ng has to ball on a budget, but with some creativity, the Marlins can get better for this season without compromising the future.
What Do They Need?
By the time all of the Marlins needs are listed out, you may effectively be convinced that the Marlins should not buy, but stick with me here. The team needs quite a few things. Let's start with the offense.
Overall, the Miami's offense has been as good as it has been in some time. While that isn't saying much, league average offense paired with a pitching staff that ranks fourth in the entire league in fWAR behind only the Phillies, Twins and Mariners is a good spot to be.
While center field has also been a challenge in Jazz Chisholm's absence, the team has surprisingly been able to get decent production from the position between Jonathan Davis (now injured) and prospect Dane Myers. Given the fact that Chisholm is slated to return relatively soon, the Miami may just have to hope that their exciting center fielder can just stay on the field and focus on some other weaknesses.
The team has received some of the worst production in baseball from both the third base and catcher position. Jean Segura has been one of the worst qualified hitters in the sport, while the Jacob Stallings, Nick Fortes catching tandem has produced a 0.1 fWAR.
On the pitching side, the team just needs bodies. Trevor Rogers is still on the IL with a right shoulder issue, Edward Cabrera has already thrown more innings than ever, with a visit to the IL already under his belt this year. Jesus Luzardo has been spectacular, but will far surpass his career-high in innings and Eury Perez is currently in Double-A in order to manage his workload.
Further, Braxton Garrett has really faltered since eclipsing his career-high in innings pitched and Johnny Cueto is a wild card. The state of the rotation has trickled to the bullpen, which was forced to shoulder more of the load than many expected in the first half.
Closer A.J. Puk has not been the same since hitting the IL, Andrew Nardi has missed time after being used as much as any reliever in baseball, which has now been passed on to Tanner Scott, who is two games off from the most in the league. The Marlins do not need upgrades pitching wise like they do hitting wise, but they need bodies.
Who Could They Target?
The good news is, it's relatively easy to improve upon those brutal figures. The names I'll float for these spots may not be the sexiest, but even some additions who fans would find relatively boring would make a difference for the Fish at those two spots. It doesn't matter how fancy the engine on your boat is if you have a big leak; the Marlins have a few.
Of course, Jeimer Candelario of the Nationals makes all of the sense in the world. The challenge is, he makes sense for a lot of teams out there. There's a tipping point for rentals–especially in division–and it should probably be drawn at Jake Eder and Max Meyer.
If Candelario could be had for one of the Marlins talented Dominican Summer League prospects and a mid-level prospect, they should absolutely make it happen, but he's a three-win player in the eyes of fWAR, two years removed from a four-win season in a seller's market.
This is where things get somewhat challenging. Ng may not want to "overpay" with Eder or Meyer for a rental, but teams like the Nationals may have little to no interest in whatever else the Marlins have to offer for a guy like Candelario.
There's two schools of thought for the baseline that is Candelario. Push more chips forward for a player with control, or scale it back for a cheaper rental. On the cheaper end, Tim Anderson and his 58 wRC+ may not be the most exciting option in the world for Marlins fans, but he won't require much from a prospect standpoint and if he impresses in his couple months in Miami, there's a reasonable $12.5 million option for 2024.
If he continues to struggle, they can just decline it and send him into free agency.
You'd be hard-pressed to find a player on the White Sox who has not played uninspiring baseball over the last two seasons. Anderson, 30, is slashing .305/.336/.442 since the start of 2019.
For the presumed low cost of acquisition and the upside that the two-time All-Star possesses. Not to mention, he has really turned it on of late, with seven multi-hit games since the All Star Break less than two weeks ago.
A more expensive, but intriguing option could also be Tommy Edman of the Cardinals. Another player who is having a bit of a frustrating year, Edman is coming off of a 5.7 fWAR season in 2022, where he posted a 108 wRC+ while swiping 32 bases on 35 tries.
Though he's unlikely to jolt the offense, Edman would be an excellent complement to a roster that was supposedly built around contact and speed. Most importantly, Edman is a plus defender wherever you stick him.
Not only would the 28-year-old be an upgrade in the infield with him at shortstop and Berti sliding over to third, but he is a strong defender in center field and can plug in out there if needed.
Edman is an offensive upgrade over Wendle, while Berti is an offensive upgrade over Segura. Both boast elite speed and great defense. As much as fans would like to target the player with the highest OPS or wRC+, Edman would impact the Marlins in a myriad of ways. The familiarity with Marlins manager and former Cardinals bench coach Skip Schumaker is there as well.
For a team that leads MLB in double plays grounded into by a massive margin, they should probably lean into the speed side of things a bit more rather than just contact. But again, Edman is one of the better contact hitters in the game.
With two years of control after this season, Edman won't come cheap, but this is the exact spot where Ng should be more than fine parting with a Jake Eder or Max Meyer. The Cardinals have made it plenty known that they'd like more pitching and the Marlins just drafted a slew of arms.
Perhaps the Marlins would even be willing to send Trevor Rogers over in a larger deal that includes Jack Flaherty. As I'll get to later on, the Marlins are not in a position to trade from the big league pitching, however Rogers is still weeks away, the Cardinals probably don't care if he throws this season or not (his injury is to his non-throwing arm) and Flaherty can provide some vital innings to a rotation that is gasping for air.
On the catching side, the 2024 free agent class is rather uninspiring and there's just not going to be that much out there for Miami. The good news is…just about whatever does happen to be out there will be an upgrade.
With the Royals reluctance to move off of Salvador Perez, 28-year-old rookie Freddy Fermin would be a fantastic option. A good defender who has put up an .840 OPS both in Triple-A and at the MLB-level, Fermin may not come cheap, but he has the looks of a guy who could be an everyday catcher.
It's possible the Royals may want to hold onto Fermin, but they could see it as a selling high opportunity. Even if Fermin hits a bit of a wall, he would be an upgrade over Stallings in a timeshare with Fortes, but it seems likely that the Royals backup backstop would be better than both.
Another candidate is Jake Rogers of the Tigers. He strikes out plenty, but Rogers is an above average defender who has launched 18 homers in his last 100 MLB games in the graveyard that is Comerica Park. Under control until 2027, Rogers is another player who is probably better than what the upcoming free agent class can offer.
One last low-cost rental who could be a nice fit is the Mariners' Tom Murphy. Set to hit free agency after this year, Seattle could dump him for a lottery ticket in the coming days and just promote veteran Pedro Severino to back up Cal Raleigh.
In his 38 games this season Murphy has more HR (7), XBH (18) than Marlins catchers in their 103 games while playing better defense.
On the pitching side, it probably makes the most sense to just look for a place holder to eat some innings in the rotation while prioritizing a bit more impact in the bullpen. Trading Dylan Floro to the Twins for Jorge Lopez was an intriguing low-risk move to add a reliever with high leverage experience, but he has battled some anxiety issues on the mound in what has been a difficult year for him after a dominant campaign in 2022.
The Rockies have a slew of arms in the bullpen who make plenty of sense: Brent Suter, Jake Bird and Brad Hand to name a few. Adam Ottavino (Mets), Dauri Moreta (Pirates), and Justin Foley (Tigers) are some of the many middle-tier reliever names who fit.
From a starting pitching perspective, whoever they acquire isn't going to make or break their season. That arm is going to help bridge the gap or take some of the workload pressure off of the young starters who could make or break the Marlins season.
Though I am generally not a fan of trading much at all for relievers, the Marlins would be better suited using whatever resources they have for a high leverage reliever, preferably with control. If all goes right, this starter would not even be in the five-man rotation come September, or he would only be used on days where the Marlins want to skip a young pitcher's start.
Michael Lorenzen would be nice, but the Angels parting with a top 100 prospect in Edgar Quero as well as a decent minor league arm in Ky Bush for Lucas Giolito and Reynaldo López set the rental market higher than many may have thought. Rich Hill, Trevor Williams, or even Lance Lynn should fit the bill.
As silly as it sounds, how the Marlins play over the next few days leading into the deadline could inspire a bit more urgency from Kim Ng and Co. Ultimately, the Marlins have waited too long to be in the position that they are in now to not at least give this ball club some sort of reinforcement down the stretch.
It may not be a trade for Cody Bellinger or Eduardo Rodriguez, but with the right reinforcements and a little bit of that first half magic, the Marlins could make some noise down the stretch.