Analysis
The Marlins and Twins Made the Most Cordial Trade in League History
Luis Arráez for Pablo López has proven to be a great example that a trade can work out well for both teams involved.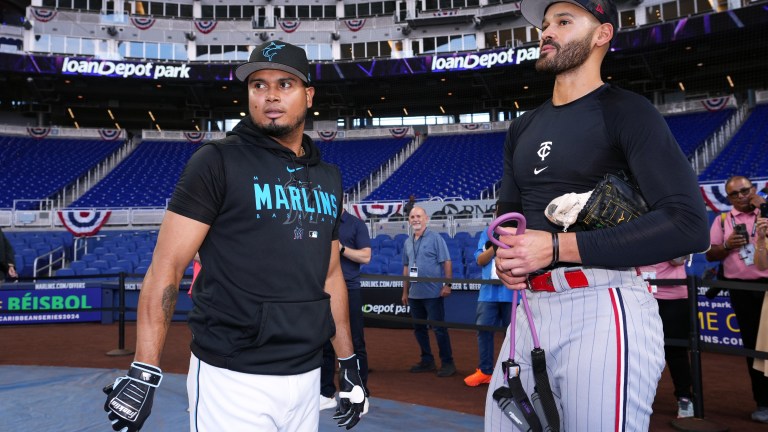 I think there is a common misconception about trades in sports, especially in the social media era. Everybody seems to think that when teams get together to make a trade they are trying to screw another team. There is also the perception that there always has to be a winner and loser in every trade. That mindset is something I could write a dissertation about.
While I will not bore you with a societal critique, I will point out some flaws in that mindset. First of all, I think when organizations make trades, there is one main focus: getting the most value they can. They are not out to "win" a trade, they are simply out to make their teams better–or worse–for future gain.
The second thing is–and strap in for this one–there can be mutually beneficial trades! What a concept, huh? Think Gary Sheffield for Trevor Hoffman back in the early 90s. How about Zac Gallen for Jazz Chisholm Jr.? Aroldis Chapman for Gleyber Torres? While the Yankees got Chapman back, the Cubs got the most magical World Series win in league history.
The funniest thing about these examples is that two of them involve a team infamous for making some awful trades. Yes, the Miami Marlins. The team best known for trading Miguel Cabrera for Jack Squat.
Yet the Marlins have made two of the most evenly-matched trades ever, and this offseason they made a third. Luis Arráez for Pablo López is perhaps the best proof yet that there is such thing as a win-win trade. And like Lieutenant Aldo Raine says in Inglorious Basterds, this might just be their masterpiece.
On The Field
I have never seen two fanbases both love a trade so much. I also cannot remember a trade that has paid such large dividends for both teams so quickly. Hell, Arráez hit for the Marlins' first cycle IN FRANCHISE HISTORY (!!!!) in just his 12th game in a Marlins uniform. The Fish are celebrating their 30th anniversary this year and were the last club without a cycle in their team's history.
That same night, López shoved for the Twinkies, striking out 10 and allowing two runs on three hits in 7.2 innings. The Venezuelan right-hander has a 1.35 ERA, 2.36 FIP, 0.65 WHIP and 11.70 K/9 in 20 innings across three starts. He has quickly turned into the ace that the Twins have needed for so long. The amazing thing is, many people thought Pablo could never be an ace. A lot of people saw his ceiling as a number two starter on a fringe playoff team. Now in Minnesota, he is elevating himself to heights we have never seen from him.
Arráez is doing the same so far in Miami. Through 13 games and 52 plate appearances, he is hitting .500 with a .558 OBP (11.5 BB%, highest of his career) and slugging .696! Add that all up and you get a 1.254 OPS, 237 wRC+ and 0.9 fWAR. That 0.9 fWAR is tied for third in MLB, and it's equal to that of the Marlins next three best hitters combined. Arráez also added that cycle, which is undeniably one of the best moments in franchise history.
It is always cool to see good players–and even really good players–get even better over the course of their careers. It is even cooler when it is two players who end up being forever connected because they were traded for each other. Add in the fact that these guys seem to genuinely love and respect each other, and you have the recipe for something special: the most cordial trade in MLB history.
Off The Field
As great as the results have been on the field, the best part of this trade has come off it. Pablo López and Luis Arráez were connected before the two were even traded for each other. They are both Venezuelan and seem to have a genuine friendship. They both represented their country during the World Baseball Classic, and both were great there too. Their teams also posted some wholesome content from their time together with Team Venezuela.
Then, Pablo returned to Miami in just the second series of the season, and things got even cuter. The Marlins welcomed him home with absolute class, and you could tell how happy Pablo was. I have covered Pablo and spoke with him a few times. You will not find a nicer guy–or a more contagious smile–in the game of baseball. Seeing him reconnect with his teammates in his return to Miami was as good as it gets.
Of course, López and Arraez were at the center of the homecoming as well.
The Marlins do not go up to Minnesota this year, so Arráez's homecoming will have to wait. Based on what we saw in Miami, he will likely get just as a great of a reception as Pablo.
The most amazing thing is, I have never seen a trade so well received by two fanbases. Both seem genuinely happy with the way things went down. Usually, Twitter is abuzz after a trade, with fanbases rushing to prove their team won and to clown the other if their guy struggles. That has not been the case here. I have not seen one argument about the deal, and both fanbases seem happy FOR EACH OTHER that it worked so well. Who knew trading two Venezuelan baseball players for each other is what would bring peace to Elon Musk's Bird App?!
I guess this is what happens when you trade two genuinely good humans for one another, especially in the situation these two teams were in. The Marlins desperately needed a bat, and the Twins were dying for an ace to lead their staff. Both fanbases came away with that and a whole lot more, and they are both genuinely happy about it. While it was difficult to part ways with each player, they knew it was necessary to improve their team. It is really cool to see a trade go down and people just agree. At this point, it is just cool to see people agree about anything.