Analysis
2022 Marlins Look the Same, Despite Offseason Moves
Free agent flops and a misguided approach to roster construction has the Miami Marlins no closer to contention than they were following the 2021 season.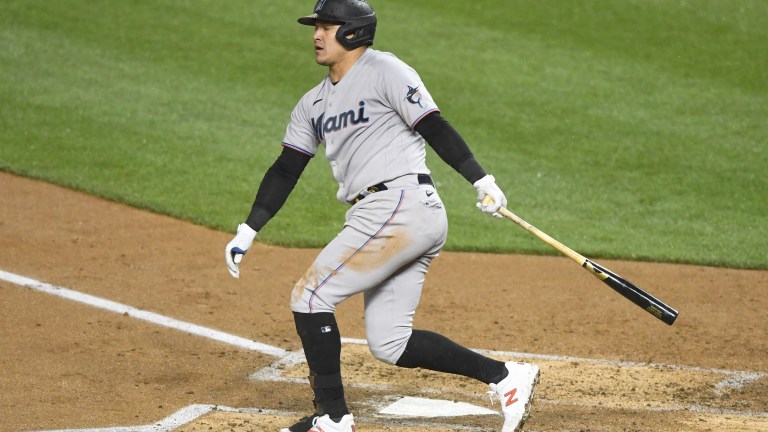 The Miami Marlins are not a good baseball team. In fact, they are quite bad. They are 21-29, fourth in the NL East, 3-7 in their last 10 and just finished up a dreadful 7-18 month of May.
It is certainly a problem that the Marlins are this bad five years into their rebuild. They have shown no signs of a turnaround and look quite far away from being a playoff team. However, it is not just that the Marlins are bad. They are the one thing they could not be coming into this season: the same.
After an off-season when the Marlins made big moves—by their standards—they looked like a much-improved club on paper. Miami made a major upgrade at catcher in acquiring Jacob Stallings, added infield depth with Joey Wendle and splurged—again, by their standards—for outfielders Jorge Soler and Avisail García.
With all these moves they could not afford to be the same boring product that they put out in 2021. The one that fell flat on their faces and finished 27th in wRC+. Even if they did not win 90-or-more games, they had to at least be entertaining.
Even though the Marlins are 11th in wRC+ with 103, they were 25th in runs until a doubleheader at Coors Field Wednesday when they broke out for 26. It is the only reason they currently sit 14th in the category. A huge reason for the lack of run production outside Coors is their hitting with runners in scoring position. Their .691 team OPS in those situations is 22nd in MLB.
The team had big expectations for this season with the expanded Postseason, and instead they find themselves with the fourth-worst record in the NL. The following are just a few reasons why.
Signings Fall Flat
The Marlins dished out $83 million in free agency for Avisail García and Jorge Soler and so far it is looking like a disaster. García is the sixth-worst qualified hitter in baseball with 57 wRC+ and his .544 OPS is fifth-worst. He was worst and second-worst in those categories before a big Wednesday at Coors Field. His slashline is an unbelievable .221/.250/.294 and his 28.5 K% is easily a career worst.
Miami had high hopes for what García would provide to an offense in desperate need of help. Even the biggest critics of the deal figured it would bring at least a minor boost to a dreadful offense. Instead, he has been a liability at the plate and has done little to nothing to provide run support, posting 30 wRC+ with runners in scoring position. Before that Coors outburst? He had 3 wRC+ with runners in scoring position.
With three years and $36 million left on the deal—including a club option in the fifth year—it is looking like one of the worst free agent signings in recent memory.
Jorge Soler has been better, posting 120 wRC+, but is hitting just .222 with a .314 OBP. His .775 OPS is a better judge of his performance, as league averages are so far down this year it inflates his wRC+.
He already has 11 home runs and his 26.3 K% is just below his career average, but it has not made much of an impact. He has basically replaced the production that Adam Duvall gave Miami last season, without the Gold Glove defense in the outfield. His .841 OPS with runners in scoring position is also far below Duvall's incredible 1.124 mark from last season.
The truth about Soler is every team needs a hitter like that in their lineup—a guy that will hit 30-35 home runs despite hitting for low average is a nice piece to have. He just cannot be the center piece of an offense on a team that wants to be competitive. If the Marlins had parlayed Soler along with a true center fielder, it would be a really nice signing. Which leads perfectly into my next point.
They Did Not Fill The Team's Biggest Hole
The biggest flaw in the team's roster construction is they left the biggest hole on the team open. While an argument could be made that catcher was the biggest need, I disagree. The Marlins desperately needed a star bat to put in the middle of the lineup that could lock down center field.
Their failure to get one is not for a lack of trying. Miami pushed hard on many premier names in center but came up short on all of them for a plethora of reasons. As a result, the Marlins were forced to go with Jesús Sánchez in center and there have been mixed results.
Sánchez started off the year hot at the plate, posting an .839 OPS in the first month of the season. However, he followed that up with a disastrous May where he had a dreadful .513 OPS, 48 wRC+ and 33.3 K%.
He is also not a natural center fielder, playing just eight games there in the minors back in 2019. There have been some good moments, but more often than not the experiment has been a mess. There is one really bad moment that makes the decision to run Sánchez out there look like malpractice.
It is important to remember that the Marlins had their center fielder on the roster just last season. Starling Marte is the exact guy Miami needs and they let him go. The club failed to extend him at the deadline, before trading him for Jesús Luzardo. They got a second chance in free agency, but lost out to the division-rival Mets. The offer they made him would have locked him up if they had made it just a few months earlier.
So many of the Marlins problems would be solved if they had Marte on the team. Instead, they have to face him 19 times for the next few years while he hits bombs in New York.
The Marlins can always fix this issue by making a big move like they attempted to this offseason. However, now it looks like they will not be in it at the deadline to make a big move. It would also take a big haul of prospects. Questions remain about whether the team would pull the trigger and if they will even be in position to.
It seems the Miami Marlins may have missed their chance to fill the team's biggest need.
They Still Did Not Solve The Bullpen
If catcher and center field were the biggest holes on the team, the bullpen was the next. And they did not fix their problems out there either!
Miami spent a grand total of zero dollars on the bullpen in free agency, and their only acquisitions came via trade. They added Louis Head from the Rays and the pairing of Tanner Scott and Cole Sulser from the Orioles.
One thing they did not add? A true closer.
After all their troubles in the ninth inning last season the Marlins did absolutely nothing to reverse them. They ran value find Anthony Bender out there to start the year and he was a disaster, posting a 5.40 ERA in 11 ninth-inning appearances.
Sulser did a fine job as Baltimore's closer late in last season, but the Marlins did not acquire him to be their closer. They have had to use him there due to struggles from other arms, and it has not gone much better. Just check out what happened Wednesday night in Denver when he took the ball with a one-run lead in the 10th.
Miami's bullpen stats took a serious hit over the past few days, dropping their bullpen ERA from 12th to 24th. It only looks worse when digging a little deeper. The pen has been a disaster in close games, posting the third-worst Clutch rating, according to Fangraphs, and have a terrible 4.62 ERA in the ninth inning.
They do not have one guy they can lean on at the back end of games to lock it down. It has led to seven blown saves and is a huge reason they are a stunning 6-15 in one-run games. It is easy to say that record is unsustainable, but with this bullpen it is hard to see it turning around.
Fans have every right to question the front office for their refusal to acquire a closer this offseason. It is one of the most puzzling decisions the regime has made in its five-year rule in Miami.
On The Bright Side
The good news is things can turn around very quickly for the Marlins. They have Jazz Chisholm Jr., which is always a good thing.
They also have an unreal plethora of pitching that just keeps pumping out studs. Edward Cabrera made his season debut Wednesday and looked like the MLB The Show version of himself, striking out nine Rockies in six shutout innings.
Not to mention, they have two Cy Young candidates in Pablo López and Sandy Alcantara headlining the rotation. As crazy as it sounds, they are not far off. They still can make a couple key acquisitions and launch themselves into Postseason contention.
The problem is that is exactly what we said about the Marlins heading into the offseason. They are no further along than they were before their very active offseason. Miami still needs another impact bat in center field and a lockdown closer.
The Marlins have also had a few players take steps back. Trevor Rogers has struggled mightily, and Elieser Hernandez has been a disaster in the rotation. Miami is 2-9 in games in which Hernandez has appeared, and he has allowed 18 home runs in 48 innings. His 6.75 ERA is actually generous based on his 7.25 FIP, and his 22.0 HR/FB rate is second-worst in the bigs.
The Marlins are basically giving a game away every five days. If you remove the games in which he pitched, they are 19-20. If you make them a game under .500 in the games he has pitched, they would be 23-24. Just like last year when the Marlins were having one, sometimes even two, bullpen games a week, they are basically punting on a fifth of their games. You just cannot do that when you are trying to compete.
It also seems that Miami spent harder instead of smarter. They splashed the cash for García and Soler rather than making a value signing such as Joc Pederson, who took Hernandez deep Friday.
Just compare the numbers. The Miami pairing is making four times as much as Pederson and has just one more combined home run.
The ball is in their court now. It is entirely up to the organization whether they want to take the next step into contention or not. They have more than enough assets to make a big move and acquire impact players that can turn this team into a good one.
Unfortunately for Marlins fans, until ownership decides to stop sitting on their hands and pull the trigger on some big moves, they will be the one thing fans dread most: the same.