Analysis
Whose Absence Will Be Felt More: Aaron Judge or Pete Alonso?
The Subway Series will be missing its two biggest stars, but moving forward which loss will be felt more in New York baseball?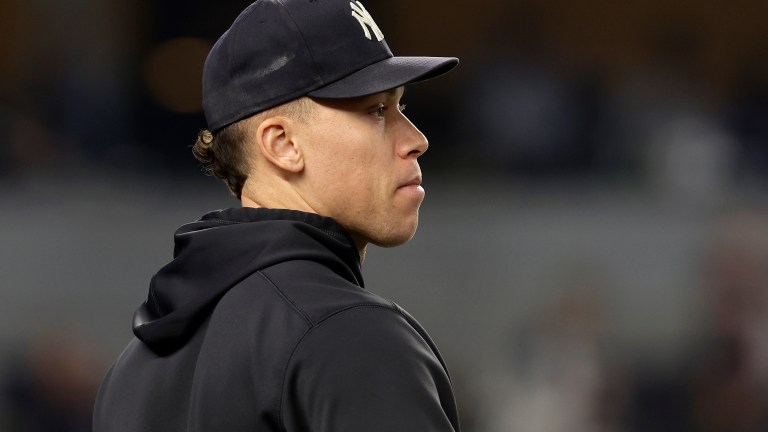 Tonight the first Subway Series of the 2023 season will begin, with the New York Yankees taking the trip across town to face the New York Mets at Citi Field.
While there is always excitement surrounding this crosstown rivalry, some of the buzz is not there this time around because of who is on the sidelines. Aaron Judge and Pete Alonso are the two players in baseball best-suited to hit 60 home runs this season and both were in the midst of great years carrying their lineups.
Unfortunately both of these sluggers find themselves on the IL though, leaving big questions for their respective teams to answer over the coming weeks, if not months. Which loss will be felt greater in this series and more importantly over this stretch of the season?
Let's do a dive and find out.
When Are They Coming Back?
Now the easiest way to decided which loss is greater for these New York teams is simply to look at the timetable for each of their returns. Right now though, the return dates are ambiguous, particularly with Aaron Judge.
According a story in the New York Post, Judge won't put a timetable on his return because he doesn't want people to raise questions if he is unable to meet that timetable. He does say that, "It's a good sign that it's feeling better every single day"
Judge injured his toe crashing into the wall making a catch at Dodgers Stadium, resulting in a sprained right big toe. Manager Aaron Boone has made it clear that until the swelling goes down, the Yankees won't have a clear timetable on his return and considering Judge's comments, we might not even know what that is when they figure it out.
On the other side of town, Pete Alonso is dealing with a bone bruise and sprained left wrist after getting hit by a pitch against the Atlanta Braves last week. Alonso was seen with a large splint on his arm at a charity event last night, but he said it looks worse than it is.
The timetable for Alonso to return is about three-to-four weeks, but considering that would push him up against the All-Star break, there is every chance we don't see him back on the field until the beginning of the second half.
Who is Playing In Their Absence?
There is no way either the Yankees or the Mets could replace the production they were getting from their injured sluggers with a single player. With Judge, you are talking about the reigning MVP, who was putting up similar numbers again this season.
Before crashing into that wall, Judge was hitting, .291/.404/.674, with 19 home runs and a 189 wRC+. Simply put, Judge was again proving that he is still the best hitter in all of baseball and is the absolute engine that drives the Yankees offense.
Meanwhile, the same could be said about Alonso and the Mets.
Alonso is leading the majors with 22 home runs and is leading the NL with 49 RBIs. His batting and on-base averages are a bit down this year, but he is still sporting a 140 wRC+. This is only the second IL stint of Alonso's career, as he had missed just 16 games total across his first four seasons.
Now without Alonso, the Mets have shifted Mark Canha from left field to first base, allowing Tommy Pham to play everyday in the outfield. Pham has been good splitting time with Canha this season, having posted a 122 wRC+ across 45 games and a 154 wRC+ since May.
Canha has been much better since May as well, after struggling in the first month of the season (91 wRC+). Since he has hit .266/.349/.426, with a 121 wRC+.
With Pham and Canha, the Mets have some decent options to fill the holes right now that will give them quality MLB at-bats, but the loss of power is still a major concern. This injury has opened the door for more playing time from rookie Mark Vientos, who has not seen regular at-bats since being recalled last month.
Vientos put up great numbers in Triple-A this season, hitting .333/.416/.688, with 13 home runs and a 166 wRC+ in 38 games and over 150 PAs. Across 15 games with the Mets, Vientos has struggled to the tune of a .122/.200/.238 line, with his lone home run coming in his first game back up.
The Mets are going to miss Alonso desperately, but filling the void at a position like first base is far easier than what the Yankees are going through with Judge out of lineup in the outfield.
Getting quality production on both sides from outfielders in a tougher task and the Yankees are currently missing Harrison Bader and even Greg Allen as well. This has led them to run out an outfield mix of Willie Calhoun, Billy McKinney, Isiah Kiner-Falefa and Jake Bauers.
Of the aforementioned players, Calhoun is the leader in the clubhouse when it comes to his career wRC+ of 86. None of the others even cracks a 85 wRC+ on their careers or have had a single season where they cleared a 100 wRC+ over 150 or more plate appearances.
Verdict on Who Will Be Miss More
If Aaron Judge is the most valuable player in baseball, it stands to reason that he will be the most missed if he is not available to his team.
Pete Alonso may be the Mets MVP when it comes to their offensive production, but losing Francisco Lindor would probably be a bigger blow based on the position he plays and the defense he brings to the table.
Being able to shift veterans like Tommy Pham and Mark Canha into different roles with more playing time is a far better solution to missing Alonso than any cards the Yankees are trying to play right now.
Even if the Mets were to lean on their other veterans who haven't been performing as well in Eduardo Escobar or Daniel Vogelbach, they at least have far better track records than some of those names in the Bronx. Further, the Mets just signed Luke Voit to a minor league deal, giving them even more depth at first base.
We will see how long each of these New York-based sluggers is sidelined, but considering the solutions each team is going to, combined with the overall impact that these players provide, Aaron Judge is a bigger loss than Pete Alonso is right now.