Analysis
The 2025 Free Agent Class Is Stacked With Pitching
The 2024-25 offseason could be a pitching bonanza, with a bevy of frontline starters set to reach free agency at the same time.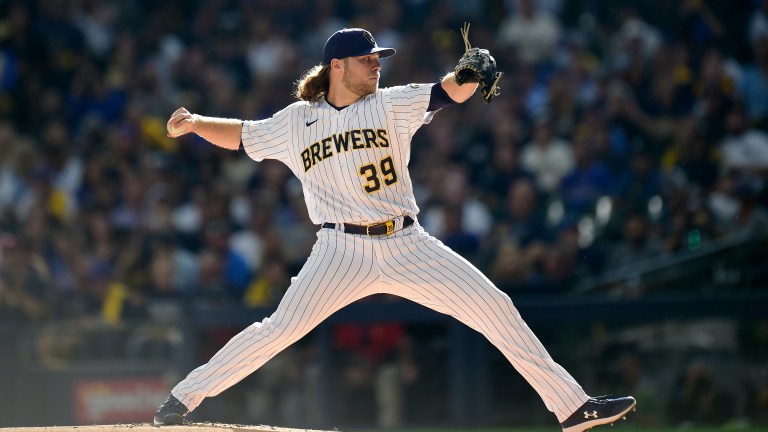 This past offseason has been one of the most exciting in recent memory. The free agent market was loaded with talented pitchers and position players, and several teams surprised us with interesting trades and unexpected extensions.
Next offseason figures to be rather dull in comparison. The Shohei Ohtani sweepstakes will be a major storyline, but overall, there won't be nearly as many star players on the open market. Therefore, I couldn't help but look ahead to next next offseason, and boy oh boy, was I thrilled with what I saw.
The 2024-25 free agent class is stacked with talent. On the position player side, potential free agents include Paul Goldschmidt, Pete Alonso, Alex Bregman, Jose Altuve, and Willy Adames. As for relievers, Giovanny Gallegos, Jorge López, Liam Hendriks, A.J. Minter, and Ryan Pressly could all be up for grabs. But what really stands out about the next, next free agent class is the starting pitching.
Burnes. Bieber. Fried. Glasnnow. Wheeler. I could keep going.
Perhaps I'm getting ahead of myself here. No, actually, I'm definitely getting ahead of myself. We have two full seasons of baseball to play between now and the 2024-25 offseason, and a whole lot can happen in that time. Players will slump, and players will get hurt. Players will sign extensions, and some might retire. But just look at this list of potential free agents and try not to get excited.
The 2024-2025 Free Agent Class of Starting Pitchers
| | | | | |
| --- | --- | --- | --- | --- |
| Pitcher | Age (in 2025) | IP (2020-2022) | ERA (2020-2022) | fWAR (2020-2022) |
| Corbin Burnes | 30 | 428.2 | 2.62 | 14.4 |
| Zack Wheeler | 35 | 437.1 | 2.82 | 13.3 |
| Max Scherzer | 40 | 392.0 | 2.62 | 11.6 |
| Shane Bieber | 30 | 374.0 | 2.70 | 10.7 |
| Brandon Woodruff | 32 | 406.1 | 2.84 | 10.3 |
| Max Fried | 31 | 407.0 | 2.68 | 10.2 |
| Lance Lynn | 38 | 362.2 | 3.28 | 7.5 |
| Walker Buehler | 30 | 309.1 | 2.91 | 7.0 |
| Charlie Morton | 41 | 395.2 | 3.91 | 6.9 |
| Tyler Glasnow | 31 | 152.0 | 3.14 | 3.8 |
| Chris Sale | 37 | 48.1 | 3.17 | 1.0 |
| Mike Soroka | 26 | 13.2 | 3.95 | 0.3 |
This is a handpicked list of starting pitchers set to hit free agency in November 2024, ranked by fWAR over the last three seasons. Each of these starters could have been called an ace at some point in the past few years, and each one could still be a game-changing pitcher two years down the road.
Corbin Burnes and Shane Bieber headline the class; both will cash in big. Max Fried and Brandon Woodruff won't be far behind. Meanwhile, names like Tyler Glasnow, Walker Buehler, and Mike Soroka all have something to prove, but each can be a dominant arm at his best.
Zack Wheeler's age will sound some alarm bells, but as Justin Verlander and Max Scherzer have proven, there's nothing stopping an ace from succeeding well into his late 30s. And speaking of Scherzer, who's to say he won't still be on top of his game at 40 years old?
Other older pitchers on the list include Charlie Morton, Lance Lynn, and Chris Sale. It's hard to guess where each of them will be in two years' time, but I'm not ready to write them off just yet.
The List Keeps Going
In addition to the pitchers I've already named, another handful of aces could hit the open market at the same time. Gerrit Cole, Nathan Eovaldi, Justin Verlander, and Robbie Ray all have options on their contracts for the 2025 season.
And that's not all! After all those pitchers, there's an excellent class of mid-rotation starters set to hit the market too. That includes Pablo López, Andrew Heaney, Merill Kelly, Sean Manaea, Eric Lauer, Domingo Germán, Marcus Stroman, and Alex Cobb, just to name a few. I could go on, but I think the point is clear.
A lot can happen between now and November 2024. Not all of these pitchers will hit free agency, and some might no longer be aces by the time free agency rolls around. Even so, it's impossible not to get worked up about this potential super-class of free agent pitchers. The 2024-25 offseason is looking like a pitching bonanza, and I can't wait to see how it all shakes out.