Analysis
Eduardo Rodriguez Signing Marks Altered Timeline to MLB Free Agency
The uncertainty surrounding the next CBA could lead the free agent market to move a lot faster this year than it did last offseason.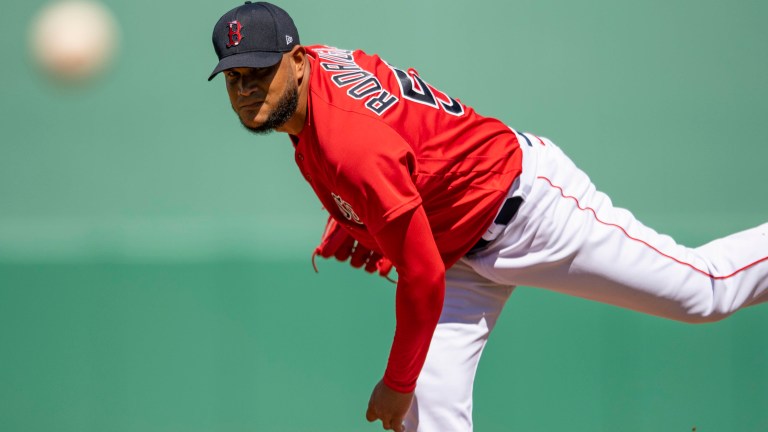 The first domino of free agency fell today, when Eduardo Rodriguez signed a five-year, $77 million deal with the Detroit Tigers.
Rodriguez is a nice signing for the Tigers as they look to move into a window of contention following a lengthy rebuild. The 28-year-old pitched to a 4.74 ERA in 2021, but his 3.43 xFIP predicts much better production moving forward. The left-hander slides into a rotation brimming with talent as former top prospects Tarik Skubal, Casey Mize, and Matt Manning have all made their way to the show.
While this is a nice addition for an up-and-coming team, the most significant aspect to this signing is how early a deal was constituted, as free agency just opened up last Sunday.
The days of seeing deals struck in November feels like a thing of the past, as free agency has gotten more drawn out with each passing year. This is likely one of the major sticking points for players as they enter talks for the new CBA, as the market for veteran players seems to get more restrictive over time as the league has become more fixated with cost-controlled young talent.
There had been some speculation that free agency could move much quicker this offseason due to the uncertainty surrounding the next Collective Bargaining Agreement. The last CBA is set to expire on December 1st and their has been no indication that an agreement is imminent. This could lead players like Rodriguez to take the guaranteed money now while it is on the table before any lockdown begins.
If we take a look back at spending last offseason, two things jump out. For one, the timing of these signings dragged out late into the winter. Secondly, teams were not handing out many long-term deals.
Timeline of the 2021 Offseason
Looking back at the offseason last year, it is clear that the previous free agent class was nowhere near as star-studded as the group that has hit the market this time around.
Last year's class was highlighted by George Springer, J.T. Realmuto and Trevor Bauer, with most of the best signings actually coming from teams acquiring players on short-term deals, like Marcus Semien and Robbie Ray going to the Toronto Blue Jays on one-year pacts.
The first major domino to fall last offseason was James McCann signing a four-year, $40.6 million deal with the New York Mets in the middle of December. The deal was signed on December 12th, nearly a full month later than Rodriguez's deal with the Tigers this offseason.
Rodriguez figures to just be the first of many long-term deals that will be signed with this year's loaded free agent class, whereas last offseason long-term deals were hard to come by.
All told, there were only the following 10 contracts signed last offseason that spanned longer than two years:
12/12/20: James McCann, four-year, $40.6 million
12/31/20: Ha-Seong Kim, four-year, $28 million
1/12/21: Liam Hendriks, three-year, $54 million
1/15/21: DJ LeMahieu, six-year, $90 million
1/20/21: George Springer, six-year, $150 million
1/22/21: Jurickson Profar, three-year, $21 million
1/26/21: J.T. Realmuto, five-year, $115.5 million
1/27/21: Tommy La Stella, three-year, $18.75 million
2/5/21: Trevor Bauer, three-year, $102 million
2/5/21: Marcell Ozuna, four-year, $64 million
Players who demanded long-term deals last offseason were forced to wait until after New Years to receive those contracts following the COVID-shortened 2020 season. Teams may not have had it in the budget to give out long-term pacts, or simply were hesitant to spend on that specific free agent class, which was admittedly devoid of frontline talent.
Still, if this current free agent class did not have the uncertainty of the CBA lurking around the corner, chances are that free agency would have once again been drawn out at a similar pace as the last few offseasons. The Eduardo Rodriguez signing signals a refreshing change of pace, as the market could move very quickly over the next two weeks.
Lessons Learned From Last Offseason
When scanning through the list of long-term signing that were made last offseason, the first two words that come to mind are buyer's remorse.
Outside of George Springer and J.T. Realmuto, who both dealt with injuries, and Liam Hendriks, most of those signings ended up backfiring. As stated previously, the best signings from last offseason were the short-term prove-it deals for players who are now once again in free agency.
Taijuan Walker and Michael Brantley were both All-Stars after signing two-year deals last offseason, while players like Kike Hernandez and Robbie Grossman had strong seasons after signing two-year deals as well. Surprising non-tenders like Kyle Schwarber and Joc Pederson would go on to have big impacts on ball clubs after signing one-year deals as well.
We often look atop the market at the splashiest star free agents as the only players that can impact winning, but clearly from judging last year's free agent class that is not the case.
Now with that being said, the talent this time around is on another level, as there are way more quality free agents this offseason.
Expectations for the 2022 Offseason
Now that Eduardo Rodriguez is off the board, it will be interesting to see how the rest of the market reacts and if more starting pitchers will soon follow and sign deals early. The starting pitcher market is full of a lot of talented arms like Max Scherzer, Robbie Ray, Marcus Stroman, Kevin Gausman and others. Rodriguez has now set a floor that all of those free agents will be looking to exceed in some capacity.
The most interesting thing to see over the next two weeks is how many players are pressing their agents to get deals done now before the CBA expires.
While an early hot stove season will be very exciting for fans, it certainly comes with a cost. The uncertainty of the new CBA is very concerning for the sport moving forward, as the MLBPA and MLB have been at odds for some time now. There is a chance we see a lengthy shutdown of league operations that could end up pushing free agency out longer than we ever expected, even with the early movement now.
Only time well tell how this market shakes out, but one thing is for sure. There will be a lot more money spent this year. It is just a matter of when that money gets spent, not if.