Analysis
Conversations With the Dodgers at Spring Training
Thoughts and findings from conversations with Dustin May, Miguel Rojas, and more at Dodgers spring training.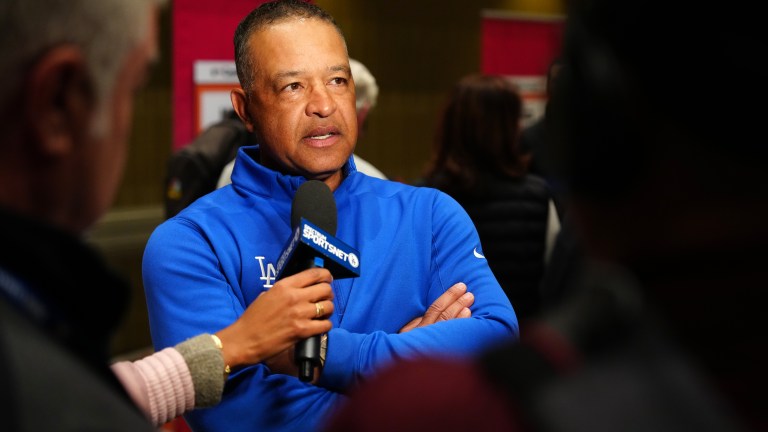 Over the past weekend, I spent time in various clubhouses during my trip to Arizona. On Sunday, I was able to spend the morning talking with Dodgers players and listening to Dave Roberts' press conference.
I wanted to detail some of the findings I gathered from speaking with guys and then continuing to watch practice and games. The Dodgers are being perceived as a less complete team than in past years, but they've got some under-the-radar players ready to make a big impact this season.
James Outman
The Dodgers' outfield situation has been one of the talks of the spring, since beyond superstar Mookie Betts, there aren't any surefire starters on the roster. Trayce Thompson had a big second half last year, and experienced veteran Jason Heyward has looked very strong this spring. However, Thompson has been in trade rumors lately and has been a journeyman most of his career, while Heyward is multiple years removed from being a productive player.
Insert James Outman. He's ranked 10th in Just Baseball's Dodgers system prospects ranking, but he might be the most MLB-ready of everyone in their system. Outman broke out in a big way with 32 home runs across three levels last season and looked excellent in his few games played at the MLB level. Outman has a swing made to hit home runs and features high-level speed that makes his floor pretty safe.
I spoke with Outman about his swing and asked if he's making any adjustments this spring as he faces MLB pitching. He told me, "Honestly, no swing adjustments. [I'm] just trying to be myself, be aggressive, and let my athleticism take over," which is really impressive confidence from a young hitter. He knows that his swing can produce at a high level and clearly is more focused on just working hard and continuing to prepare with the swing he utilizes now.
We continued to discuss who in the clubhouse has been a source of knowledge for him in spring training, and without hesitation, he told me, Jason Heyward. He talked about how Heyward has helped with every aspect of his game and is one of the veterans that "always gives the younger guys the time of day" and wants to help. Heyward has been around the league for a while, and it seems like he's already made a huge impact in the limited time he's spent with the Dodgers. He may actually be in direct competition with Outman but has made an effort to help nonetheless.
One of the other things Outman touched on was that he thinks there's a lot of talent on this roster, and his goal is to be someone that can do whatever job he's asked to do whenever he's asked to do so. He appears minimally focused on his own personal goals and primarily focused on helping the team win, whether it be with his defense, speed, hitting, or anything else.
He was very impressive in the two games I watched as well, as he homered against the Royals and nearly did so again when he tripled off the wall against the White Sox. Outman has been nothing but impressive this spring and has a strong chance of making this roster as a bench bat, at the very least. I have high expectations and think that Outman has the chance to elevate this outfield.
Dustin May
I wrote about Dustin May already this offseason as one of the top bounce-back pitching candidates heading into the season. He's an ultra-talented pitcher, and the biggest hurdle for him remains his health.
May showed in 2020 and 2021 that he can be a truly elite starting pitcher in this league, but he just hasn't had the time to put it all together due to injuries. He features upper-90s velocity and one of the best curveballs in all of baseball.
Obviously, May's biggest goal this season is to stay healthy as he tries to put together a full season. He talked with me about how his location is the biggest focus right now in his throwing sessions thus far, as he trusts most of his stuff. His walk rate spiked this past season in the limited starts he had, but he should be able to get back to a lower rate like he had in previous years.
May has a lot of confidence in the Dodgers rotation, as he claimed that he's "the guy that's shown the least" and that he needs to eat innings and stay on the field to earn his spot. I asked about the young Dodgers' arms as well, and he told me that he's got a lot of confidence in their pitching and thinks they've got a deep group of guys.
The big question continues to be his health, but May has flashed elite spin rates and velocity that could lead to him becoming one of the aces of this rotation if he can stay on the field.
Miguel Rojas
One of the offseason acquisitions for the Dodgers was a familiar face that had been there before. They added Miguel Rojas this year after they lost Trea Turner in free agency. Rojas was expected to be more of a utility infielder but is now set to start at shortstop following the Gavin Lux injury.
Rojas seems happy to be back and indicated he's been welcomed into the culture quickly. He said he's enjoyed getting to meet many of the new players around him and that he wants to be "a piece of the puzzle in this winning culture" that the Dodgers have created over the years.
I talked to Rojas about working with Miguel Vargas, who is likely to start alongside Rojas in the middle infield, as Vargas learns to play second base, a new position for the youngster. Rojas said that he wants to be an outlet for Vargas if he needs any support or help and that he believes Vargas is ready for this new challenge.
While known for his defense, Rojas is working on his offense as he hopes to be a complementary piece in a lineup filled with stars. He said he "doesn't need to do too much and just wants to be himself and continue to be himself" for this team. Rojas is a true professional, and while he understands that defense is his most valuable asset, he wants to do whatever he can to help in every way.
He's likely to hit ninth for this team, and while he may not put up huge numbers with the bat, his defense and veteran experience will be valuable to a team with many new players on the roster.
Dave Roberts
During the press conference, the majority of Dave Roberts' questions were regarding Clayton Kershaw, who pitched the B game that day, and Julio Urías, who threw in the official game. He talked about the plans for both of them this spring and moving forward as the aces of the team.
The plan for Urías was accelerated somewhat as he heads to the World Baseball Classic to play with Team Mexico. Roberts said that Julio is in a great spot right now and he's focused on following a great season with another one. Urías threw an excellent four innings later that day and will lead a strong Mexico rotation in the WBC.
Regarding Kershaw, the manager said, "This is as good as I've seen him at this point in the spring as far as the ball coming out, where his velocity is at, and the sharpness of all his pitches." Kershaw is slowly ramping up for the season. As the veteran ace recently dropped out of the World Baseball Classic, Roberts said the plan for him is to make his next appearance in a real Cactus League game and go from there. He was asked about Kershaw's changeup and said it seems to be an option every spring and then just goes away as the season arrives. Kershaw has never relied on the pitch and, frankly, has never needed to do so because he's so good at everything else.
Roberts mentioned that Kershaw might have a problem with the pitch clock if he wasn't such a quick worker because of his edge as a pitcher. He noted that he might have more of an issue from the stretch because of his more deliberate motion, but he shouldn't have too much trouble with it regardless.
The manager was also asked about the Opening Day starter, with both of the likely options throwing that day. Roberts only gave the information that it's "probably going to be a lefty," as he'll likely wait until right before the season like he tends to do. Overall, he seems very confident in both Kershaw and Urías as the leaders of his rotation heading into the year.