Analysis
Spring Training Notes: Dodgers vs. Royals
Zack Greinke keeps trucking, Bobby Witt Jr. shines, and Mookie Betts works the infield in the latest edition of our Spring Training Notes.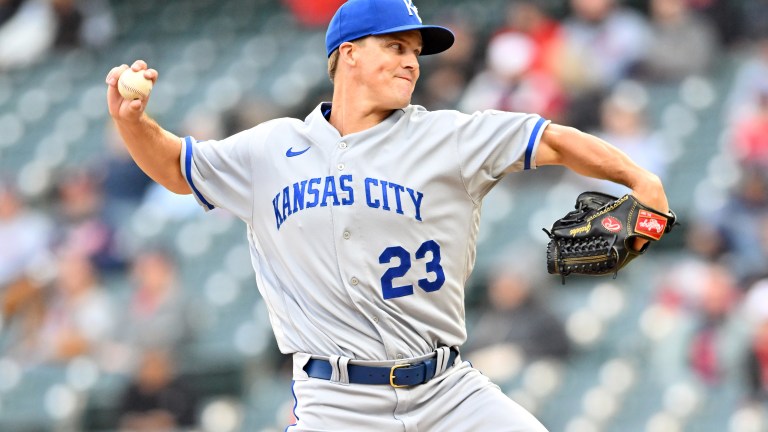 The second game of Saturday in Arizona for me took place at Surprise Stadium. This game was very exciting and featured big hits from some of the most highly-regarded prospects in each of these systems.
I also have notes from watching the end of some Dodgers' backfield work at Camelback Ranch. I've got a lot of players to talk about, so I'm not gonna waste any time.
Dodgers
The first thing I saw from the Dodgers on Saturday was back at Camelback, where I walked up to a practice field and saw none other than Mookie Betts getting work in at second base. He had a few coaches with him working on double-play turns, putting tags down, and other defensive drills. With Gavin Lux out for the season due to injury, Dave Roberts seems interested in having Betts play more second, where he has played sparingly in the past. It's an interesting idea given the lack of solidified outfielders, but we'll talk about some options out there later.
Ryan Pepiot got the start for the Dodgers. He appeared at various times last season in his first taste of MLB play and was solid when given the chance. He's one of many young Dodgers arms that they'll have the ability to call upon when needed as relief options or depth starting pitchers. He gave up a run in the first after Bobby Witt Jr. smoked a leadoff double, but he settled in well and struck out four batters during his two innings of work. Pepiot causes a lot of swings and misses with both his slider and changeup. The slider wasn't the most effective last season, but it figures to play an important role in his continued success.
James Outman stood out to me among the hitters in the Dodgers' lineup as he roped a single in his first at-bat and followed it with a huge home. Outman is competing for a roster spot and a possible regular role in the outfield this season. He's been very impressive at camp and continues to show a mature swing with a lot of potential for power. I think he's done enough at this rate to merit a spot on the Opening Day roster as, at the very least, a fourth outfielder. We'll have to see how things shake out for him, but his bat is legit.
The Jason Heyward comeback is in go mode right now. He's been nothing but impressive in camp with an adjusted swing that he hopes will help him rejuvenate his career. He's on a minor league deal but appears to be on track to make this roster and possibly even start. He started the game off with a well-struck single and later crushed a home run out to right center field. Heyward hasn't had a very good past few years but seems like a leader for this team and one that is hitting better than he has recently. I joke about him being an All-Star, but it seems like Heyward is in a better place than he has been in a while.
Trayce Thompson is another one of the outfielders who is working to earn a starting role. He's got the best chance of the three I've mentioned to start day one, as he finished the season hot with the Dodgers last year. He cranked an RBI double and showed good discipline on two walks as well. I think he's done enough to retain a starting spot.
Relief pitcher Caleb Ferguson has some of the best stuff in the Dodgers bullpen but hasn't been able to put it together for a fully healthy season. He showed off some of his elite stuff on Saturday as he continues to shove with his fastball and curveball combination. His location was iffy at times, but his pitches move a lot. He has the ability to be one of the top relievers in the bullpen if he can stay healthy and continue to work on his command.
Royals
Royals fans already know this, but Bobby Witt Jr. is going to be a superstar. He is so incredibly fun to watch, and his variety of tools will make him incredible. He doubled to left early and followed up with a line drive single through the hole and into right field. His swing looks very good right now and his approach seems even better than last year. He also flashed the leather at shortstop, where he'll need to improve this coming season. He has the tools to be a great fielder but needs to clean it up a bit and stay more consistent. I have no doubt the defense will get better and he'll be elite in every way soon enough.
The Royals' top prospect Gavin Cross made his first appearance in spring training in this game. He immediately made an impact as he tripled down the right field line in his first at-bat and raced all the way to third. Cross is an excellent athlete and his combination of developing power with speed is going to make him a great player. I think Cross will join Witt and Vinnie Pasquantino as leaders of this lineup soon enough, as he has loads of skill and the potential to get much better.
The Royals' pitching staff continues to be a problem for their present and future. Zack Greinke started and was solid like he'll continue to be until he's 50 years old. However, the arms behind him and Brady Singer are just not trustworthy and haven't shown promise enough to inspire confidence in the future pitching staff for the Royals. Jackson Kowar struggled, and not many other viable options threw. This rotation is going to continue to be an issue, but we'll see if any arms step up in the near future.
Michael Massey debuted with the Royals last season and showed some signs of being a quality young hitter. He crushed a home run in this game as the offense was impressive overall. He's been excellent in the minors and has shown very steady bat-to-ball skills that bode well for his future. He deserves a daily job at this point with the Royals and will have a chance to continue developing further during the season.
Outfielder Parker Bates was another impressive player as he got a triple in his first at-bat and homered in the 9th inning as well. He swung well and had two really strong at-bats in addition to scoring two runs. The pitching might be shaky, but the Royals' system is loaded with hitters that can be productive.