Analysis
Spring Training Notes: Dodgers vs. White Sox
Julio Urías and Lucas Giolito faced off in the Cactus League, while Clayton Kershaw took the mound in an early-morning scrimmage.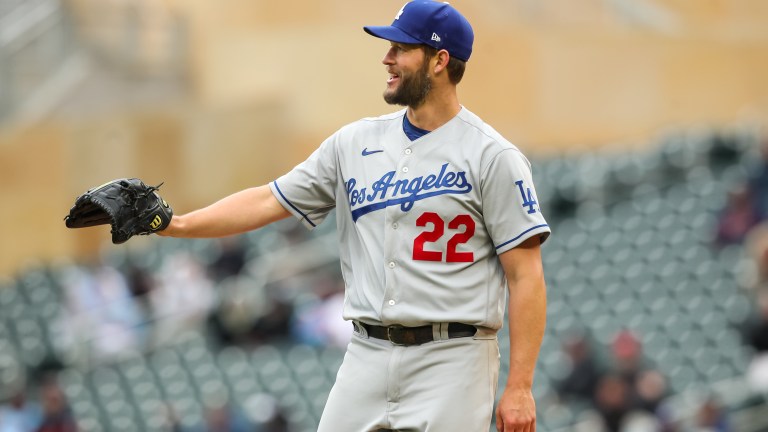 The day started off with a "B game" on the back field at Camelback Ranch. This game featured primarily young hitters but one especially notable pitcher and some other veteran arms as well.
While I have spent the past few days primarily doing things in the White Sox clubhouse, I spent this morning with the Dodgers and was able to talk to numerous players and even hear updates from Dave Roberts on his team. Roberts was his normal self, as he refused to answer some questions asked by beat writers and told them "I'm pretty sure it'll be a left-hander" when asked about the Opening Day starter.
I'll have a piece later this week featuring plenty of information I learned from Dodgers players, but for now, I'll address my key takeaways, primarily from what I saw on the field during the B game and the official game.
White Sox
The B game in the morning was started by Mike Clevinger and featured a lineup made up entirely of likely minor-league players. Clevinger had a shaky start in his first game-like appearance of the spring. He couldn't seem to locate the fastball and was missing high often. He walked two batters prior to allowing a huge home run in his first inning of work. He settled in and was able to work more effectively after that. He was reportedly happy with how he felt after the game, and he'll look to have better results in his next appearance.
Top prospect Colson Montgomery led off the game for the White Sox in the B game and played short. He struggled in his first AB against Clayton Kershaw as he struck out swiftly, but it was certainly a valuable experience for him to face a pitcher of Kershaw's status. He also struggled a tad with the glove early as he couldn't handle a line shot in his direction. He settled in and made a few nice plays afterward. Montgomery has shown a lot this spring and will be an important future piece for Chicago as he continues to develop.
White Sox 6th-ranked prospect Jose Rodriguez had a nice showing in the morning scrimmage. He ripped a double off of Kershaw early on in the game. He was patient at the plate and showed strong contact skills. He was steady while playing second base as well. He's likely behind a few other infield prospects in the system but could make an impact in 2024 for the White Sox.
Lucas Giolito made the start for the White Sox in the official Cactus League game. Giolito is coming off a severe down year following three seasons as the leader of the White Sox staff. He experienced a noticeable decline in velocity and general command last year, leading to a disappointing season in every way. The day did not start off well for Gio, as he allowed a massive home run to Mookie Betts on the second pitch he threw – a 92-MPH fastball that he left right over the plate. He settled in well and got out of the inning. His signature changeup was very effective, which is a great sign moving forward, but the fastball stayed right over the plate in the wrong spots too often. There were some good signs for Giolito, but he'll need to command the fastball better in order to have a big bounce-back season.
The surprise star of the spring for the White Sox has been Hanser Alberto. He's a non-roster invite to camp but has been impressive all spring and has a real shot to make the roster now. The White Sox have a tough situation with the bench, as Alberto, Leury Garcia, and Romy Gonzalez are all utility players for them but it's unlikely they will carry more than two on the roster. Gonzalez likely has the most upside as he's by far the youngest, but Garcia's contract and Alberto's experience may lead to Gonzalez starting in Triple-A. Alberto nearly hit a home run against the Dodgers, and while he just missed it, his swing looks better now than it has in years.
Only one hitter played the whole game for the White Sox, as Lenyn Sosa started and finished the game at second base. While the stat sheet doesn't show it, he looked really good. Sosa battled very well in his at-bat against ace Julio Urías and ultimately ended up with a hard-hit groundball, but his ability to fight off pitches and battle was clearly on display. He drove a single the opposite way into right field in his next at-bat against Andre Jackson. Sosa is almost certainly going to start the season in Triple-A with Elvis Andrus now starting at second and a variety of utility players fighting for roster spots. However, he's coming off an incredible season in the minors last year and could be a useful piece in the near future.
Another young player worth acknowledging is third base prospect Bryan Ramos. He finished off the game on Saturday with a walk-off and looked good again today. Ramos is far from playing in MLB but drove a rocket of an RBI single into left on Sunday and is probably one of the highest-ceiling hitters in the White Sox system. He cranked 22 home runs last season and got his first brief taste of Double-A, which is where he'll likely start this season.
Eloy Jiménez had a nice day, as he got lucky with an infield single that Max Muncy couldn't make a play on and he followed it up with a line drive single to left field in his second and final at-bat. Jiménez will leave to play for Team Dominican Republic at the World Baseball Classic later this coming week, but he's looking to have a huge season and fully break out for the White Sox. He's an elite hitter when on the field and ultimately just needs to stay healthy and active.
Dodgers
Dodgers manager Dave Roberts chose to pitch Clayton Kershaw in the morning B game. Roberts said beforehand that this is the best Kershaw has looked at this point in the spring in many years. Kershaw showed this off on Sunday with a handful of early strikeouts and was very solid throughout his three innings of work. Kershaw was hanging out with his kids and wife between innings, and he appears to be in good spirits this spring after being unsure of his future prior to resigning with the Dodgers this winter.
Dodgers prospect Jorbit Vivas had an impressive showing in the morning B game. Vivas is a 21-year-old infielder who had an incredible first season in the minors in 2021 but came back down to earth last season. He has a very advanced plate approach and walked more than he struck out last season and has plenty of patience. Vivas lined one up the middle in his first at-bat, and then knocked one in the hole on the right side after that. He stole a base as well following his second hit. He looked very confident in his plate appearance, and while he's only reached High-A to this point, he's a name to watch in the Dodgers system.
Eddys Leonard is another young prospect worth noting for the Dodgers. He swung it well in their game the other day against the Royals and smoked a line drive for a hit in this game. Leonard has serious power upside for a guy of his size, as he's hit 15 home runs or more in his last two seasons. He'll likely reach Double-A this season as he works his way through the system.
On Saturday, I got to see Mookie Betts taking reps at second base on a backfield. And today, he not only started at second base but shined there. Mookie started the bottom of the 1st off with a massive home run off of Lucas Giolito on the second pitch he saw. He later drew a walk and scored a second run. If that wasn't enough, he made a diving play you'd never expect to see from an outfielder. He is simply one of the best players in the game and will be so regardless of what position he's playing.
The starter for Los Angeles was Julio Urías, making his last start before he joins Team Mexico to be the ace of their staff in the WBC. Urías was his usual excellent self as worked efficiently and had very little trouble limiting the White Sox lineup. He induced plenty of soft contact, and while the strikeout stuff wasn't quite working, he was barely hit hard in four innings of work. Dave Roberts talked in the morning about how Urías has been building up quicker than others because of the WBC, explaining why he was ready to throw four innings today and then head off to the tournament. He's one of the best arms in baseball and will be a crucial part of Mexico's success.
The player I'm the most excited to watch after two days of carefully watching the Dodgers is easily James Outman. I talked with him on Sunday morning in the clubhouse and will have more on that later this week, but Outman is very confident and ready to help the Dodgers in whatever way he can this upcoming year. He's got an advanced approach and a lot of natural power, as he went deep Saturday night and almost did again in this game. It actually looked like he did as it hit off the fence but ended up as a triple. I can't see him not making the roster as a left-handed bat that has flashed a lot of raw power and a consistent swing. Look out for more Outman content coming this week.
The stars were out today for the Dodgers, and Freddie Freeman joined the party in his third and final at-bat of the game. He handled the ball well his first two times at the plate but really got into one for a long home run in his last at-bat. The leaders of the team came to play today and led the way to a Dodgers win. Freeman is another guy heading off to the WBC in the next week, as he'll lead an improved Team Canada this year.
The Dodgers' infield situation is a little murky since Gavin Lux went down with a season-ending ACL tear. Regardless of these changes, Max Muncy is expected to serve as the primary third baseman. Muncy had a few tough plays at third in this game, allowing two infield singles and botching one play he should've been able to handle. Muncy has experience all over, but he's definitely not a positive defender at third. Fortunately, shortstop Miguel Rojas is elite defensively and can take some pressure off. Muncy also started the game with two strikeouts at the plate but drove a double into the gap in left-center in his last at-bat. He's looking to bounce back from a rough 2022, and his offensive getting back on track could be huge for this team.