Analysis
2023 Underrated Players: Bounce Back Pitchers
These ten pitchers are strong candidates to improve upon their mediocre performances from last season with great years in 2023.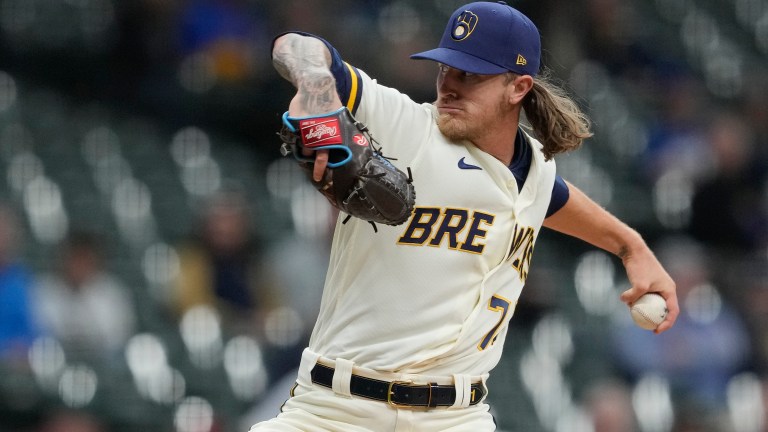 We've made it to the fourth and final part of this series! I've thoroughly enjoyed diving into a variety of players I expect to have a quality season next year for varying reasons, and I hope that it's provided some intrigue to those getting excited about baseball coming back soon. This MLB season is going to be a great one, and all the players I've highlighted in this series are names I'm looking forward to watching this year.
I already dove into hitters who will look to put last year in the rearview mirror, but now it's time for the pitchers. Pitching in the major leagues year after year is incredibly difficult, and almost nobody (yes, Justin Verlander is an exception) is able to throw at a quality level every season of their career. Some of the best pitchers we have ever witnessed had down years but were able to bounce back and reach an elite level once again. And while many arms broke out in a big way last year, there were a number of established pitchers that struggled and experienced a career-worst season.
The nature of pitching leads many to fall off due to arm issues, loss of velocity, and the ability of hitters to "figure out" pitchers. I don't believe these ten arms fall into that category after the rough seasons they had last year, but I certainly won't make any promises about a few of them.
Before we get into it, I do want to mention both Frankie Montas and Mike Soroka, who didn't make the list due to injury-related reasons. Soroka is somehow still 25 years old, and I really believe he can be a good arm again, but he isn't featured here because he hasn't thrown in over two years. Meanwhile, Montas was definitely going to crack the list, but rumors of a possible shoulder surgery and setbacks led to me spending time looking into other options.
Let's dive into the candidates that I believe will improve significantly upon their output from last year.
Bounce Back Pitchers
Trevor Rogers: Miami Marlins SP
We're starting this piece off with a guy that still has an incredibly bright and long future ahead of him even though he's on a bounce back list. Rogers debuted in 2020 and made seven starts for the Marlins in his first taste of the big leagues. His atrocious ERA was skewed heavily by a game in which he gave up eight earned runs to the Phillies, but his underlying metrics looked very good. He allowed minimal hard contact and posted a very strong 30% strikeout rate that season. He entered the 2021 season as a clear member of the Marlins rotation.
He went on to put together one of the best rookie seasons from a Marlin in quite some time en route to finishing second in Rookie of the Year voting behind Jonathan India. Rogers finished that season with a 2.64 ERA and ranked in the 80th percentile or better in expected slugging, barrel rate, strikeout rate, and whiff rate. His fastball and changeup combo was one of the best in the league, and he produced a -22 run value between those two pitches. He appeared to be on pace to become a true anchor of the Marlins rotation for years to come.
Everything shifted for Rogers last season, though, and not in a good way. Rogers went from one of the best young arms in the game to one of the worst in the league in just one season. He finished 2022 with a 5.47 ERA over 23 starts for the Marlins. The biggest difference was his fastball. The swing in run value for his fastball from 2021 was +27 runs. That should never happen to a pitcher's best offering. The changeup didn't fare too well either, as hitters seemed to figure it out in his second full year. His strikeout rate dropped nearly 9% on the fastball and almost 13% on the changeup as he was no longer generating any swings and misses.
He dealt with some injuries later in the season and was eventually shut down in September for the year. His advanced metrics from last season aren't pretty, so I can't really point to those as a reason for him to improve. However, he's only a year removed from being an All-Star at just 24 years old, and I think he has it in him to work back to that point. As a left-hander that doesn't throw hard and relies heavily on a fastball-changeup combo, I'm not sure I see Rogers returning to being a 2.64 ERA guy, but I also can't imagine hitters batting .312 off of his high-movement fastball again.
I expect Rogers to improve drastically from last season, but I see him being more of a quality arm with an ERA in the mid-to-late three range in the future. He should continue to limit hard contact and further settle back into being a consistent starter.
Josh Hader: San Diego Padres RP
First of all, let's get this out of the way: no, Josh Hader doesn't suck. He entered last season as the clear-cut best closer in the league in the eyes of most baseball fans, and I think it's safe to say that's no longer the case. Before this past season, Hader finished every full-length season of his career with an ERA of 2.62 or better, yet he finished 2022 with an awful 5.22 ERA in a year split between the Brewers and Padres.
Hader actually started last season without allowing a single run through April and May. He continued to dominate in every way with his elite strikeout numbers and whiff rate that made him the top-tier closer that he's always been. He came back down to earth in June but remained an elite closer nonetheless. Hader dealt with a few blowouts in July, and ERA becomes very easily skewed for relief pitchers, especially when they give up six runs in less than an inning. The Brewers surprisingly shipped him to San Diego for a package of four players as the Padres looked to shore up their late innings before they made a playoff push. Things only got worse for Hader…
He came over with a lot of excitement and looked strong in his first two games with the Padres. However, he failed to maintain this as he allowed three runs or more on three separate occasions for the Padres and looked like a shell of his former self at times as he even fell out of the regular closer role. Due to the limited innings, Hader finished August with a 19.06 ERA, easily the worst over any month of his career. He actually settled in very well in September, looking more like himself when placed in fewer high-leverage scenarios. He finished off his season with an excellent postseason where he allowed zero runs and earned four saves during the Padres' surprise playoff run.
I'm just simply not going to put too much emphasis on some blowup games in July and August. I understand why many fans and haters alike took notice of Hader's struggles, and they shouldn't go unmentioned, but I expect a rebound. Hader had, quite literally, the best metrics of any pitcher in the league in 2021 and was definitely right there in years prior as well. Furthermore, even in the worst year of his career, Hader ranked in the 98th percentile of strikeout rate and 97th in whiff rate. His signature sinker, which previously had a -10 run value or better every full season of his career, got hit hard last year and some big home runs skewed his stats severely. He actually had a solid 3.51 xERA last season even with the many huge blowups he experienced.
He's still one of the best arms we have in our game, and I expect yet another top-five closer season now that Hader has settled in with San Diego.
Lucas Giolito: Chicago White Sox SP
We now move on to a guy that earned the trust and love of White Sox fans over the past few seasons and now has a murky future in Chicago and with the fans. Giolito's professional career got off to a rough start in 2018, his first full season in the majors. He was one of the headline pieces in the Adam Eaton trade that landed the White Sox three highly regarded young pitchers. After showing some very enticing signs in limited starts in 2017, Giolito was probably the worst pitcher in all of baseball in his rookie season. He finished 2018 with a 6.13 ERA, and while his 5.26 xERA was better, it was still rough.
Prior to the 2019 season, Gioltio changed a lot as a pitcher. He developed a shorter arm motion that helped him improve upon his 11.6% walk rate from his rookie season. He also adjusted his fastball and signature changeup as well. His fastball velocity was almost 2MPH higher than it was the previous year, and his ability to locate both pitches was drastically better with his newfound mechanics. Giolito's fastball went from a +22 run value to a -16 run value in 2019. A swing of -38 runs is one of the biggest I've ever seen from one year to another. Even with that improvement, Giolito was nothing without his oft-used changeup that generated whiffs at over a 40% rate in 2019 and then again in the 2020 season.
Giolito's 2019 was probably his most impressive as he transformed as a pitcher and harnessed the elite location ability that he couldn't find in the past. His strikeout rate also augmented dramatically as it went from just 16.1% all the way up to 32.2% with his elite changeup and fastball combo in cohesion with his improving slider.
In 2021, Giolito's fastball took a step back and hitters started hunting it more as they realized it was their best option to hit, given how dominant his changeup had been. While his season didn't appear as strong due to the much less effective fastball, the off-speed pitches were able to support him enough for him to finish with his third straight season with an ERA under 3.60 ERA.
Giolito doesn't have the profile of a shutdown pitcher who can simply control games. His stuff isn't top notch and his velocity is not enough to blow by hitters, but he has pitchability that allowed him to succeed and find his style in this league. Everything came crashing down for him in 2022, though, when his issues that had previously been noticeable but minor became massive issues. Giolito's velocity on his fastball was down to where it was in his rookie season, and his location all around was poor. His changeup did not work as it had in the past, and without as much power on his fastball, hitters began to wait on the mislocated changeups. His strikeout rate fell all the way to 25.4%, and he allowed the highest hard-hit rate of his career at 39.0%, which was 5% higher than the previous year.
There appeared to be some form of an arm issue with Giolito at times during the season, and his confidence was certainly lower than ever. He looked visibly upset during numerous games I watched him throw and much more like the 2018 version of himself than the All-Star pitcher he had become. Due to his style of pitching and his lack of high-movement offerings, I'm not sure if I see Giolito returning to elite form. However, I think he's a lot better than he pitched last season. With a contract year coming up, I think Gio will be working as hard as ever to fix his mechanics in order to maximize the offerings he possesses. I see him as much more of a late-three's ERA type of pitcher than one with an ERA close to five. I expect to see him return to a quality starting option at the very least next year.
Lance McCullers: Houston Astros SP
Here's our first arm that actually didn't have a bad 2022 season by the numbers. Unfortunately for McCullers, he just wasn't available most of the season. He's been one of the mainstays of the Astros' rotation during their dominant six-year run. The only real issue with McCullers is his availability, as he's dealt with a variety of elbow, back, shoulder, and forearm issues over the past five years. He missed all of 2019 and then missed most of this past season as well.
The reason I chose to highlight McCullers here is because of the value he can provide with a fully healthy season. If he can remain consistent and healthy, the loss of Justin Verlander will be felt even less for Houston. McCullers' biggest on-field issue has always been walking batters, and that didn't change in his limited starts this year. However, he actually improved in several other areas in a limited sample in which he posted a 2.27 ERA as well as the second-lowest barrel rate and hard-hit rate of his career. I'm not putting too much stock into his metrics over eight games, but he looked good and could take his game to the next level with some good health luck.
His movement was even better than it had been in the past, as both his curveball and changeup featured more inches of movement than they had before. Lance added a slider to pair with his elite curveball in 2021, and they both looked very strong this past season as he used one of the two on over 50% of his pitches thrown. Given his command issues, McCullers is unlikely to produce the numbers he did in eight games over a full season, but his stuff makes it a possibility. There's a world where he can rein in the control and become one of the top 20 arms in the game.
I really hope we can see a full season of McCullers because he's got elite stuff and the ability to elevate the elite Astros even further. His variety of pitches that all work differently causes headaches for hitters, and I would not be surprised to see him near the top of the Houston rotation once again.
Ian Anderson: Atlanta Braves SP
Doesn't it feel like just yesterday when Anderson took the league by storm as a rookie with six games under his belt and pitched to 0.96 ERA in four playoff baseball games? Unfortunately for Anderson, it was three seasons ago now. He came up and was impressive early and often for the Braves in the shortened 2020 season. Every single thing we saw from him that year pointed to a future ace and leader of the Braves rotation.
Anderson continued this success at a more realistic level in 2021 as he threw 24 games and continued to be a pivotal member of the Atlanta rotation. Some of his underlying metrics pointed to a guy that was likely to regress further. He was very reliant on a fastball that fared well in 2021 but wasn't the best pitch. Anderson was a huge part of the Braves World Series championship that season as his postseason prowess continued for a second straight season. He was lights out in the World Series against Houston and earned the win in Game 3 as the Braves moved closer to a ring.
After another incredible postseason, I don't think anyone saw him ending up in Triple-A just nine months later. Anderson was never able to figure things out this past season as his strikeout rate dropped significantly for the second year in a row and his walk rate escalated all the way to 11% as he led the major leagues in walk prior to being optioned. After a subpar but not terrible start to the season, Anderson hit his lowest point in June when he posted a 6.91 ERA on the month. He began to string some decent starts together in July but was eventually optioned in August after another rough game and a minor injury.
His fastball didn't have nearly the life it previously did and was getting hit hard at a rate of a 47.1%, which was 6.5% higher than in 2021. While his changeup remained reliable, opposing batters hit .306 against his fastball, and he no longer looked like the young stud he established himself as prior. Anderson probably isn't the type of elite pitcher he appeared to be in his limited 2020 appearances, but he's much more like the 4.37 xERA than the 5.00 he finished with before being sent down.
The Braves are deep enough that they can allow him to find himself once again in the situation that's best for him, but their pitching can be taken to another level if Anderson can find some version of himself from his first two years. The former 3rd overall pick is just 24 years old, and I think he's going to find a way to be a much more effective arm than he was last year.
Steven Matz: St. Louis Cardinals SP
While many of the pitchers I've mentioned are coming off their first poor season, here's an arm who has been through a lot. Matz was drafted by the Mets in the second round and eventually made his way to the major leagues in 2015. He showed signs of being an elite starting pitcher in his brief work that year and his full rookie season in 2016. At the time, the Mets had a core of starting pitchers that were on pace to become historically good. Matz's location was excellent and he limited contact very well at the time. However, he experienced a massive sophomore slump in 2017 due to arm issues and poor performance when he was on the field. He finished that season with a 6.08 ERA.
Matz bounced back in 2019 and finally put together a fully healthy year in which he started 30 games and finished the year with a 3.97 ERA as well. He was able to continue the good health the following season but regressed once again due to less command and allowing a much higher barrel rate. He allowed far too many home runs and looked a lot more like a number four starter than the high-impact player he did in his first couple of seasons. This trajectory hit its peak in 2020 when he was one of the worst pitchers in all of baseball during the shortened season. I'm not even going to get into those numbers, but they were awful.
Matz was sent to the Blue Jays that offseason and was able to bounce back for the second time in his career. In 2021 with Toronto, he put together a very similar season to his two years from 2018-2019. He wasn't a great pitcher, but he filled a role and got the job done. He finished that season with the lowest walk rate he had produced in the previous five seasons and limited hard contact like he used to do. If you couldn't tell already, this guy has been up and down his whole career but always finds a way to get back to being a useful rotation arm.
He signed with the Cardinals prior to 2022 and entered the season as a clear member of their rotation after a solid season in Toronto. He struggled early and often and the injury issues returned once again. While Matz's numbers look awful from the outside, he was actually possibly the best version of himself that he's been in a long time prior to the injury issues. He registered easily the best strikeout and walk rates of his career at 26.1% and 4.8%, respectively. His ERA was blown out of proportion due to two games in which he allowed eight and then seven runs, but his xERA was the lowest he's produced since his rookie season at 3.64, much better than his real ERA which was over five. Furthermore, his hard-hit rate was also the lowest it has been since the 2016 season.
The Cardinals are entering the season with a clear weakness: starting pitching. They're relying on a group of older arms or guys that have struggled recently. Matz could be a big factor for this team if he's able to rebound as he's done numerous times in the past. He needs to stay healthy and continue to command his pitches as well as he did last year. While he's likely to never reach the heights of his rookie season again, I think Matz is more than capable of returning to being a quality number four starter if he can stay healthy.
Jonathan Loáisiga: New York Yankees RP
I wish there was a better way to assess relief pitchers' volatility because it's very hard to gauge the ups and downs of a pitcher that throws only 60-70 innings in a season. However, I think this one is fairly obvious in the case of Loáisiga. His path to the Yankees has not been easy as he was released by the Giants early in his career and spent time working his way through the Yankees system. He appeared sporadically in 2018 and 2019 in a swingman role in which he started a few games each year and appeared out of the bullpen in other games.
He wasn't great in either of those seasons as he was walking batters at an alarmingly high rate and couldn't seem to find the spots for his electric stuff. Following the season, he revamped and incorporated his sinker much more than he ever had in the past. He began to show signs of development but he only threw 23 innings in the shortened season. The stuff simply started to click for Jonathan in 2021 as he was given a true reliever role that suited his arsenal best. His sinker went from barely thrown to one of the best pitches in the league that he threw over 50% of the time. And it was faster than his 4-seam fastball.
In 2021, his walk rate dropped even further to 5.7% and the newfound sinker helped him produce outstanding results. He was in the 99th percentile of average exit velocity against, hard-hit rate, xSLG, and xERA, which showed his heavily improved ability to miss bats consistently. He was simply one of the most lockdown relievers in baseball.
The following season wasn't as kind to Loáisiga as his breakout year in 2021 was, but I'm not too worried about it. His walk rate rose a lot once again and his lack of regular command led to a decrease in his strikeout rate and a lot more runs scoring against him. However, the stuff is still so good. In a year where he finished with a 4.13 ERA, he still ranked in the 100th percentile (yes, 100th!) in average exit velocity, 99th in barrel rate, and 98th in chase rate.
He's one of the best relievers in the game at limiting hard contact with the sinker and producing swings and misses. I'm not buying that he can't adjust and control his pitches just well enough for that type of stuff to play well. The Yankees bullpen has ample relief options, but none are better than Loáisiga when he's at his best, and I expect him to be more like his 2021 peak self next year.
Dustin May: Los Angeles Dodgers SP
The Dodgers are the epitome of an organization that always seems to maximize the talent at their disposal (except maybe in the playoffs), but they're entering this year with more concerns than the previous five or more seasons. Their rotation seems to be one area of concern due to departures in free agency and the unsure timetable of Walker Buehler. However, I believe Dustin May is going to be one of the main solutions to this issue.
May came up with the Dodgers in 2019 with high expectations and showed flashes as a swingman and flashed signs of being a very talented pitcher. He entered the 2020 season looking like he was on his way to becoming a mainstay in the Dodgers' rotation and he did not disappoint. He features three different forms of a fastball with his 4-seam, sinker, and cutter that regularly keep hitters off balance. He relied very heavily on the sinker earlier in his career but has begun to develop other offerings. May finished 2020 with a 2.57 ERA over 12 appearances with 10 of them being starts. While his peripherals weren't great and he wasn't generating nearly enough swings and misses, his movement on the fastballs and his curveball was excellent and with velocity touching 100, the potential was obvious.
He entered the 2021 season as a very common breakout candidate due to his elite velocity, movement, and generally strong command. He started the season looking better than ever and posted a 38% strikeout rate through his first five starts while lowering his walk rate to 5.4% as well. May was on track to become the next homegrown stud for Los Angeles, but he, unfortunately, hurt his arm and eventually underwent Tommy John surgery, ending his 2021 season and likely costing him some of 2022.
May continued showing signs of being a quality pitcher in 2022, but he just didn't have enough time to fully re-establish himself. He returned from surgery this past August and made six starts down the stretch. He looked electric in his first start back but ran into some problems as he worked his way back. He had two really rough games against the Padres and Diamondbacks, respectively. While he wasn't great, he still flashed the overpowering velocity and high movement that he displayed in the past.
While things haven't quite come together for May, the ceiling is still so high for a starting pitcher that features a 4-seam and sinker in the upper-90s and one of the more disgusting curveballs in the league. May deserves a full healthy season to show his abilities, and the Dodgers are going to need him in the middle of their rotation to help alleviate some of the issues on their pitching staff.
José Berríos: Toronto Blue Jays SP
Now, here's the guy you probably were expecting throughout the whole article. Berríos has been one of the most durable and consistently solid pitchers throughout his career. While he has never quite lived up to the early expectations on him, he was between a 3.50 and 4.00 ERA every season of his career with the Twins aside from his rookie season. He started exactly 32 games in each of his past four full seasons and always provided value.
Berríos was at or just short of 200 strikeouts in 2018 and 2019 en route to back-to-back All-Star appearances for the Twins. With the team faltering and Berríos pitching very well, the Twins moved him to the Blue Jays for a pair of top-100 prospects at the 2021 trade deadline. The expectations were set high for Berríos to elevate the Blue Jays rotation in a big way. He finished the season strong with Toronto and actually posted the best strikeout and walk rates of his career between the two teams in 2021.
With the emergence of Alek Manoah and the acquisition of Kevin Gausman, the Blue Jays rotation had the potential to be excellent in 2022, but everything that could go wrong for Berríos… did. He was quite possibly one of the worst arms in baseball last season. He finished in the bottom 10th percentile of expected batting average, expected slugging, and expected ERA while posting a very poor strikeout percentage of 19.8%. His fastball got demolished all season as it was worth a +17 run value and opposing hitters hit .349 against it with a .618 SLG (!). To put that in perspective, the second-highest slugging percentage in MLB last year was Yordan Alvarez's .613 slugging percentage. So, the average hitter facing Berríos' slider was Yordan Alvarez…
Given all that, I still weirdly believe in Berríos to a degree. Somehow his sinker and curveball were both actually productive pitches in terms of run value and still resulted in a pretty high chase rate for him on the year. The sinker has been his best overall pitch for years now, and there's no reason he shouldn't be throwing more sinkers than fastballs next season given the insane difference between the two last year. Another positive from the season was that his walk rate actually didn't get worse even with the number of big hits he allowed.
The expectations for Berríos were simply too high due to the prospects given up by Toronto. I can't see him being a third All-Star-level pitcher for the Blue Jays rotation, but I do expect some positive regression next season. He's not a five-plus ERA pitcher, and if he can decrease the fastball usage, I think he can be a solid starter once again. If he prioritizes the pitches that work and begins to generate more strikeouts again, I think Berríos can put together around a 4.00-ERA season, which would be a huge upgrade from last season.
Freddy Peralta: Milwaukee Brewers SP
Look, I'm gonna cheat a little here because I'm not sure that Peralta should really be considered a bounce back candidate. However, the combination of missing time with injury and having the clear ability to be even better than a 3.58 ERA leads me to want to discuss him here. He not only posted a 2.81 ERA last season for the Brewers, but his expected ERA has been even better the last two seasons and his peripherals are impressive.
Peralta's career started off shaky as his mediocre rookie season led to him primarily pitching out of the bullpen during the 2019 and 2020 seasons. He flashed a high strikeout rate and finished with an excellent xBA against him every season. He was moved back into the full-time starting rotation heading into 2021, and it was the perfect scenario for him at that point in his career. He was one of the best and most underappreciated starters in the league as he ranked in the top 5th percentile of xBA, xSLG, xERA, and strikeout rate. There weren't many better pitchers in the league than Freddy that season.
Heading into 2022, the Brewers featured possibly the best rotation trio in the league with Corbin Burnes, Brandon Woodruff, and Peralta. While the trio remained strong, they left more to be desired based on the previous season. Peralta dealt with multiple throwing side injuries over the year that definitely played a factor. He struggled out of the gate and the main reason I noticed was less life on his fastball than the year prior. In his huge 2021 season, Peralta's fastball registered an outstanding -20 run value that dropped all the way to just -2 in 2022. Furthermore, his strikeout rate on both his fastball and slider dropped noticeably.
He went down with a right lat injury in May and did not return until early August. This injury definitely could've been a factor in his early season struggles. He returned in August and performed much more like the ace-level pitcher we saw in 2021. In that month, he pitched to a 2.43 ERA over six starts with an extraordinary 0.81 WHIP as well. A shoulder inflammation issue led to another IL stint in September, and he was limited upon his return toward the end of the season. With full health under his belt, I expect Peralta to work his way back to the form he flashed in August and throughout 2021. Even with the injury and effectiveness issues, Peralta had a 2.70 xERA and continued to allow very few barrels and hard-hit balls. I'm expecting a near top-20 starting pitching season from Peralta in 2023.