Analysis
St. Louis Cardinals Offseason Outlook
The St. Louis Cardinals will look to improve this winter after a disappointing early exit from the 2022 postseason.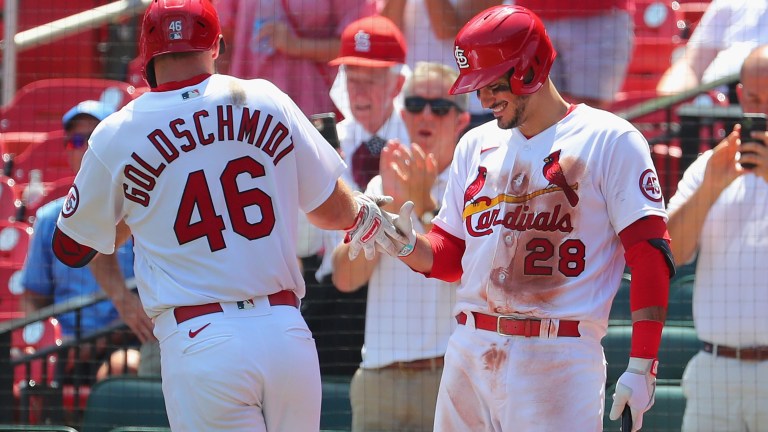 In 2022, the St. Louis Cardinals fell victim to the new expanded postseason. Despite winning 93 games and easily taking the NL Central crown, the Cardinals were swept by the Phillies in the best-of-three Wild Card round.
It was a disappointing way to go out for St. Louis, in what at times felt like a storybook season.
After all, it was the final year for franchise mainstay Yadier Molina, and perhaps Adam Wainwright too. Albert Pujols returned to St. Louis for his retirement tour and had a resurgent season. Nolan Arenado and Paul Goldschmidt both had MVP-level years, while Tommy Edman broke out as a star.
With all that in mind, it was a tremendous let-down for Cardinals fans when the team fell short of winning a single postseason game. But with the NLWCS loss in the rearview mirror, all they can do now is look forward to next year.
The St. Louis Cardinals still have a terrific core, surrounded by plenty of depth, and with the right moves in free agency, they should be back in the thick of competition in 2023.
Cardinals Free Agents This Offseason
Five players on the St. Louis Cardinals will see their contracts expire this offseason:
Yadier Molina
Albert Pujols
Adam Wainwright
José Quintana
Corey Dickerson
None of those impending free agents are locks to return in 2023. Molina and Pujols have already announced their intent to retire, while Wainwright seems likely to join them. He recently turned 41, and a knee injury significantly limited his effectiveness over the final weeks of the 2022 season. If he returns, the Cardinals will surely welcome him back, but according to recent reports the veteran remains undecided about his future.
The chances of Dickerson returning to St. Louis are slim. He played well enough this past year that he should be looking for another full-time outfield job in 2023, and the Cardinals probably won't be willing to guarantee him that much playing time. Quintana, on the other hand, is a candidate to come back next season, especially if Wainwright does indeed retire. The Cardinals aren't low on starting pitching depth, what with Steven Matz and Jack Flaherty back at full health, but the team could use another durable and consistent arm for the top of the rotation.
Nolan Arenado's Opt-Out
Superstar Nolan Arenado has five years and $144 million remaining on his contract with the Cardinals. That's an average of $28.8 million per year through his age-36 season. However, he is eligible to opt out this offseason and test free agency for the first time in his career.
Currently, all signs point to Arenado sticking around in St. Louis. Several writers with inside information have reported that he's not planning to leave, and it makes sense. It's hard to imagine he could earn all that much more than six years, $144 million on the open market, and as long as he's happy with the Cardinals, it doesn't seem worth his while to go through the stresses and challenges of free agency just to earn a few extra bucks.
That being said, if he does shock the baseball world by announcing his decision to opt out, it will have a tremendous impact on how St. Louis addresses the offseason.
Non-Tender Decisions to Make
While the Cardinals do not have many impending free agents, they do have a plethora of players who will earn raises in arbitration this winter. Four Cardinals will enter their first season of arbitration eligibility, will seven more are going into their second or third year.
Most of these players performed well for St. Louis in 2022 and are certain to come back, such as Tommy Edman, Ryan Helsley, and Jordan Montgomery. There are a few, however, who could find themselves non-tendered this offseason, including the injured Tyler O'Neill and the struggling Dakota Hudson.
Every arbitration-eligible player on the Cardinals has talent and potential, and none are set to receive a prohibitive raise. It is conceivable that the team could bring back all eleven of them. However, a MLB team only has so much space on the 40-man roster. St. Louis will have to cut ties with some players if they're planning to make a splash on the free agent market, although those cuts could come from trades or DFA's rather than non-tenders.
Biggest Needs for St. Louis this Winter – Offense
With Molina, Pujols, and Dickerson leaving, the St. Louis Cardinals will be left with these holes this offseason:
Catcher
Left field
Designated hitter
The catching job could go to top prospect Iván Herrera, who has recently been touted as the heir to Molina's throne. However, still just 22 years old, it's unclear if Herrera's is ready to take over the reigns full time. In 11 big leagues games during his MLB debut, he batted just .111, and there remains big questions about his defense.
Therefore, the Cardinals could look to sign a veteran backstop to a one-year deal, with the plan to give the veteran most of the playing time early, before slowly ceding his playing time to Herrera as the year goes on. Christian Vásquez could be an option to fill this role, although he might be looking for a job with more guaranteed playing time. Other choices could include Roberto Pérez and Mike Zunino, both of whom are looking to bounce back from injury.
Unfortunately, a plan like this would probably mean parting ways with catcher Andrew Knizer. Knizer is a solid backup who has been in the organization for many years, but he does not play strong enough defense to be paired with the inexperienced Herrera. St. Louis could shop him around as a trade candidate this winter.
If the Cardinals are looking to make a major upgrade, the outfield is the place to do it. Mets center fielder Brandon Nimmo will be available, and he would look great at the top of St. Louis' lineup. Alternatively, Yankees outfielder Andrew Benintendi could be an option. While he wouldn't make quite as big a difference as Nimmo, he would be a significant upgrade over Dickerson.
Alternatively, the Cardinals could choose to rely mostly on the in-house options in 2023. That would mean a combination of Lars Nootbar, Dylan Carlson, Tyler O'Neill, and Juan Yepez. That would leave room for top prospect Jordan Walker to push his way to the majors as well.
With so much outfield depth already, St. Louis might prefer to stick with what they have instead of spending big money on a veteran player.
If the team does want a veteran option for the outfield without breaking the bank, a reunion with Matt Carpenter could make a lot of sense. The 36-year-old could split his time between DH and the outfield, leaving plenty of room for the younger players to shine but still being there to step up when the Cards need a strong left-handed bat. With Pujols no longer filling the DH spot, St. Louis will have more flexibility at designated hitter.
Biggest Needs for St. Louis this Winter – Pitching
When it comes to pitching, the Cardinals should certainly be in the market for another starter. They already have rotation depth, with Miles Mikolas, Jordan Montgomery, Steven Matz, Jack Flaherty, Dakota Hudson, and Matthew Liberatore. There are, however, significant question marks about everyone on that list other than Mikolas and Montgomery. Matz and Flaherty have been injured, while Hudson has been inconsistent and Liberatore is inexperienced.
If Wainwright is healthy, it's hard to see him signing anywhere else. Yet if he decides to retire, the Cardinals should pursue one of the top free agent pitchers. The best option is probably a reunion with Quintana, but other options include Tyler Anderson, Martín Pérez, or Ross Stripling.
Finally, St. Louis could use a little more firepower for their bullpen. Their relievers weren't bad in 2022, but they weren't terrific either, ranking in the middle-of-the-pack in most important pitching statistics. They have depth, and they have an incredible closer in Ryan Helsley, but they could use another talented late-inning option. Chris Martin or Adam Ottavino could be good fits.
St. Louis Cardinals Outlook for 2023
The St. Louis Cardinals could be losing a lot in 2023. Albert Pujols was a major contributor to the offense. Yadier Molina was a leader in the clubhouse and behind the plate. Adam Wainwright had another great year, but even if returns, it's hard to know if he'll repeat that success.
What's more, the Cardinals cannot expect career-best seasons from both Paul Goldschmidt and Nolan Arenado once again. They cannot expect another Cy Young-worthy second half from a pickup like José Quintana either. In other words, if they are going to repeat as NL Central champs, they'll need more players to step up.
Thankfully for St. Louis, they have no shortage of young players who can do just that. Tommy Edman and Dylan Carlson have shown immense talent. Lars Nootbar took a huge step forward in 2022, and still just 25 years old, he can continue developing into a high-level talent. The same can be said for Brendan Donovan and Juan Yepez. Moreover, the Cardinals have several players who should, hopefully, be healthy and able to contribute in 2023.
With the right moves on the free agent market – whether that's a big splash for Brandon Nimmo or several smaller transactions here and there – the St. Louis Cardinals should be a highly competitive team once again in 2023.