Analysis
Could Nostalgia Hold the St. Louis Cardinals Back This Season?
While fans love seeing Albert Pujols and Yadier Molina back together in St. Louis, there's a chance the veterans could hold the Cardinals back this season.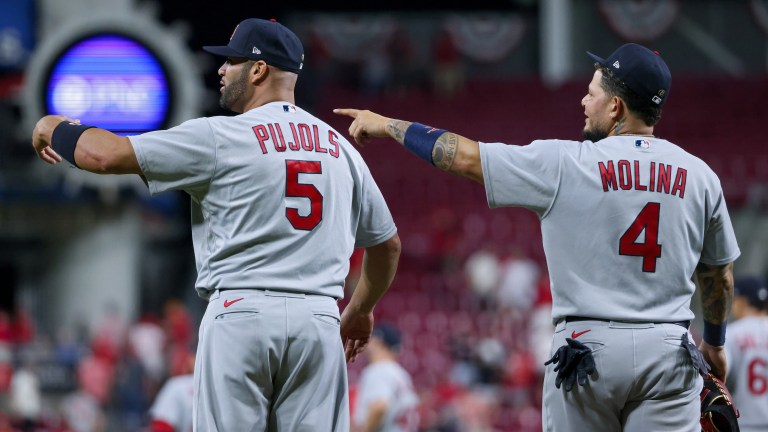 "We will see you tomorrow night".
The phrase delivered by Joe Buck after the historic night David Freese had to keep the Cardinals alive in the World Series. In the bottom of the ninth, Freese shot a 98 mile per hour fastball off the right field wall, scoring two and tying the game.
In the 11th inning, Freese cemented his name in Cardinal lore sending the fans home with a walk-off home run. The Cardinals would go on to win the World Series.
The year was 2011. In 2011, AOL purchased The Huffington Post. Harry Potter and the Deathly Hallows was the number one movie. Adele's "Rolling in the Deep", the number one song. Jose Bautista lead the league in home runs and Michael Young lead in hits.
To put it simply, it was a long time ago.
All but five players from the 2011 Cardinals are out of the league. Of those five, three are on the 2022 Cardinals. Adam Wainwright (injured all of 2011), Albert Pujols, and Yadier Molina. Wainwright has proved his worth and continues to beat father time. His impact to this day should not be understated. However, Molina and Pujols are holding the Cardinals back.
At 39 years old, the 19-year catcher Yadier Molina decided to return to St. Louis for another shot at a ring. The Cardinals also brought in 42-year-old Albert Pujols to enjoy one last ride before hanging up the cleats. A summer back where it all started hoping for a fairy tale ending to an illustrious career.
While each has a list of awards and accomplishments longer than a CVS receipt, both have struggled over the past several years.
| | | |
| --- | --- | --- |
| Year | Pujols (wRC+ / fWAR) | Molina (wRC+ / fWAR) |
| 2019 | 90 / -0.6 | 88 / 1.2 |
| 2020 | 76 / -0.1 | 83 / 0.5 |
| 2021 | 90 / -0.1 | 83 / 1.0 |
| 2022 | 84 / -0.5 | 46 / 0.0 |
Considering the play of some of their younger players, it is fair to wonder how much the veteran presence is helping the roster instead of maybe hurting it.
Yadier Molina (Injured)
2022 Stats: .213/.225/.294 1.4% BB 16.7% K 40 Games
Molina's days of being .300 hitter are long gone. In his 40 games in 2022, he's looked lost at the plate. Molina has walked only twice in 138 plate appearances. The power is gone and his age has shown in his baserunning. Molina's average, on-base percentage, and slugging are all the lowest of his career.
Don't get me wrong, catchers bring substantially more value behind the plate calling the game than at the plate. Molina has be revered as one of the best defensive catchers throughout his career.
According to defensive WAR from Fangraphs, his 6.9 defensive WAR ranks towards the top of MLB catchers. Of course this number will likely go up as the season continues. His pitch framing has benefited the Cardinals as well, ranking in the 88th percentile in the league. The other catchers in the top ten for defensive WAR have a wRC+ over 90, besides Austin Hedges.
But will his bat bring enough to justify the defense?
His 46 wRC+ currently ranks 42nd amongst catchers with at least 100 plate appearances. Can the rest of the lineup hit enough to afford a hole in the lineup?
That might be the case. The internal options to replace Molina are underwhelming. Andrew Knizner is not enough of an offensive upgrade and Ivan Herrera is a rookie off to a cold start.
A change should have come in the offseason. Instead, the Cardinals elected for a 39-year-old catcher with almost 18,000 innings behind the plate to lead the staff. If his body holds up or not will be the question. A knee injury has him away from the team questioning if he will return anytime soon. His defensive will not help this team from the injury list, where he currently is.
Albert Pujols
2022 Stats: .198/.294/.336 4 HR 84 wRC+
Seeing Pujols in a Cardinals jersey again is special. Reminiscing on the past and monstrous seasons he put up in St. Louis took fans back to a happy place. No matter how this season turns out for Pujols, his name will always be remembered with the greats in Cardinals history.
At this point in his career, Pujols does one thing well. Hit left handed pitchers. His .302/.327/.512 slash line against south paws is impressive. Against righties, he's slashing .137/.276/.233. Keep in mind, there's a lot more righties than lefties in the MLB. Pujols baserunning, defense, and overall lack of mobility make him a designated hitter. A wrong side of a platoon designated hitter is not something you usually see eat a roster spot.
Once the Cardinals get Tyler O'Neil and Harrison Bader are back, Juan Yepez should fill the designated hitter role full-time. Pujols would be moved to even more of a bench role limiting his value to the team.
Baseball is more than numbers. The stats are easy to read and let us categorize players in groups to help determine if they are "good" or "bad". What stats do not tell us is leadership and clubhouse chemistry. While I cannot quantify leadership or impact on a clubhouse, I know Pujols and Molina contribute in that aspect.
However, the Cardinals cannot afford to use two roster spots on good clubhouse guys. St. Louis decided to bring back an almost identical team to 2021, where they needed a nearly impossible winning streak to sneak into the postseason.
The Cardinals are a good team with the potential to be great. The Brewers are their only competition in the division, and Milwaukee has more questions than the Cardinals. With the prospect capital needed to make impact trades, will the Cardinals make the necessary moves to improve the club and truly push for a postseason run?
Feelings are a powerful drug. Fans want these two in St. Louis all year. While Molina being on the roster is easier to justify, Pujols is simply eating a roster spot. Leadership is important, but so is having a roster equipped for a playoff run.