Analysis
Spring Training Notes: March 2nd
Observations, conversations, and video from an early spring game between the San Diego Padres and the Seattle Mariners.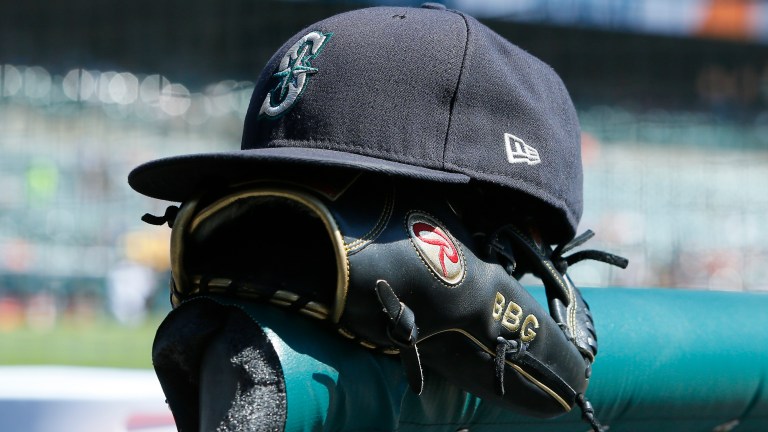 Over the course of the next four days, I'm attending six spring training games, where I'll be filming videos and taking notes on various topics. I decided the best way to share the information I gather is simply by creating rundowns every night of what I saw throughout the day.
My aim is to focus on prospects, key positional battles, and players suiting up for new teams. I will also obviously talk about the superstars everyone wants to hear about. These notes won't be super in-depth, but I encourage you to check out my daily posts on Twitter, and you can also find many clips of mine on the Just Baseball Twitter account.
Today's game I attended was between the San Diego Padres and the Seattle Mariners. Both of these teams have high expectations for the 2023 season following playoff appearances last year and big moves made in the offseason. I was able to watch a little bit of practice before the game and got the chance to talk briefly with a few prospects as well.
Let's get into my key takeaways.
Padres
Jackson Merrill is going to be very good. That's the takeaway. In all seriousness, I got the chance to talk with Merrill for a few minutes before the game, and his entire focus was on soaking up the information his veteran teammates could provide during his time at big league spring training. He told me that his primary goal in terms of development this spring is to learn from the leaders of the Padres. While Merrill is just 19 years old, he has the mentality of a winner in this league. He went 0-3 in the game but got the job done with a well-struck RBI groundout in his first at-bat. He strung together two more quality at-bats afterward.
Seth Lugo put together a quality first start for the Padres and looks ready for whatever role he ends up playing for San Diego. He gave up a massive home run to Eugenio Suárez but was otherwise very effective at limiting hard contact and inducing ground balls against a dangerous offense. He went three full innings and didn't look drained at all by the end. It's not clear yet if he will be a full-time starter, but he looks capable of performing in whatever role the team needs him in.
The Padres might have the worst defensive corner outfield duo in baseball. We've all witnessed borderline terrible defense at times from Juan Soto, and he now shifts over to a new position in left field that will come with more challenges. Meanwhile, Fernando Tatis Jr. continues to look uncomfortable in the outfield. He dropped a fairly routine fly ball to right field today and had close calls on a few other plays. This team is going to be relying on the defense of Trent Grisham in center and whoever else makes the roster to pick up the slack in the outfield. Tatis is a good enough athlete to develop outfield instincts, but he's definitely not there yet.
While his defense may be shaky, Juan Soto's hitting looks as good as ever. Padres fans were frustrated with his drop-off in production when he came over to San Diego in July last year, but I don't see any reason why that will remain the case. He's going to be patient and draw walks like he always has, and he's hitting the ball hard and on a line at an elite level right now. While the power nor the elevation of the ball haven't quite come yet, his at-bats today and so far this spring have looked excellent. I expect a return to a top-5 hitter in baseball level for Soto this year.
The pitching depth of this team is still a concern for me. They signed Michael Wacha, which solved the problem of having two of their five starters convert from the bullpen. Yet while they have six players that appear capable of starting, but they don't have much safety behind that. Wacha has a lengthy injury history, and if one of the big three pitchers goes down (Musgrove already has a toe issue), this team could be in trouble. Two sources of help could come from formerly highly-regarded prospects Ryan Weathers and Adrian Morejon. I got to see Morejon pitch in this game, and while it wasn't the cleanest appearance, he showed some promise. He allowed a big hit by Cal Raleigh in his first batter faced but limited the damage to one run and followed with two clean innings. Morejon reaching even half of his ceiling would provide this team with some much-needed depth.
Mariners
Within a few minutes at the backfields of Peoria Sports Complex, I was able to talk with prospect Bryce Miller for a few minutes and hear about some of the work he's doing this spring to continue developing his pitching. Given his advanced age and quick movement up to Double-A last year, he's a candidate to appear late this season or definitely by next year. I asked him about what he hopes to develop and adjust during Spring Training and he talked about his focus on getting his pitches into the zone regularly and being able to locate the fastball at the top of the zone. Miller has an elite fastball that has reached 99 MPH, and the ability to locate it high in the zone could elevate his game even further. Miller utilizes three offspeed pitches with his power slider being the clear best offering. I also asked him about which pitch of his he considers to be underutilized and that he wants to work on using more effectively this year. He told me his changeup is the pitch he's working on most, as it further elevates his pitch mix. He mentioned that he "leaves it short, throws it on the plate and it doesn't get many swing decisions" and that he'll be in good shape if he can get it over the plate often. Miller already features an elite fastball and multiple breaking pitches, and he'll only become nastier with the increased changeup usage.
The Mariners' young pitching staff is loaded with talent and has more reinforcements, such as Miller and Emerson Hancock, on the way soon enough. The biggest question is how careful they will be with their young arms this spring and this season. Logan Gilbert got the start today and definitely had some rust that needed shaking off. He allowed three runs but still flashed the elite stuff that he showed last year. He even debuted a new version of a changeup on this strikeout below against Tatis. Gilbert may not have been his best, but he continues to adjust and develop his pitching. He's going to be eased into the upcoming season after throwing way more innings than he ever had last year, but I expect another big season from him.
The hype for the Mariners is largely centered on their pitching and the superstar that is Julio Rodríguez. This is a completely justified base of hype, but the veteran hitters on this roster may end up being the key to this team making real noise in the playoffs. Seattle added Kolten Wong and Teoscar Hernández to an already solid group of veterans. Many of these established hitters looked good in this game and contributed in a big way. Eugenio Suárez blasted a huge home run early in the game off Lugo to get the M's their first run of the game. Cal Raleigh nearly went deep but settled for a long double. Teoscar added two solid hits as well. The production of these veterans, as well as Ty France, is going to be crucial for this group, and I think a lot of these hitters are ready to go this year.
Prospect Prelander Berroa was impressive in relief, and he's now thrown four scoreless innings this spring. He was traded to Seattle last season and delivered an impressive year between High-A and Double-A. He needs to develop a third pitch beyond his fastball and slider combo, but he could be a possible swingman-type arm for Seattle in the near future.